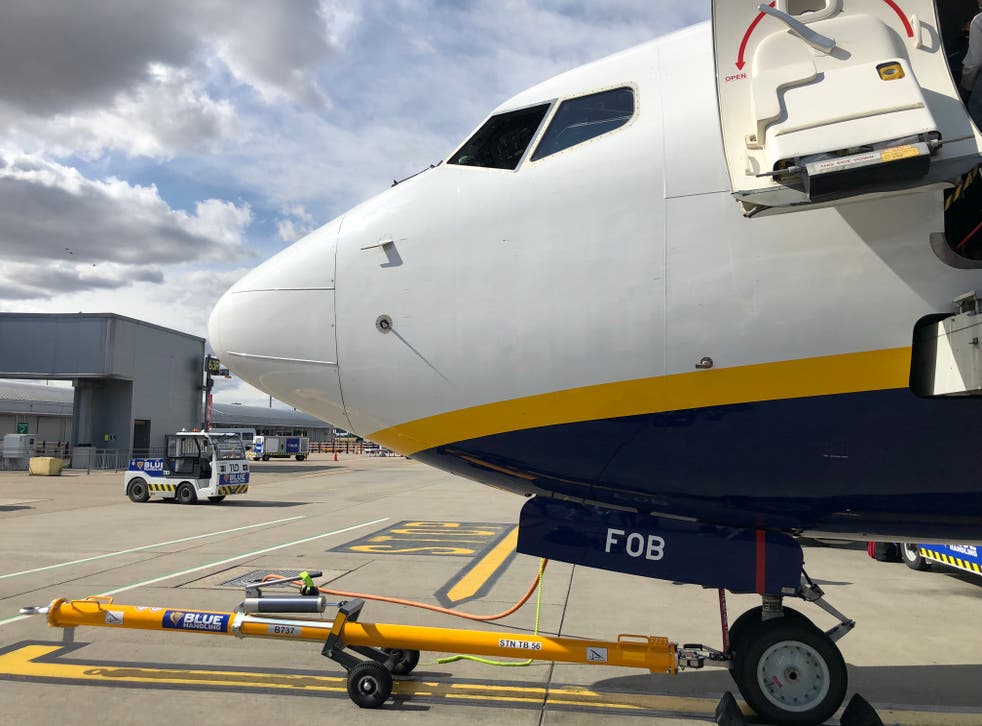 Ryanair cuts one in five October flights and likens Ireland to North Korea
It now plans to operate just 40 per cent of its 2019 capacity
Simon Calder
Travel Correspondent
Friday 18 September 2020 11:44 Comments
Europe's biggest budget airline has cut one in five flights in October, blaming government travel restrictions for damaging bookings.
Ryanair will now fly only 40 per cent of its October 2019 schedule next month. The number of passengers flown is predicted to fall to 30 per cent of last year's levels because of lower loads on the planes that do operate.
The carrier blames "continuous changes in EU government travel restrictions and policies, many of which are introduced at short notice, which undermine consumers' willingness to make forward bookings".
A spokesperson said: "Many Ryanair customers are unable to travel for business or urgent family reasons without being subjected to defective 14-day quarantines.
"If current trends and EU governments' mismanagement of the return of air travel and normal economic activity continue, then similar capacity cuts may be required across the winter period."
The Irish airline was particularly critical of the authorities in Dublin, saying they had kept "Ireland locked up like North Korea".
"Intra-EU air travel is not the problem and these defective travel bans are not a solution," the airline said.
Visitors from Great Britain to the Republic of Ireland must quarantine for two weeks.
Figures from the airports' body ACI Europe show that passenger numbers in August recovered to 35 per cent of 2019 levels in August, but they have now slipped back to 27 per cent of last year.
Thomas Reynaert, managing director of the pressure group Airlines for Europe (A4E) said: "With an estimated 55 per cent fewer flights, an overall revenue loss of some €140bn [£128bn] across the European aviation industry and a growing number of frustrated travellers, it's about time that Europe shows some leadership in getting travel restrictions coordinated properly across the continent."
The airlines he represents say they have denied boarding to more than 20,000 passengers this summer "due to the chaotic, fragmented situation".
Ryanair's move coincides with an unprecedented industry appeal to the European Commission president from organisations representing more than 5,000 businesses – from airlines and holiday companies to amusement parks and camp sites.
Air bridges: Slovenia added to England's quarantine list
In an open letter to Ursula von der Leyen, they say that Europe must cut restrictions and come up with a common plan for coronavirus testing for travellers "to save the livelihoods of more than 27 million Europeans who work in the sector".
The letter says: "This chaotic situation requires your immediate personal involvement.
"Extreme travel restrictions – in particular quarantines – are anything but risk-based. They are not an effective way to fight the epidemic."
"Beyond the huge economic and human costs involved, the freedom of movement of people and the principle of non-discrimination – the core pillars and essential purpose of the European project – are at risk.
"The current situation amounts to an existential threat for many of our companies and our employees, who for years have contributed to making the ideals and objectives of a united Europe a reality."
Register for free to continue reading
Registration is a free and easy way to support our truly independent journalism
By registering, you will also enjoy limited access to Premium articles, exclusive newsletters, commenting, and virtual events with our leading journalists
Already have an account? sign in
Join our new commenting forum
Join thought-provoking conversations, follow other Independent readers and see their replies