Air Canada 'dumped and abandoned' family with disabled son at Toronto airport
Passenger paid £1,000 more to fly with the airline because of his family's additional needs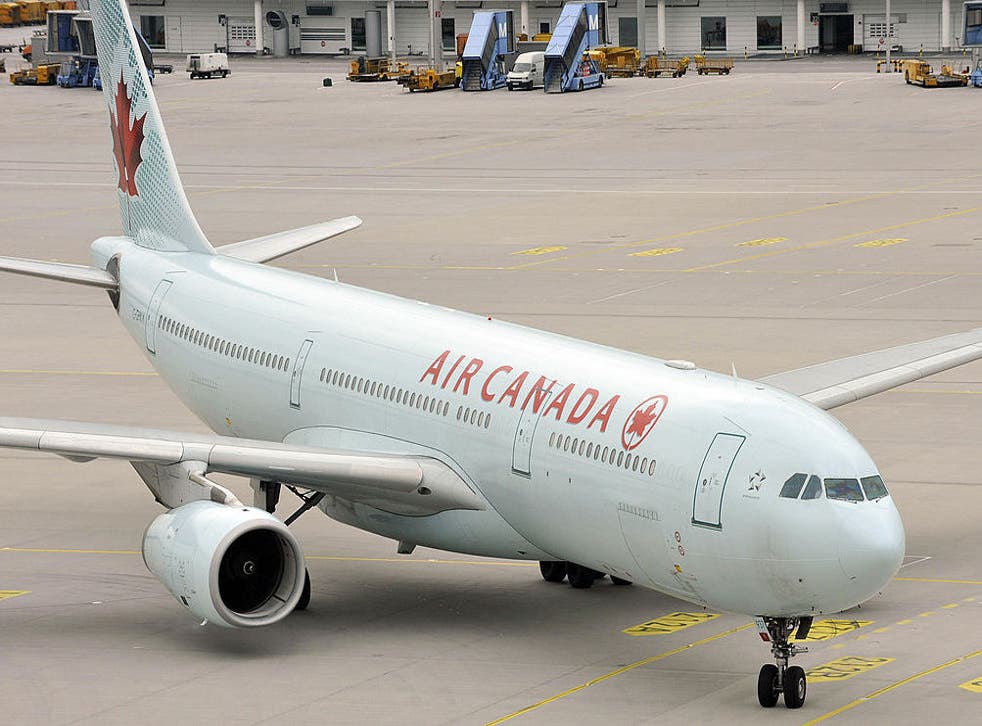 A passenger travelling with his disabled son has accused Air Canada of abandoning his family at Toronto Pearson airport.
Euan McGilp, 56, was flying back from Ohio to London with his wife and two teenage sons, one of whom has Down Syndrome, when delays meant they missed their connecting flight from Toronto Pearson airport.
Euan says that when they landed in Canada on 20 April, Air Canada's treatment of them added up to a catalogue of failures. "After we'd all checked in everything started to go wrong," he told The Independent.
Formerly a head teacher for 15 years, Euan had to retire on medical grounds after he suffered a sudden brain injury six years ago. He had been working with a specialist team for the past two years to prepare him for the trip to the States to see some old friends. He said: "This was the first break we've taken since I collapsed. I'm not sure I'll ever be able to fly again. We can't even talk about the holiday because I keep flashing back to the problems and getting angry and upset."
Upon arrival at Toronto, the family were left on the tarmac in freezing temperatures according to Euan, while waiting for his son's wheelchair to be unloaded from the plane. David, 14, has various other complex needs in addition to Down Syndrome, yet the family were left shivering in the cold for 15 minutes. "David has no internal temperature regulation, he was practically turning blue," said Euan.
They were then taken to the special assistance area and told to wait to be taken onwards to their connecting flight. "All the lights were off and there was no one around," said Euan. "We were dumped and abandoned there in the dark – we seemed to be too much trouble for anybody."
The family had already missed their original 8.40pm flight to London Heathrow due to delays on the first leg of the journey, but had been rebooked onto the 11.10pm flight and assured by Air Canada that they would make their connection.
After half an hour's wait, having been ignored by the various Air Canada staff members they'd asked for help, one man took pity on the McGilps and directed them to the flight connections desk. It transpired that, due to the wait at special assistance, the family had missed their connecting flight and would have to be rebooked to fly the following evening.
"The connections team were incredibly rude – I've never met such rude people in my life," said Euan. "They couldn't do enough for first class passengers and didn't give a damn about economy ticket holders. You'd think airlines would be concerned about getting it right for vulnerable people, whether it's youngsters or the disabled.
"One chap clearly struggling with PTSD was told to 'shut up'. There were threats and intimidation, it was awful."
The family were eventually given a voucher for a stay in a hotel, but by this point they were also worried about David's health issues. "We explained that we had a doubly incontinent disabled child with us and that, at Air Canada's original instruction, we only had enough sanitary and medical products to last him the expected flight plus a few hours. According to staff, this was 'not their problem'."
The nightmare journey continued, as the family were taken outside to await a shuttle bus to their hotel. It was 12.50am. After waiting for an hour and a half for transport that never came, they eventually discovered from another driver that their hotel no longer offered a shuttle service.
"When asking for help, another member of staff told my wife that 'Travelling is stressful for everyone' and that we should just 'Deal with it'," said Euan. "She then got in the lift and left, leaving my wife in tears and clearly having no care for our situation with my disabled son."
Finally, at 3.30am, the McGilp family say they managed to speak to a customer service advisor who was willing to help. She moved them onto a 9am flight – but the family were subsequently forced to spend the remainder of the night in the departure lounge. When they boarded the plane, they discovered they weren't seated together, despite Melanie and their older son Rogan, 17, being designated carers for Euan and David.
The icing on the cake came when the family arrived into Heathrow to find only one bag out of seven waiting for them. The other six had been left in Toronto.
After complaining to Air Canada about their treatment, the McGilps were offered 25 per cent off if they booked more Air Canada flights in the next 12 months. "They've saved some money in compensation because there's no way I would ever travel Air Canada again – I can't," said Euan. "I'm really frightened about what's going to happen now. Part of my brain injury is to look for the worst in things. We'll have to find an airline we can work with and try again in a few years."
Man brutally dragged off United Airlines flight: "I want to go home"
Euan paid more to fly with Air Canada because it claims to offer support for those with additional needs; the family could have saved over £1,000 by flying with a cheaper airline, says Euan. "We chose this airline because we thought it was a reputable company. We thought, with two disabled clients in a family, they would be able to get it right."
The McGilp family's dream holiday will be forever tarnished by the return journey from hell, says Euan: "We had the most fantastic time, a wonderful experience – but it's been completely trashed, whether by incompetence or sheer callousness on Air Canada's part, I'm not sure.
"I know things go wrong. I'm just asking people to do their job with a little bit of sympathy and compassion. That was frighteningly lacking from Air Canada."
Air Canada has not yet responded to The Independent's request for comment.
This follows an incident where a 15-year-old passenger was abandoned overnight at Toronto airport by Air Canada, despite being a minor.
Register for free to continue reading
Registration is a free and easy way to support our truly independent journalism
By registering, you will also enjoy limited access to Premium articles, exclusive newsletters, commenting, and virtual events with our leading journalists
Already have an account? sign in
Register for free to continue reading
Registration is a free and easy way to support our truly independent journalism
By registering, you will also enjoy limited access to Premium articles, exclusive newsletters, commenting, and virtual events with our leading journalists
Already have an account? sign in
Join our new commenting forum
Join thought-provoking conversations, follow other Independent readers and see their replies