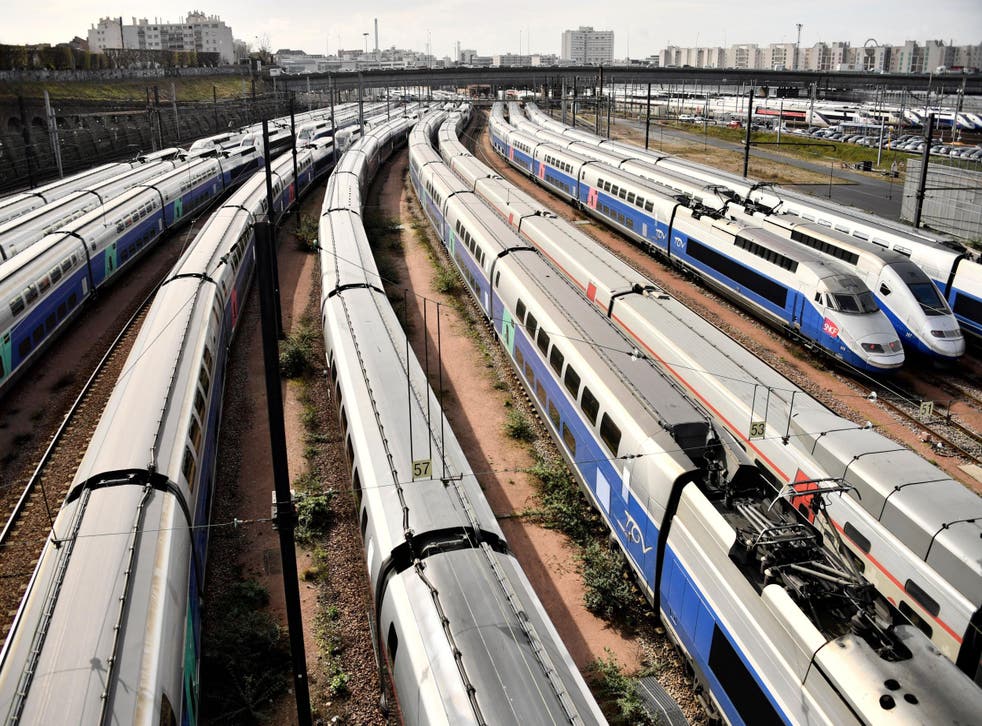 France travel: chaos as air and rail strikes coincide
Air France and SNCF staff are both taking industrial action on Monday and Tuesday
Strikes by French rail and aviation staff are wrecking the plans of millions of passengers hoping to travel to, from or within France on the first two days of the working week.
Workers at Air France and SNCF (French Railways) are engaged in separate long-running disputes. Both groups have planned a succession of two-day strikes, and on Monday and Tuesday the stoppages coincide for the first time.
Rail workers are taking action in protest at reform plans which will worsen employment conditions. A cycle of two days' striking, three days' working normally, is due to continue until the end of June.
SNCF, which is losing the equivalent of £5,000 per minute, says change is essential.
About two-thirds of trains within France have been cancelled on Monday. Three out of five TGV high-speed trains will not run on Monday; among other long-distance services, 70 per cent have been cancelled. Three out of four trains run by the low-cost subsidiary Ouigo have been axed.
Eurostar says 80 per cent of services should run normally, but has cancelled 15 trains between London and Paris over the two days, and a further nine services linking London with Brussels.
Passengers on cancelled trains are being told: "If your service has been cancelled, you can exchange your ticket free of charge or claim a full refund."
No trains will run between France and Italy on Monday.
Anyone hoping to switch from rail to air is likely to be disappointed. On each day, around 40,000 Air France passengers are likely to see their flights cancelled.
On Monday, the French airline has cancelled 35 per cent of European and long-haul flights to and from its main hub at Paris Charles de Gaulle, including some services to and from Heathrow, Birmingham, Manchester and Edinburgh.
Among dozens of long-haul cancellations are services to Rio, Johannesburg, Washington, Miami and Delhi.
Air France says 28 per cent of pilots, 20 per cent of cabin crew and 13 per cent of ground staff are striking on Monday. It will not announce which flights will be cancelled on Tuesday until Monday afternoon, after staff have notified them of the intention to strike.
Industrial action began in February in a bitter pay dispute. The airline has doubled its offer from 1 to 2 per cent, but the unions — who are demanding 6 per cent to restore earnings – have described it as derisory.
World news in pictures

Show all 50
Under European passengers' rights rules, Air France must provide alternative routings if possible, as well as meals and accommodation as required. While cash compensation is not generally payable, some passengers say they have successfully claimed for previous strike days.
Last week the European Court of Justice ruled that a German airline, TUI, must pay between €250 (£219) and €600 (£525) for cancellations due to a wildcat strike. Some lawyers are arguing that the judgment applies equally to official stoppages, such as at Air France.
The unions have said that further strikes at Air France will take place in early May. Dates are expected to be announced in the next few days.
Register for free to continue reading
Registration is a free and easy way to support our truly independent journalism
By registering, you will also enjoy limited access to Premium articles, exclusive newsletters, commenting, and virtual events with our leading journalists
Already have an account? sign in
Register for free to continue reading
Registration is a free and easy way to support our truly independent journalism
By registering, you will also enjoy limited access to Premium articles, exclusive newsletters, commenting, and virtual events with our leading journalists
Already have an account? sign in
Join our new commenting forum
Join thought-provoking conversations, follow other Independent readers and see their replies