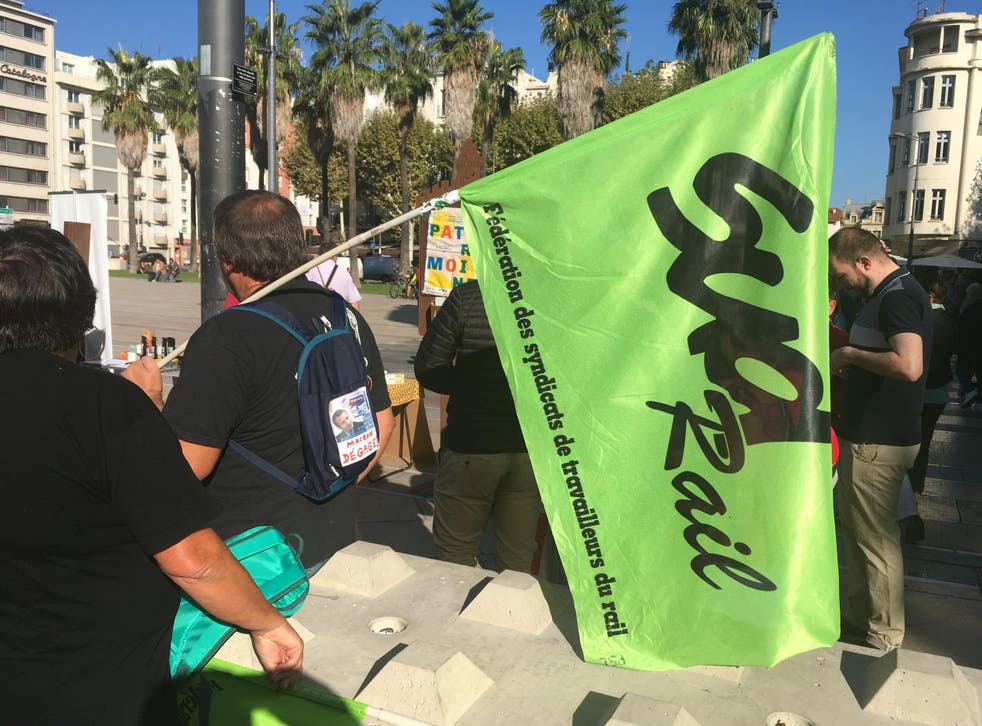 France: travel chaos hits post-Easter rush
Only one in eight long-distance trains running; 30 per cent of Air France long-haul flights cancelled
At the end of the Easter break, weary travellers expecting to sleep on an overnight train from Paris to Milan turned up at Gare de Lyon to discover they would instead be taking an all-night bus across the Alps to Italy.
They were the first victims of a series of 18 two-day strikes called by French rail unions to defend their working conditions and benefits.
Rail workers in France, known as cheminots, have generous guarantees on employment protection and pay rises, and are typically able to retire in their early 50s.
​SNCF, the national rail enterprise, is seeking to cut costs and improve efficiency ahead of 2020, when main lines are opened up to competition in line with European Union policy.
Mark Smith, the founder of the Seat Sixty-One website for international rail travellers, said: "The two in five days strikes are pretty dire for passengers.
"At least those booking from now on can work around the known strike dates although some trains on the three in five clear days are starting to get fully booked."
A union leader has described the dispute as "an intense and long-lasting conflict". It has echoes of a bitter strike in 1995 over modernisation plans. The then-prime minister, Alain Juppe, backed down after much of the French rail network was brought to a halt.
Only one in eight high-speed TGV and "classic" inter-city services is expected to run on Tuesday and Wednesday, along with one in five regional services.
On some lines, replacement buses will run, but a huge amount of capacity will be lost.
Eurostar passengers are also feeling the effects. The cross-Channel train operator's French drivers are employed by SNCF. As a result 29 services from London to Paris and Brussels for Tuesday and Wednesday have been cancelled — representing around 25,000 seats.
Air France passengers booked to fly from Heathrow, Manchester and Edinburgh to Paris Charles de Gaulle are among at least 50,000 travellers whose flight plans for Tuesday have been wrecked by another strike.
Pilots, cabin crew and ground staff working for the French airline are involved in a bitter pay dispute with the management. The unions are demanding a 6 per cent increase in pay to compensate for what they say are several years of wage stagnation. Air France awarded a 0.6 per cent rise on 1 April. It plans another 0.4 per cent increase from 1 October, and is offering some additional benefits.
The airline saw profits rise by 42 per cent last year to €1.5bn (£1.3bn).
World news in pictures

Show all 50
The unions have described Air France management as "obstinate". Another one-day strike has been called for Saturday 7 April, with two more days of industrial action on 10 and 11 April. It brings the total strike days to seven in eight weeks since the first strike on 22 February.
The Tuesday after the Easter break was set to be one of the busiest days of the year so far for the airline.
One in three medium-haul services and 15 per cent of short-haul operations have been cancelled, including six flights between Heathrow and Paris, four Manchester services and a round trip between Edinburgh and the French capital.
The airline also warns: "In order to ensure the maximum number of flights with our reduced crew, we may have to limit the number of passengers on board some of our flights.
"Air France regrets this situation and is making every effort to minimise the inconvenience this strike action may cause to its customers."
Travellers to Paris who reach Charles de Gaulle airport despite the Air France strike face problems reaching the capital, with the RER train link severely disrupted by the rail strike.
Join our new commenting forum
Join thought-provoking conversations, follow other Independent readers and see their replies