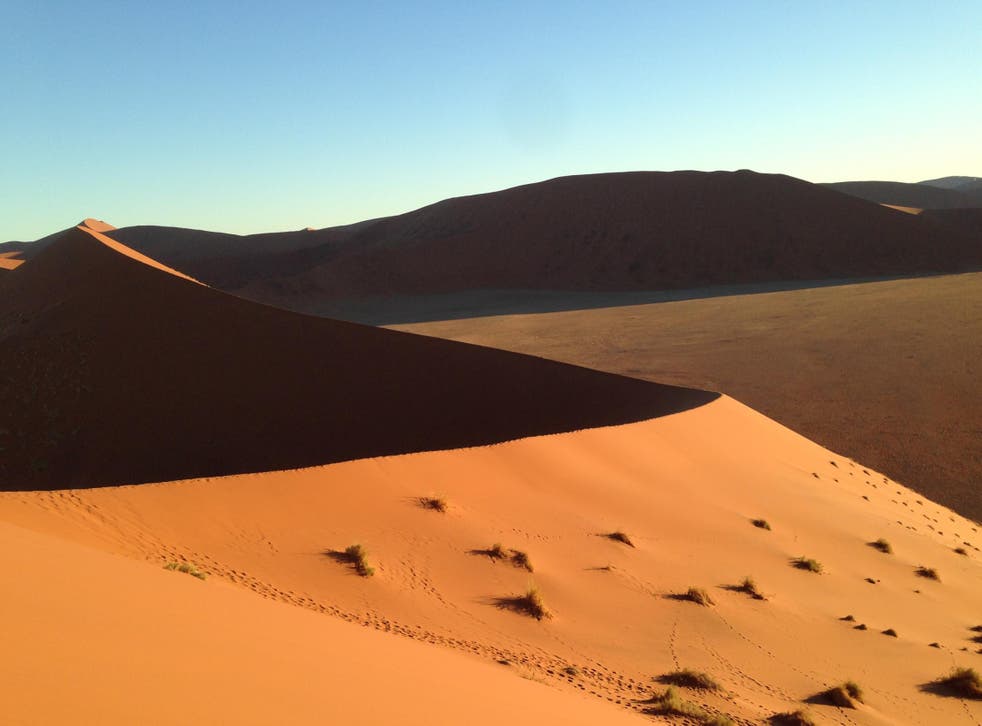 'Air Namibia must be liquidated,' says president
Plane talk: An African leader is seeking to do the right thing for his nation, in terms of aviation
Simon Calder
Travel Correspondent
Tuesday 09 June 2020 18:28 Comments
Namibia is a niche destination. Giant sand dunes ripple gracefully towards a magnificent sunset. Salt flats blur towards a dazzling infinity. And while the Namib Desert – the world's oldest – defines the word "parched", the nation's 1,000-mile coastline is pounded by the wild Atlantic.

Were there such a thing as an average African country, Namibia would not be it. These extremes are home to unique creatures from dune larks to desert elephants. The former German South West Africa is less mass-market than South Africa, and not so safari-heavy as Kenya and Tanzania.
But anyone who wants to travel through a constantly changing sequence of weird and wonderful landscapes, with some superb wildlife and a curious mix of African and German culture, should head for this astonishing corner of the continent.
You can reach the country on a niche carrier, too: Air Namibia.
Not any old niche carrier, mind: "A niche carrier serving domestic points within Namibia, the immediate regional markets of South Africa, Zimbabwe, Angola, Zambia and Botswana.
"The airline also serves the entire European network through Frankfurt." That is according to Air Namibia itself.
The carrier talks an excellent game. "Air Namibia makes a positive net economic (value) contribution to the national economy, in line with its mandate."
I translate this as: "We lose an absolute fortune, but we tell the government they can't do without us".
Air Namibia's niche as a short-haul airline is reasonable. The country is four times the size of Britain yet with only 2.5 million people. In a sparsely populated part of Africa it is reasonable to combine domestic and regional flying.
I can even accept that a fleet of just 10 aircraft might reasonably be split between small Embraer regional jets and larger Airbus A319s (though why anyone would want to limit the capacity on the latter to just 119 seats, barely three quarters of the comfortable maximum, is beyond me).
But to include within the fleet two wide-bodied Airbus A330s for the sole purpose of a daily link between Frankfurt and Windhoek, the Namibian capital, is ludicrously extravagant.
The former European imperial powers, whether the UK, Belgium, France or Portugal, have long had air connections with their former colonies. There is a particular demand from the German premium leisure market for a link to the former Deutsch-Sudwestafrika.
But there is no need for a tiny airline in a poor country to supply it. Indeed, SunExpress – an interesting joint venture between Lufthansa and Turkish Airlines – provides a perfectly good link with Frankfurt.
It is impossible to see how much Air Namibia loses, because it has not filed proper accounts for a decade or more, which I think tells us plenty.
But in a remarkable show of good sense, the Namibian President (Hage Geingob, in case you've momentarily forgotten his name) announced in a state-of-the-nation address this week: "Air Namibia must be liquidated."
World's best airlines 2020

Show all 10
"It is not making any profits, just being bailed out, bailed out."
It was a brave thing to say. Many governments in Africa and elsewhere are easily persuaded by the bosses of their national airlines that they are a vital part of the infrastructure.
Were they not constantly to be fed with dollars, the mantra goes, the country would suffer. The state of the nation depends on the state of the national carrier, they say.
But the millions of dollars that Namibia has squandered on its flag carrier since becoming independent could be far better used.
If the president has the courage to go through with the liquidation, other airlines will move in to fill the links that have some basis in economic reality. And other African leaders may take notice and act for the sake of their people.
Register for free to continue reading
Registration is a free and easy way to support our truly independent journalism
By registering, you will also enjoy limited access to Premium articles, exclusive newsletters, commenting, and virtual events with our leading journalists
Already have an account? sign in
Join our new commenting forum
Join thought-provoking conversations, follow other Independent readers and see their replies