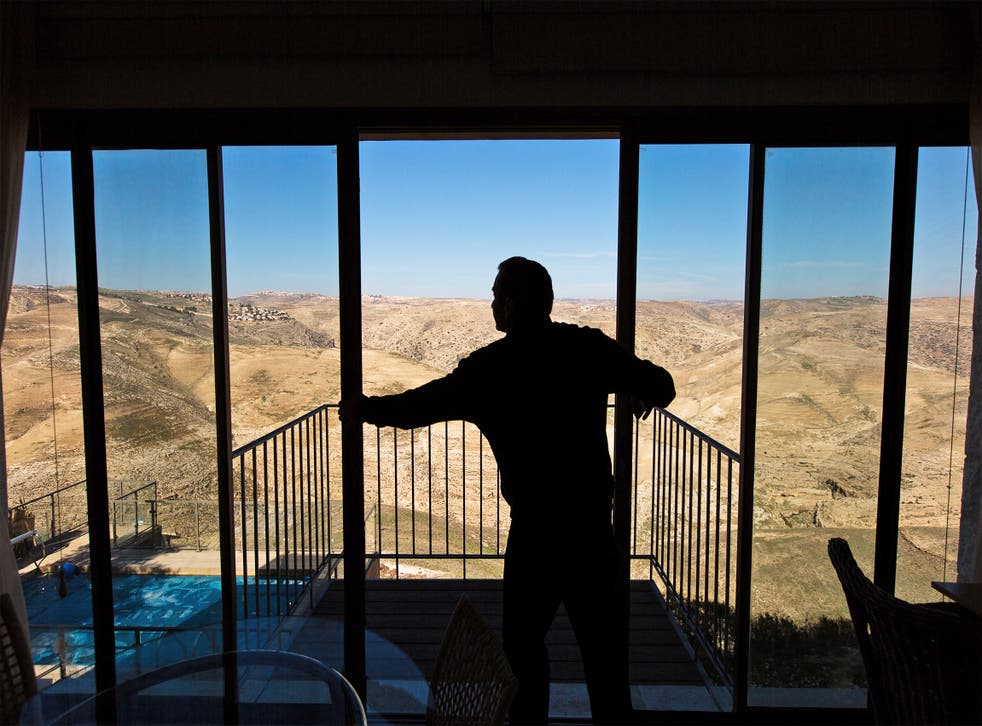 Airbnb in Israel: A room with a view of idyllic Judea... or the occupied West Bank
Palestinian authorities have complained to the travel website about rentals in Jewish settlements
William Booth
Tuesday 02 February 2016 21:37 Comments
Igal Canaan, a Jewish settler and Airbnb host, threw open the doors of his apartment to reveal a panorama of blue sky and wilderness. Once they see the view, "nobody wants to talk politics", he said.
"In the morning, you can see shepherds with their flocks," he said, pointing out a village associated with the birth of the prophet Jeremiah. "The view is totally biblical." All this, plus pool, kitchenette, fast wi-fi and maybe a "welcome" bottle of wine, just 20 minutes from Jerusalem, for about £56 per night. Guest reviews call it awesome – but according to Palestinians, it is also wrong.
The Palestinian Authority has said offering vacation rentals in Jewish homes in the occupied West Bank, through US-based sites such as Airbnb, Booking.com and TripAdvisor, violates international law. The cottages and villas are not in Israeli "neighbourhoods", as some listings suggest, but in Jewish settlements that most of the world consider illegal and the US calls "unhelpful" to the peace process. Not a typical holiday, then.
A few weeks ago, Saeb Erekat, secretary-general of the Palestine Liberation Organisation, sent a terse letter to Airbnb chief executive Brian Chesky, warning that his company was "effectively promoting the illegal Israeli colonisation of occupied land". Airbnb said in a statement to the Associated Press that it "follows law and regulations where it can do business".
So what did some Jewish settlers with extra rooms do? "Our people took this as a challenge and have been rushing to Airbnb," said Miri Maoz-Ovadia, a spokeswoman for the Binyamin Regional Council. She represents 42 Jewish settlements in the West Bank – which the PLO says violate the Geneva Conventions.
There are about 400,000 Jewish settlers today in the West Bank and more than 200 Israeli bed-and-breakfasts registered in what Israel calls "Judea and Samaria". The settlements had 500,000 tourists last year, Ms Maoz-Ovadia said. About 80 per cent were Israelis; the rest were international.
"You can't boycott 4,000 years of Judeo-Christian history," she said, although the current wave of stabbings and shootings by Palestinians – and live-fire countermeasures by Israeli armed forces – has had an impact.
Mr Erekat claimed that Airbnb was propping up the "Israeli settlement-industrial complex". Palestinians also say the Airbnb advertisements can fail to warn potential guests that properties are in the occupied West Bank. There is a Google map, but critics wonder if visitors realise the dashes on the map are the Green Line, marking the pre-1967 borders.
"The majority don't ask," said Mr Canaan. He believes the whole thing is the work of a global campaign known as Boycott, Divestment and Sanctions (BDS), a movement to pressure Israel to end the occupation. "I don't think the Palestinians really care. It's a campaign by ultra-leftists from abroad fighting for them," he said.
Up north in Esh Kodesh, Inbal Zeev was tidying up her family's rental cottage. "Before, we rented through word of mouth," she said. "But when someone told me BDS was pressuring Airbnb, we decided to register."
Her listing describes its location as "Shilo, Jerusalem District, Israel," which is a bit of a stretch. But not to Ms Zeev. "I don't see this as Palestinian land. It's Israel," she said.
© The Washington Post
Register for free to continue reading
Registration is a free and easy way to support our truly independent journalism
By registering, you will also enjoy limited access to Premium articles, exclusive newsletters, commenting, and virtual events with our leading journalists
Already have an account? sign in
Join our new commenting forum
Join thought-provoking conversations, follow other Independent readers and see their replies