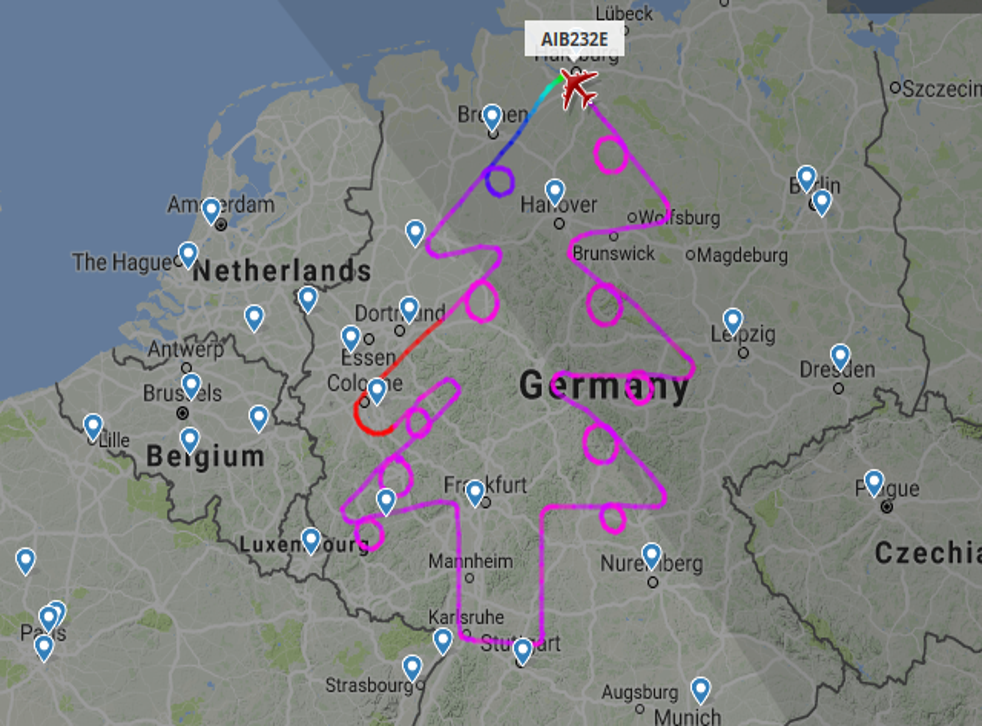 Airbus A380 draws Christmas tree in the sky during test flight over Germany
The Emirates test flight got festive
Who said flying is a drag?
One bold and inspired pilot brought seasonal joy to the world by drawing a giant Christmas tree in the sky on a flight path over Germany while doing a test flight of an Airbus A380 aircraft for Emirates.
The plane set off from Hamburg's Finkenwerder airport at 12.47pm local time and is estimated to arrived back into the same airport at 4.35pm, according to Flightradar.
However, instead of simply doing a few laps, the pilot took the decision to use the flight path to introduce a little more festive cheer. The tree even features baubles by means of regular loops in the flying pattern in between each branch.
The plane cruised at an average 41,000ft while completing the masterpiece, which went south as far as Stuttgart for the tree's trunk before turning northwards towards Hamburg again.
It's a more family-friendly piece of aircraft art than the recent flight path that landed a US navy fighter crew in hot water. The crew was grounded after they used their advanced fighter jet to draw a penis in the sky.
The Navy E/A-18 Growler warplane flew in an unusual air pattern in the skies over Okanogan County in Washington state in November, using the condensed air trail from its exhaust to draw the giant image. Pictures of the phallus suspended in the sky immediately went viral on social media.
"Sophomoric and immature antics of a sexual nature have no place in naval aviation today," Vice Admiral Mike Shoemaker, the commander of naval air forces, said in a statement.
Register for free to continue reading
Registration is a free and easy way to support our truly independent journalism
By registering, you will also enjoy limited access to Premium articles, exclusive newsletters, commenting, and virtual events with our leading journalists
Already have an account? sign in
Register for free to continue reading
Registration is a free and easy way to support our truly independent journalism
By registering, you will also enjoy limited access to Premium articles, exclusive newsletters, commenting, and virtual events with our leading journalists
Already have an account? sign in
Join our new commenting forum
Join thought-provoking conversations, follow other Independent readers and see their replies