The Independent's journalism is supported by our readers. When you purchase through links on our site, we may earn commission.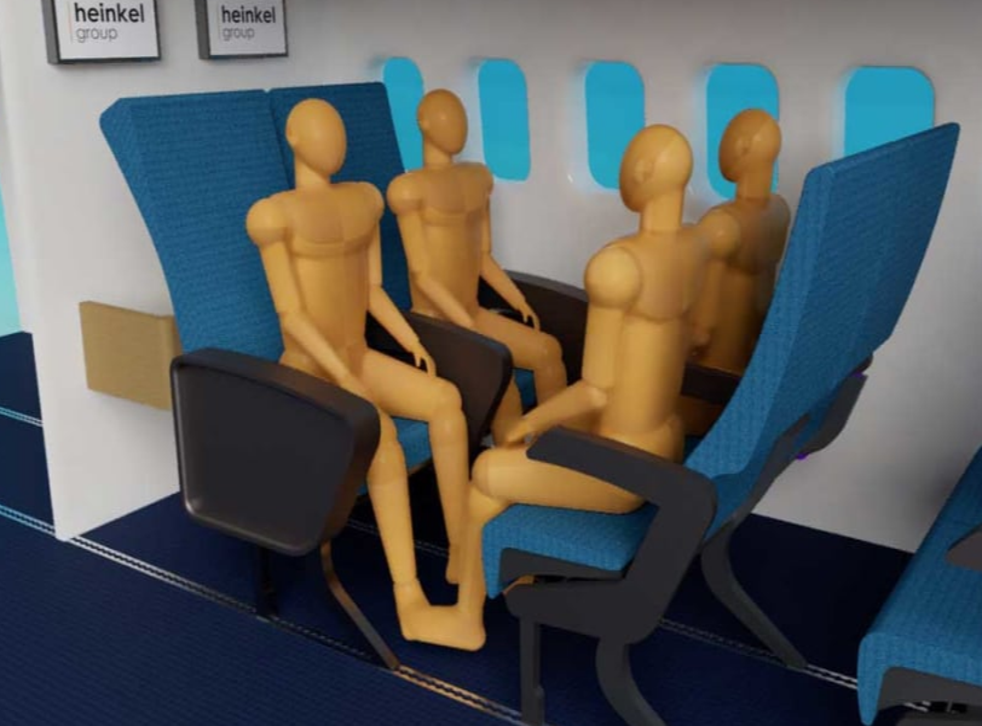 Is this the most socially awkward airline seat ever?
New concept would mean passengers can sit facing each other
A new idea for economy seating on aircraft could prove controversial.
Entered for the Crystal Cabin Award 2020, which recognises excellence in aircraft interior innovation, the "Flex Lounge" concept involves a seat configuration of four people facing each other.
The design is aimed at family groups and friends, but the space between the two sets of two chairs is very narrow, with what appears to be little legroom, making for a more intimate experience than some passengers might like.
Designed by engineering company Heinkel Group, the Flex Lounge would only be available post take-off, and would be reconfigured inflight by cabin crew.
The idea made the Crystal Cabin Award shortlist, which states: "Even 'cattle class' can be made more comfortable".
World's safest airlines 2020

Show all 20
The Hamburg-based company shared its entry on Facebook, writing: "Our concept, the Flex Lounge, gives the opportunity to book the first two seat rows and make it your own private little area. Your time together starts after take-off!
"The Flex Lounge allows families and groups of friends to have an affordable privacy space during flights. The backrest of the first seat row can easily be moved by the flight attendants to create a communal space for a group of four people."
One Facebook user commented: "As long as no one tries to use the Flex Lounge Configuration before and during takeoff, I love this already."
However, not everyone is as convinced.
"Although the idea technically accommodates for normal seating in economy, the sheer idea of four people facing each other for hours in a confined space (regardless of the group's affiliation with one another) has sent my ass into fight-or-flight," writer and presenter Louis Hanson penned for Pedestrian.
"Simply look at the four wooden marionettes, hands on laps, forced to stare into each other's eyeballs because there's no other entertainment.
"Put simply, I don't care how much I love you – I most likely (100 per cent) don't want to talk to you for hours on end. I'd prefer to stare at a screen or, better yet, close my eyes and fantasise about a time when I wasn't in a confined space."
This year's award winners, spread across eight different categories, will be announced on 31 March at the Aircraft Interiors Expo in Hamburg.
The Expo often showcases unusual and innovative ideas, such as the infamous Skyrider "standing" seats, which hit headlines when they were first unveiled in 2018 and again last year when an upgraded version was presented.
The space-saving design has a reduced pitch, meaning passengers are in a more upright position, rather than sitting as normal.
Italian company Avio Interiors' latest model includes, unlike earlier versions, a coat hook and a seat pocket or table.
Avio Interiors said the Skyrider would enable carriers to fit 20 per cent more passengers into the cabin, with legroom slashed from 28 to 23 inches.
Register for free to continue reading
Registration is a free and easy way to support our truly independent journalism
By registering, you will also enjoy limited access to Premium articles, exclusive newsletters, commenting, and virtual events with our leading journalists
Already have an account? sign in
Register for free to continue reading
Registration is a free and easy way to support our truly independent journalism
By registering, you will also enjoy limited access to Premium articles, exclusive newsletters, commenting, and virtual events with our leading journalists
Already have an account? sign in
Join our new commenting forum
Join thought-provoking conversations, follow other Independent readers and see their replies