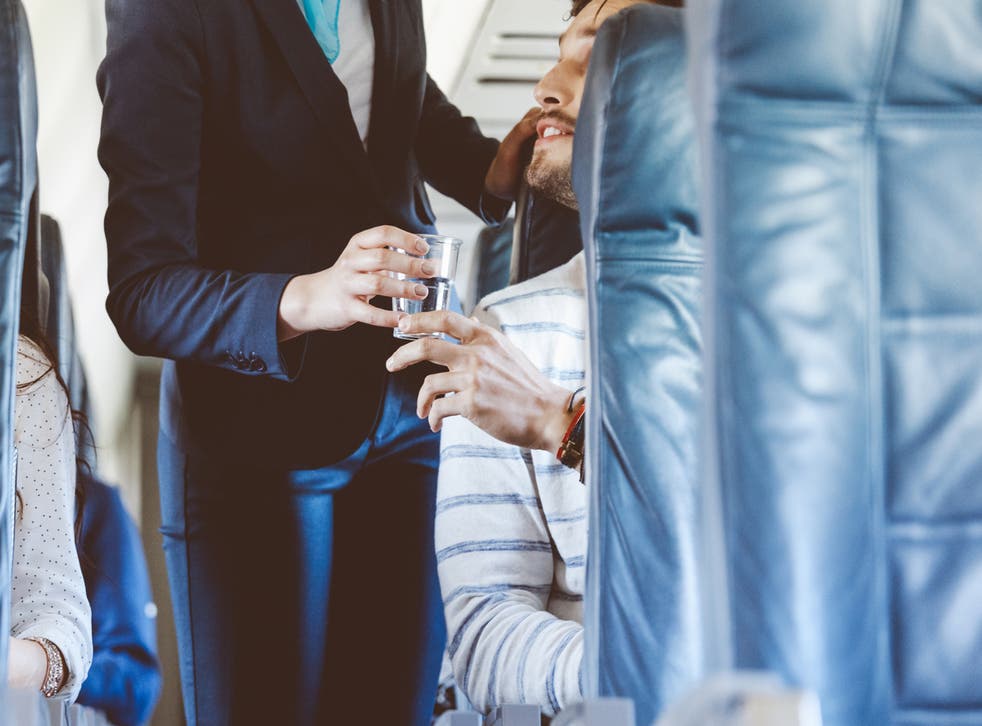 Water on some airlines is so unclean it's not fit for hand-washing, study reveals
Experts recommend bringing hand sanitiser on flights instead
Helen Coffey
Tuesday 05 November 2019 14:37 Comments
The water on a range of major airlines is so dirty that even hand washing isn't recommended, according to new research.
Studying the water quality on 11 major US carriers and 12 regional ones, the 2019 Airline Water Study, compiled by DietDetective.com and the Hunter College NYC Food Policy Center, found that only four out of 23 had "relatively safe, clean water".
The study scored each airline on a scale of 0 (worst) to five (best) based on 10 criteria, including positive E. coli and coliform water sample reports.
Any airline that scored a 3 or above was deemed to have relatively safe, clean water.
Alaska Airlines, Allegiant Air and Hawaiian Airlines all scored above 3 in the major airlines category; of the regional carriers, only Piedmont made the grade.
The worst ever inflight meals

Show all 8
United Airlines, JetBlue and Spirit Airlines achieved the lowest scores out of the major airlines, with 1.2, 1 and 1 respectively.
Of the regional carriers, four scored lower than 1 for their water cleanliness: Endeavor Air, Air Wisconsin Airlines, ExpressJet Airlines and Republic Airways.
"Except for Piedmont Airlines, regional airlines need to improve their onboard water safety," said Charles Platkin, the editor of DietDetective.com and the executive director of the Hunter College NYC Food Policy Center.
Unhealthy water violates the federal government's Aircraft Drinking Water Rule (ADWR), which was implemented in 2011 and requires airlines to provide passengers and flight crew with safe drinking water.
The 2019 Airline Water Study advises passengers to refrain from drinking any water on a flight that isn't in a sealed bottle, avoid drinking tea or coffee onboard, and to take hand sanitiser with you instead of washing your hands in the aircraft toilet.
Major US airlines' water scores
Alaska Airlines: 3.3
Allegiant Air: 3.3
Hawaiian Airlines: 3.1
Frontier Airlines: 2.6
Southwest Airlines: 2.4
Delta Air Lines: 1.6
American Airlines: 1.5
United Airlines: 1.2
JetBlue: 1
Spirit Airlines: 1
Regional US airlines' water scores
Piedmont Airlines: 4.33
Sun Country Airlines: 2.78
Envoy Air: 2.11
GoJet Airlines: 2
Trans States Airlines: 1.78
Compass Airlines: 1.22
PSA Airlines: 1.22
SkyWest Airlines: 1.11
Endeavor Air: 0.78
Air Wisconsin Airlines: 0.68
ExpressJet Airlines: 0.56
Republic Airways: 0.44
Register for free to continue reading
Registration is a free and easy way to support our truly independent journalism
By registering, you will also enjoy limited access to Premium articles, exclusive newsletters, commenting, and virtual events with our leading journalists
Already have an account? sign in
Join our new commenting forum
Join thought-provoking conversations, follow other Independent readers and see their replies