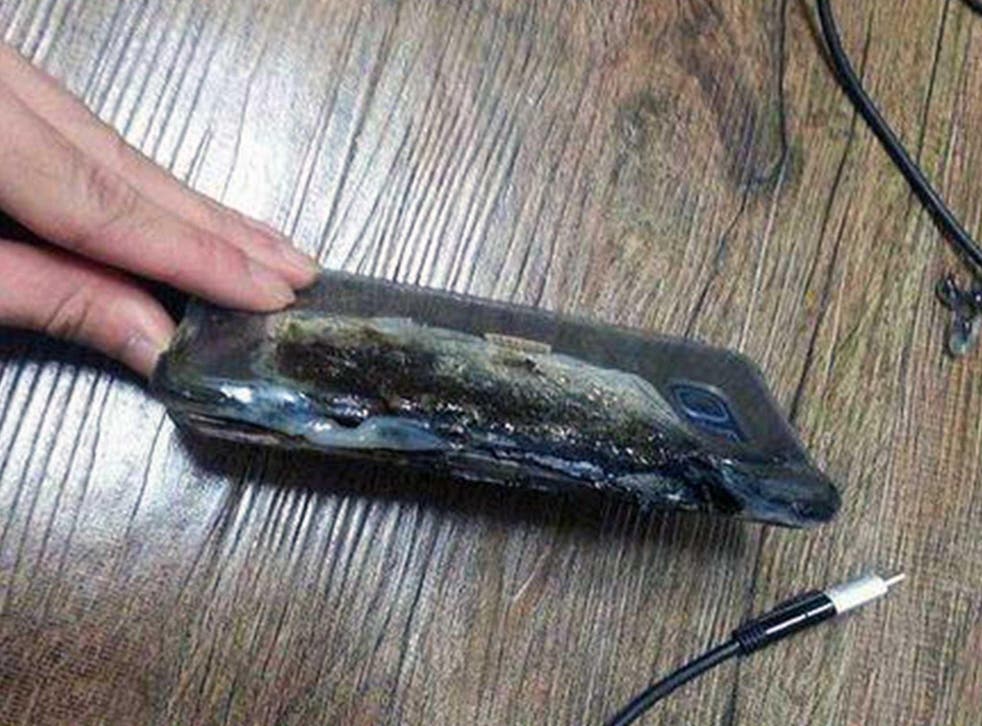 Fears among airlines about smartphone fires grows - but advice from regulators proves inconsistent
There have been dozens of incidents in which the new Samsung Galaxy Note 7 phones have caught fire
Airlines flying to and from Britain are stepping up precautions to avoid an inflight fire starting with a smartphone.
Following dozens of incidents in which the new Samsung Galaxy Note 7 phones have caught fire, the manufacturer has launched a recall - citing "a battery cell issue".
Any owners whose devices are regarded as risky will have their smartphone replaced. But pilots are concerned that passengers on flights to, from and within the UK may be unwittingly carrying dangerous devices. The recall only began on 19 September.
Passengers on flights on Thomas Cook Airlines and Norwegian have told The Independent that pilots made PA announcements asking for anyone carrying such a device to alert the crew. The Independent understands the protocol is for passengers to be asked not to switch on the smartphone on board, nor to charge it even if it is switched off.
But aviation safety experts are concerned that regulators and airlines are giving conflicting advice and instructions to passengers.
The US Federal Aviation Administration (FAA), the leading safety regulator, says it "strongly advises passengers not to turn on or charge these devices on board aircraft and not to stow them in any checked baggage".
Samsung Galaxy Note7: Official TVC
Yet in an apparent contradictory statement, the FAA also says: "If a product that is a hazardous material or that contains a hazardous material component (e.g., battery) is subject to a safety recall related to the hazardous material, it must not be carried aboard an aircraft or in baggage unless the recalled product/component has been replaced or repaired or otherwise made safe." That appears at odds with the statement allowing the Samsung smartphone on board subject to conditions.
Exploded Samsung Galaxy Note 7 - in pictures

Show all 7
One former pilot said: "If the FAA can't get its ducks in a row on such an important issue, what hope do the airlines have?"
Another Washington DC agency, the Department of Transportation has issued new rules for anyone flying to and from the US. British Airways is telling such passengers: "If you own a Samsung Galaxy Note 7, you must not turn your phone on or connect it to any power source during your journey. If your bag is checked in at the gate, please remove your Galaxy Note 7, and place it in your hand baggage."
A similar policy is being followed by easyJet on European flights. The airline says: "Customers travelling with a Galaxy Note 7 mobile phone will need to ensure it remains switched off during their flight and to be carried in their hand luggage."
Rules on the use of smartphones on board aircraft were recently relaxed, allowing them to be switched on so long as they are in "flight safe" mode.
Register for free to continue reading
Registration is a free and easy way to support our truly independent journalism
By registering, you will also enjoy limited access to Premium articles, exclusive newsletters, commenting, and virtual events with our leading journalists
Already have an account? sign in
Register for free to continue reading
Registration is a free and easy way to support our truly independent journalism
By registering, you will also enjoy limited access to Premium articles, exclusive newsletters, commenting, and virtual events with our leading journalists
Already have an account? sign in
Join our new commenting forum
Join thought-provoking conversations, follow other Independent readers and see their replies