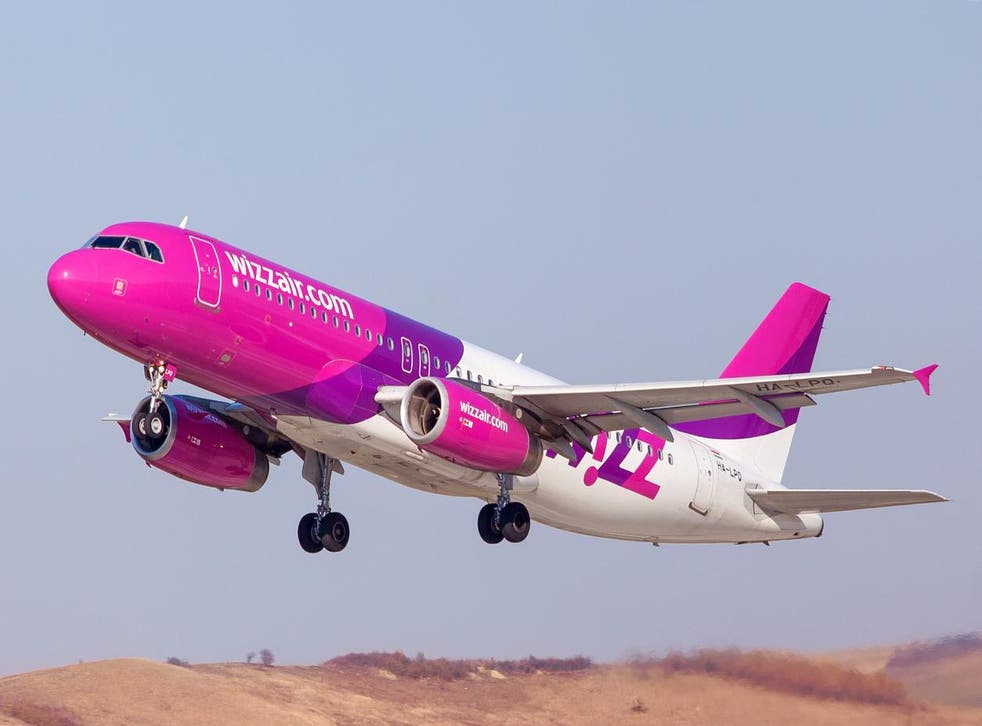 Airlines continue to split up households and families on flights despite pandemic
'It completely ruined the end of what had been an amazing holiday,' says traveller
Airlines are continuing to spilt up families and members of the same household on flights unless they pay more to sit together.
Despite the pandemic, passengers have complained that the controversial policy, whereby those who refuse to pay for allocated seating are placed apart from the other people on their booking, is still being enforced by low-cost carriers.
Vanessa Ah Sha Sen, 31, from London, told The Independent that she was "shocked" when Wizz Air split up her and her partner on a flight from Catania, Sicily, to Vienna, Austria on Friday 4 September.
"In all honesty, it completely ruined the end of what had been an amazing holiday," she said.
"The whole airport experience at Catania wasn't great with pretty much no social distancing and people not wearing masks properly, which is a different story, but then when we got on the plane it was even worse.
"I was already so shocked that their algorithm had split us up in the first place when I had checked in and was also feeling pretty anxious about having to sit next to strangers, but my partner reassured me that we could move before taking off if it wasn't full and it would make sense to do so anyway."
When they boarded the plane, the couple were not only seated apart, but seated on full rows with strangers.
Having noticed that there were a number of empty rows available, Vanessa asked a flight attendant if she and her partner could move so they were seated together, but her request was denied.
"She was very rude about it and told me I should have paid for seats together if we wanted to be next to each other," said Vanessa.
"I told her our goal was to avoid mixing with other households to avoid close contact as much as possible. She brushed over this and told me that everyone had to sit their allocated seats to ensure if there were any confirmed cases the airline could contact us to let us know."
Vanessa questioned the rule, having already noticed other passengers moving around the cabin to sit together, but eventually she "let it go".
Once home, Vanessa complained to Wizz Air's customer service department, and was again informed that she should have paid more if she wanted to sit with her partner.
"It's especially disappointing, because when the travel industry was complaining about the impact of COVID-19 on their business and then fighting to get back to normal, the first thing they did was reassure customers how safe it was, how they were putting passenger's safety first," she said.
"But this clearly isn't the case with low-cost airlines such as Wizz Air, who seem to be putting profits first.
"I had never agreed with airlines purposefully splitting up group bookings in the first place, but I wouldn't have thought they would have continued to do it when we're in the middle of a global pandemic."
Vanessa isn't the only one to have highlighted the practice, with many passengers complaining of the same issue on social media.
Alex Ferguson tweeted: "@wizzair currently on a flight where the group has been split up despite it being a full plane and next to someone without a proper mask - disgraceful behaviour in these times," while Fizza Schär wrote: "We are travelling to the UK from Crete today and @wizzair have decided to split up our three person family and seat us separately just because we haven't pre purchased the seats. How is that in line with current Covid-19 regulations? Feel at risk!"
User @ParaBrian1 commented of their Wizz Air flight: "Just boarded a flight from Mykonos to Vienna and I'm 17 rows away from my partner and there is numerous other groups all split up. Trying to extort money from people during a pandemic."
Ryanair has also been accused of using the same tactics.
"@Ryanair how irresponsible are you to split people up on the same booking on a virtually empty flight, given the current situation and social distancing rules? Ridiculous," tweeted Chris Sargent, alongside a picture of a seating plan that showed him and his travel companion seated at opposite ends of the aircraft.
Jay McCracken posted: "@Ryanair can you tell me why you constantly split families up on your flights, even with seats free next to them. Making them sit next to strangers that they never meet before and potentially putting them at risk of spreading Covid-19?"
A Wizz Air spokesperson told The Independent: "Wizz Air fully meets all local and international health requirements, and was the first European airline to introduce enhanced health and safety measures.
"As part of these protocols, Wizz Air cabin crew will re-seat passengers to allow for social distancing where possible.
"If load factors do not allow for this, families can choose to be seated together for a fee, but children under 14 will always be sat with one parent free of charge. In addition to WIZZ's health and hygiene measures, which ensure the most sanitary conditions on-board and a low-contact environment, HEPA filters on all Wizz Air aircraft filter out 99.97 per cent of viruses and bacteria from the air.
"All Wizz aircraft are regularly put through an industry-leading disinfection process with an antiviral solution throughout the day, and are disinfected again with this solution overnight. Wizz Air has taken every precaution to ensure that the health, safety and wellbeing of its passenger and crew is protected."
Ryanair did not respond when approached for comment.