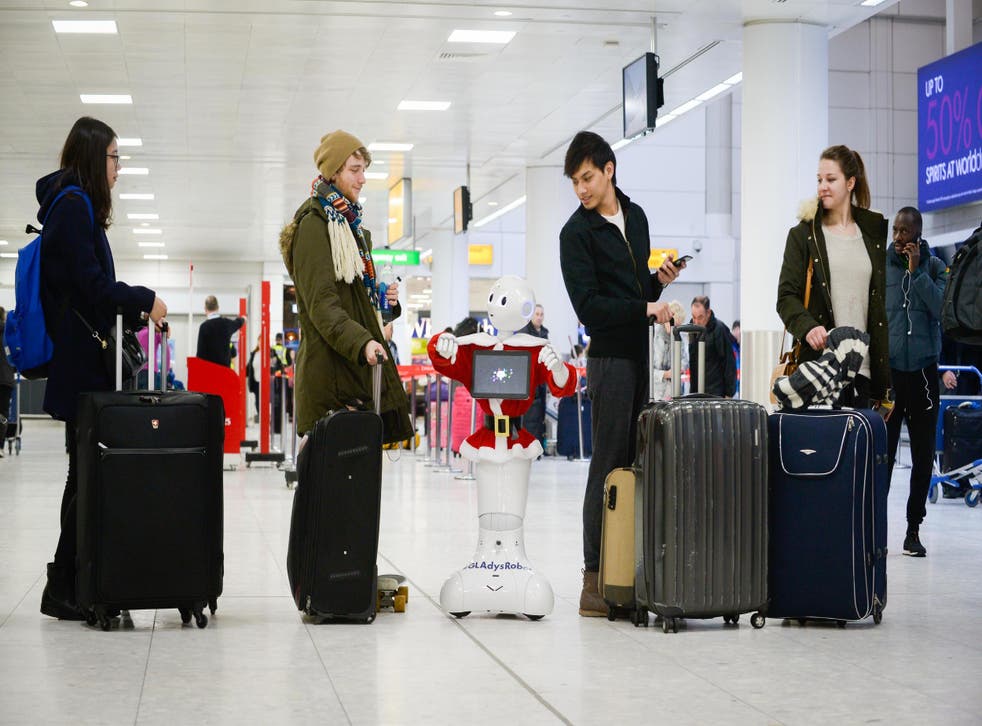 Glasgow airport unveils carol-singing, selfie-taking, dancing robot
Once passengers are used to interacting with GLAdys, she will be allowed to carry out more complex tasks
Airport check-in is synonymous with miserable queues, gate call anxiety and being aggressively friendly to the nice man behind the desk in the hope that he'll let you off on being two kilos over the baggage weight limit. But all that could be about to change.
Glasgow Airport has introduced what could be the solution to travellers' despair in the form of an all-singing, all-dancing robot called GLAdys. She takes selfies and tells Christmas stories in a soothing computerised voice – while dressed in a Santa outfit.
Her repertoire currently includes throwing shapes to Santa Claus is Coming to Town, Rocking Around the Christmas Tree and Rudolph the Red Nosed Reindeer, and retelling the festival tales Twas the Night before Christmas, When Santa Claus Comes and Santa's Workshop.
Selfies with GLAdys, whose name comes from Glasgow Airport's three-letter international code, can be sent by email or shared on Twitter.
Despite being Scottish, GLAdys has a suspiciously American accent. Mark Johnston, operations director at Glasgow Airport, said this is the result of her technology being so new that only one accent is available for each language she can speak. "This will change in the near future and we will have different accents for each language," he said. "She'll hopefully be speaking with a Glaswegian accent in the not so distant future."
Mr Johnston added that once passengers were used to interacting with a robot at the airport, they would be allowing GLAdys to carry out more complex tasks, like collecting feedback on airport services and helping people to find food outlets and flight information. He said: "In Japan, the development of this type of robot is more advanced and it provides many of the services we plan to introduce. The possibilities really are endless."
Join our new commenting forum
Join thought-provoking conversations, follow other Independent readers and see their replies