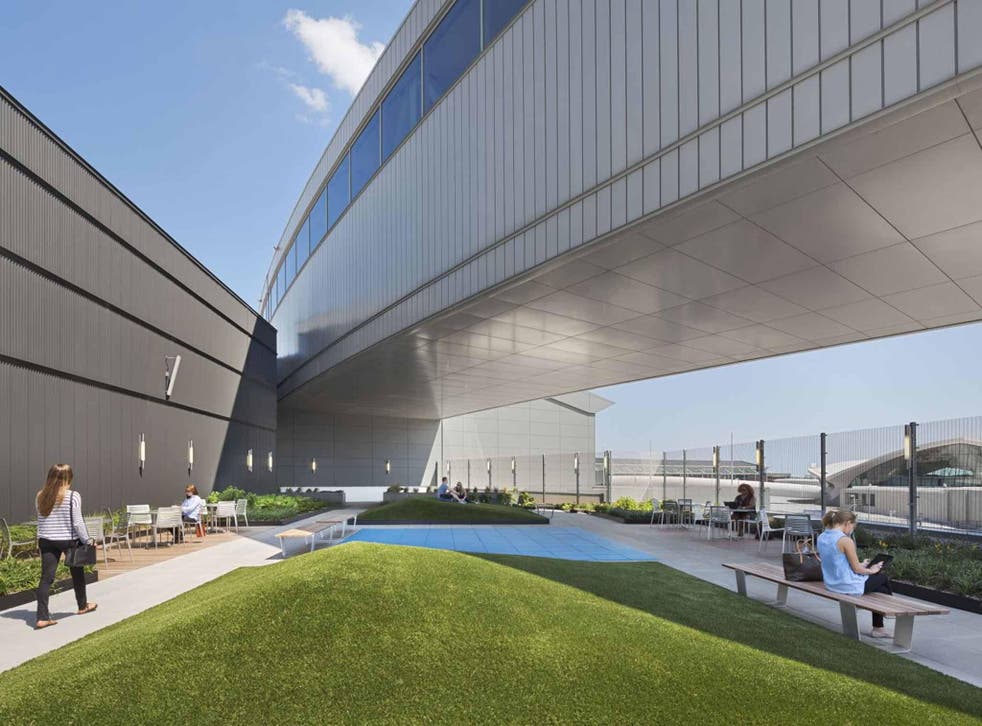 Airport rooftop terraces: A stroll outside should be the upside of being airside
It's not just children and geeks, many of us want to sit outside and enjoy some runway action
Christopher Beanland
Monday 24 August 2015 15:29 Comments
From Heathrow and Gatwick to Newcastle, Teesside, and Edinburgh, many British airports used to have rooftop terraces. However, they were all closed because their apparently benign presence was deemed a security risk.
Today, most airports can't offer even the most basic amenity: fresh air (plus the chance to watch the oddly compelling mechanical ballet of planes gliding around with a swanlike grace belying their shot-putter bulk). Instead, we are funnelled through dispiriting shopping malls, loaded with the scent of duty-free perfume.
The status quo seems particularly bizarre now, because although the al fresco viewing area was essentially a 1960s fad, it has once again become the latest wheeze in airport architecture. In April, Frankfurt unveiled a renovated visitors' terrace, and last month a new roof space for all classes of traveller opened on top of Terminal 5 at New York's JFK, complete with dog-walking promenade and playground.
The latter is telling: children love the excitement of airports, and British hubs are missing their chance to indoctrinate the next generation – who might grow up favouring high-speed trains to nip round Europe instead of planes.
Airports need all the friends they can get in a tough political and ecological climate, so why aren't they making them? There's an amusing episode of BBC Midlands Today on YouTube, documenting the opening of Birmingham Airport's new terminal in 1984. The presenter interviews anoraked plane spotters in the new viewing area. They're harmless souls, and savvy police forces like West Midlands still use Brummie spotters as "eyes and ears" to keep a watch out for suspicious activity (though Birmingham's terminal viewing area is now shut too).
Yet it's not just children and geeks – normal people often want to sit outside and enjoy some runway action. Delta's business lounge at Atlanta makes a show of its outdoor bar. The new Star Alliance lounge at Los Angeles has a glitzy patio with fire pits; though in the alliance's new Terminal 2 at Heathrow – nothing outside at all. Only Virgin's Clubhouse at Heathrow Terminal 3 has a small outdoor zone. Nice as they are, however, these are all business lounges; what's lacking is democratic outdoor space for all travellers.
The situation in the UK doesn't make much sense. You could understand why airports wouldn't want random visitors turning up (though a security point would be easy to install). But when it comes to actual checked-in travellers, complete with boarding passes, visiting an airside terrace, they've been screened for their flight anyway.
And if Budapest, Singapore, Stuttgart, Dusseldorf, Hamburg, Amsterdam, Hong Kong, Tokyo Haneda, Tokyo Narita, Munich, Zurich, Basel, Berlin Tegel, Cologne-Bonn, and dozens of other airports around the world trust passengers to go out on the roof and enjoy an al fresco constitutional, a drink, and a look at the planes without committing an atrocity – then surely British airports can too.
Register for free to continue reading
Registration is a free and easy way to support our truly independent journalism
By registering, you will also enjoy limited access to Premium articles, exclusive newsletters, commenting, and virtual events with our leading journalists
Already have an account? sign in
Join our new commenting forum
Join thought-provoking conversations, follow other Independent readers and see their replies