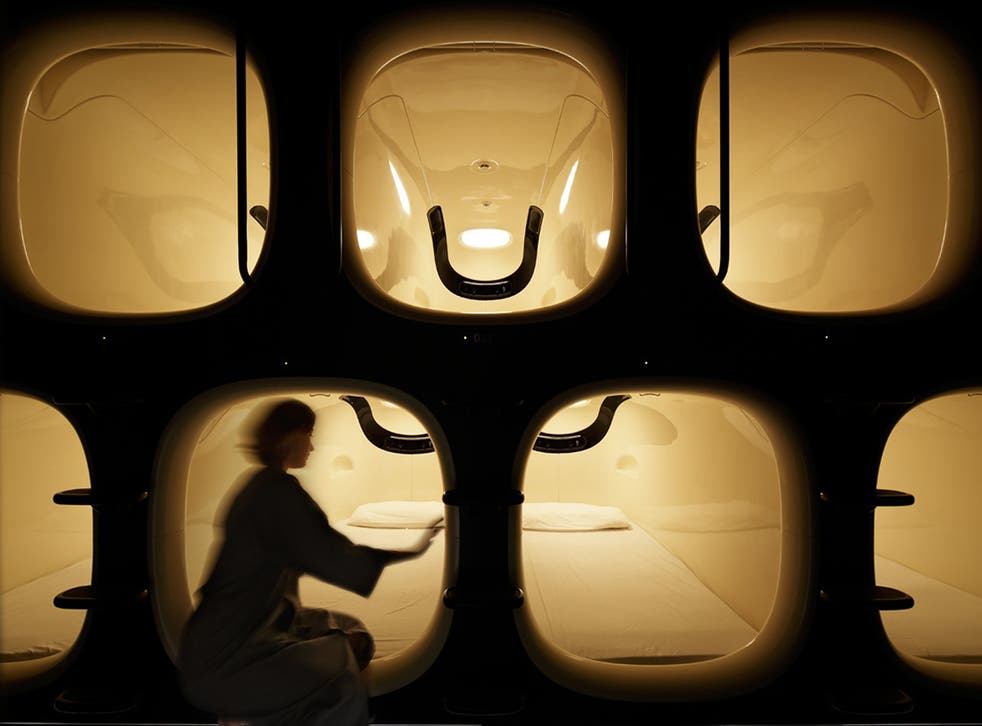 Airport sleeping pods: how to snooze on a stopover between flights
There's a safe and comfier alternative to napping on a bench in the terminal
You've just spent 12 hours in an economy class seat, you missed your connection, you're facing six hours in the terminal until your onward flight - and all you really want to do is get a few hours' slumber.
You could of course stretch out on a bench in the concourse, perhaps to find your passport and belongings have been "liberated" when you wake up. But there's a safer, comfier and more dignified alternative: What you really need is a "Napcab", or a "Minute Suite", maybe a "GoSleep" pod or perhaps even a "SnoozeCube". These are just some of the growing list of small, self-contained, pay-by-the-hour capsules in the airport where you can drift off to the land of nod, undisturbed, and charge your electronic devices while you rest - all without having to worry about strangers stealing your stuff.
These cocoon-like modules provide convenience for the burgeoning army of weary passengers transferring through the major hubs, and they're also a nice little earner for the airports (the market potential is phenomenal: Heathrow, for example, handles around half a million transfer passengers every week).
The concept of miniaturized pay-as-you-go sleeping spaces originated in 1979 when Japanese "starchitect" Kisho Kurokawa designed the Capsule Inn Osaka, and it's a concept that's evolving and propagating across the globe's busiest airports.
If you're transiting through Helsinki-Vantaa (Gate 31, Schengen Lounge and non-Schengen Lounge), Tallinn (Gate 9 and Nordea Lounge), Amsterdam's Schiphol (Concourse D), Abu Dhabi (Gate 35 T3), Dubai (Marhaba Lounges and concourses A and B T3), Tokyo's Haneda (T1 and T2) and soon in Belo Horizonte, Brazil, look out for GoSleep sleeping pods. These are like business class seats that fold flat and are encased with a sliding shade that you close from the inside. There's space for luggage and a socket for charging your digital gear.
GoSleep's Founder and CEO Jussi Piispanen told The Independent: "We are currently in discussions with several companies in the UK and can hopefully enter the market during 2016." Prices vary between £4-9 an hour depending on the length of stay. "The most popular choice is a package of 2-3 hours including a blanket and pillow, priced around £28" says Piispanen.
If you're in need of a nap at Berlin-Tegel Airport (Tegel Sky Conference) or Munich Airport T2 (Level 5, Gate H32 and Level 4, Gate G06) check out a Napcab. These are soundproofed, air-conditioned cubicles measuring 4 square metres with a bed and a multimedia touch-screen with flight departure times and an alarm. Charges are €15 an hour between 06am and 10pm, and €10 an hour between 10pm and 06am, with a minimum charge of €30.
In Japan, Nine Hours offers travellers at Narita International T2 the option to pre-book a sleeping pod (these measure 110cm wide by 220cm deep by 110cm tall). Each features a "sleep ambient control system" for lighting control.
"We offer amenities and linens of high quality. Also, our original pillows are well-received," Nine Hours' Miho Endo told The Independent, alluding to a uniquely designed pillow and cover that can be purchased upon arrival for 18,000 yen.
The brand concept is that Nine Hours is the average time business travellers stay in hotels: seven hours for sleep combined with an hour for resting and an hour for grooming. Fees are 1,500 yen for the first hour plus 500 yen per additional hour. Sleeping pods are stacked on two levels like a double-decker bus, and there are showers available nearby at 1,000 yen with complimentary towels, shampoos and body soaps.
Paul Sillers is an aero-industry writer focusing on design, technology, user experience and brand strategy
Join our new commenting forum
Join thought-provoking conversations, follow other Independent readers and see their replies