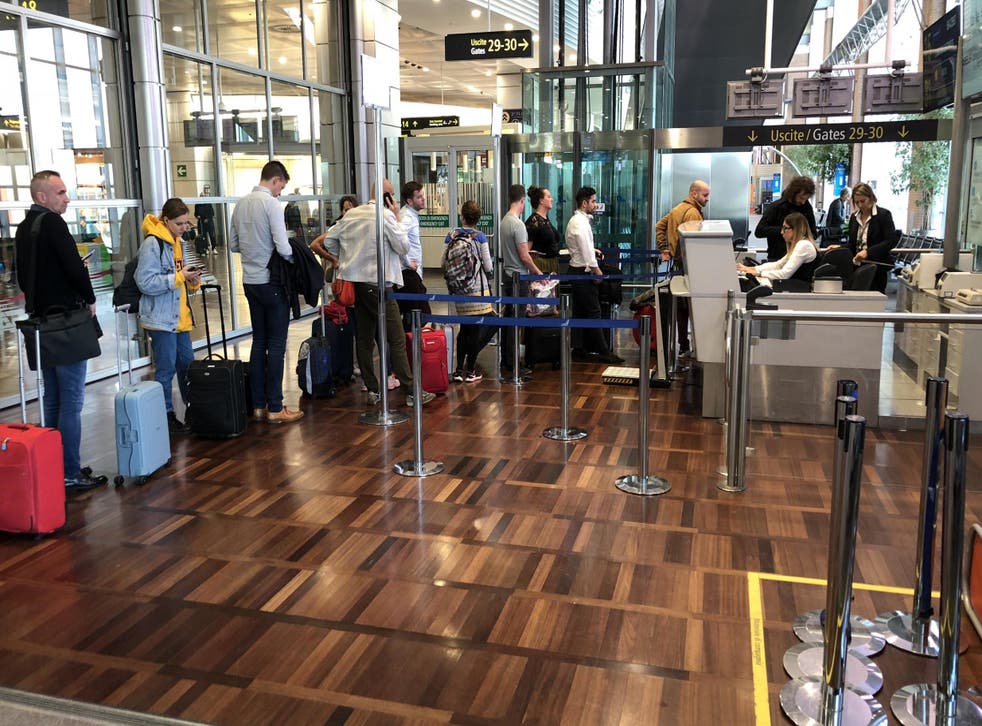 Tens of thousands of passengers face disruption from Italian aviation strikes
British Airways is allowing passengers to switch to alternative dates
Italian air-traffic controllers are staging a four-hour strike on Monday 25 November that will jeopardise thousands of passenger journeys on airlines flying to and from Italy.
And as airports become busier in the build-up to Christmas, unlucky Alitalia passengers booked on Friday 13 December could be grounded as staff stop work in protest against job losses.
Air-traffic controllers at all four area control centres covering Italy – at Milan, Padua, Rome and Brindisi – had originally planned a 24-hour strike. But Eurocontrol has just confirmed it will now last only four hours between 1 and 5pm.
Controllers who work in the control towers at five Italian airports will also strike on Monday: Ancona, Brindisi, Perugia, Pescara and Rome Ciampino.
While the first four airports are relatively small, the last – a key hub for Ryanair – is in the top 10 for passenger numbers in Italy.
Many departures are likely to be delayed or cancelled as a result.
British Airways is allowing passengers booked to travel on Monday 25 November to or from Rome Fiumicino, Milan LInate, Genoa, Naples or Venice to change their date of travel to any other day from 22 November to 28 November 2019.
The airline has adjusted the timings of some flights to Genoa, Naples and Milan to avoid the strike spell. BA is telling passengers: "We are sorry for any disruption this potential action may cause to your journey."
A spokesperson for easyJet said: "We will advise all affected customers of any flight changes via e-mail and SMS. We recommend all customers flying to or from Italy on Monday to check the status of their flight on our Flight Tracker page.
"Although this is outside of our control we would like to assure them that we are doing all possible to minimise any potential disruption as a result of the industrial action."
The world's healthiest and happiest airports

Show all 8
All incoming intercontinental flights will be allowed to land, but some non-Italian airlines may cancel their operations because of the uncertainty about flying out again.
The controllers normally cover a vast swathe of southern Europe, stretching from the Alps to south of Sicily and from Sardinia to Puglia, the "heel of Italy".
Thousands of flights overfly Italian airspace each day, and these operations are currently predicted to be unaffected by the strike.
Travellers whose flights are cancelled are entitled to be rebooked on a different flight as soon as possible, even if their airline has to buy a seat on a rival carrier.
Airlines must also provide meals, and if necessary accommodation, to disrupted travellers.
Alitalia workers and some other aviation staff are planning to strike on 13 December. The heavily loss-making Italian national airline, whose backer Etihad pulled out in 2017, is currently being supported by the state.
Large-scale job losses are likely as the carrier prepares for a financial rescue.
Register for free to continue reading
Registration is a free and easy way to support our truly independent journalism
By registering, you will also enjoy limited access to Premium articles, exclusive newsletters, commenting, and virtual events with our leading journalists
Already have an account? sign in
Register for free to continue reading
Registration is a free and easy way to support our truly independent journalism
By registering, you will also enjoy limited access to Premium articles, exclusive newsletters, commenting, and virtual events with our leading journalists
Already have an account? sign in
Join our new commenting forum
Join thought-provoking conversations, follow other Independent readers and see their replies