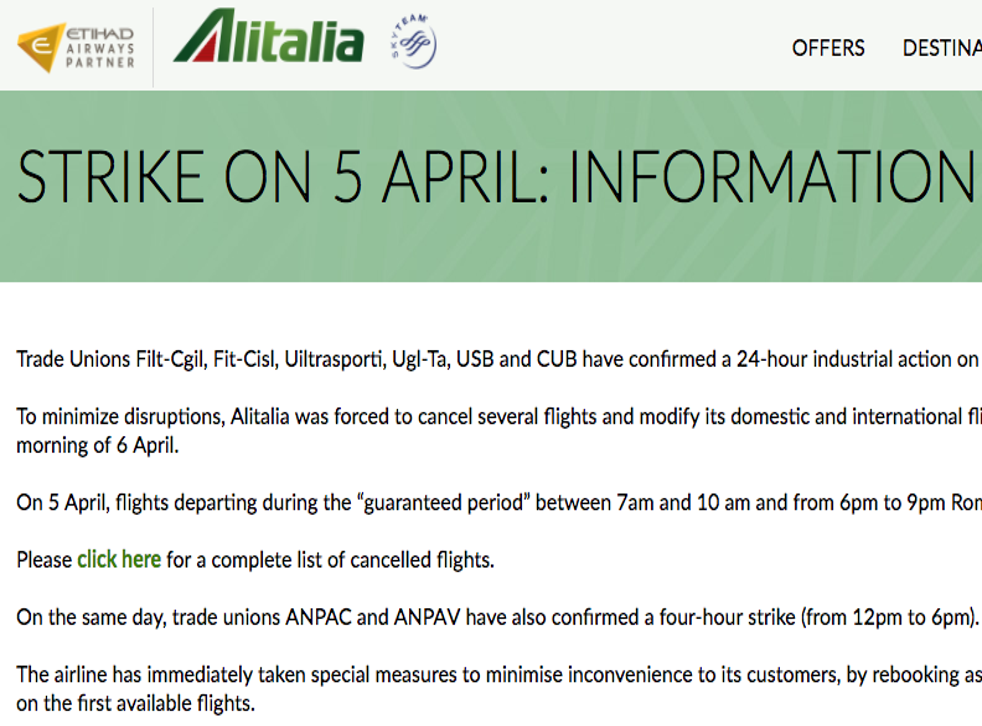 Italy airport strikes: Alitalia cancels 60% of scheduled flights delaying thousands of passengers
Many more transport stoppages planned for the rest of April
Airline passengers flying to, from and within Italy have experienced severe delays and cancellations on a day involving widespread strikes by aviation workers, with more industrial action planned for the end of the Easter holidays.
Alitalia staff are striking in disputes on pay and conditions, along with groups of ground staff the length and breadth of Italy.
Hundreds of flights on the Italian national airline have been cancelled, amounting to 60 per cent of the day's schedule.
Alitalia is telling passengers: "The airline has immediately taken special measures to minimise inconvenience to its customers, by rebooking as many of the passengers affected by cancellations as possible on the first available flights." But with many services cancelled, including multiple flights to New York and other long-haul destinations, it could take days to get passengers where they need to be.
Flights from Heathrow and London City to Milan and Rome were among those cancelled. Because crews and aircraft will be out of position on Thursday, Alitalia has already cancelled more than 50 additional departures — including a morning service from Heathrow to Rome.
The "strike calendar" published by Italy's Ministry of Infrastructure and Transport shows a vast number of impending strikes by transport workers. On Thursday, many bus drivers in the Lazio region surrounding Rome will strike, followed by their counterparts in Sicily, the Naples area and Brescia.
Sunday sees railway workers in the Piedmont region taking action. In February, taxi drivers in Rome stopped work for four days.
More aviation strikes are planned across the country for 21 April — a key date for British families returning from their Easter holiday breaks.
Other airlines were less affected by today's action.
British Airways cancelled a handful of flights serving Florence, Genoa and Pisa. BA told passengers: "Unfortunately we have been forced to cancel a very small number of services.
"Although the industrial action is beyond our control and will affect a number of airlines, we are sorry for any potential disruption to your travel plans."
The airline has also cancelled tonight's flight from Heathrow to Buenos Aires and back, because of a separate dispute at the Argentinian capital's main airport.
Register for free to continue reading
Registration is a free and easy way to support our truly independent journalism
By registering, you will also enjoy limited access to Premium articles, exclusive newsletters, commenting, and virtual events with our leading journalists
Already have an account? sign in
Register for free to continue reading
Registration is a free and easy way to support our truly independent journalism
By registering, you will also enjoy limited access to Premium articles, exclusive newsletters, commenting, and virtual events with our leading journalists
Already have an account? sign in
Join our new commenting forum
Join thought-provoking conversations, follow other Independent readers and see their replies