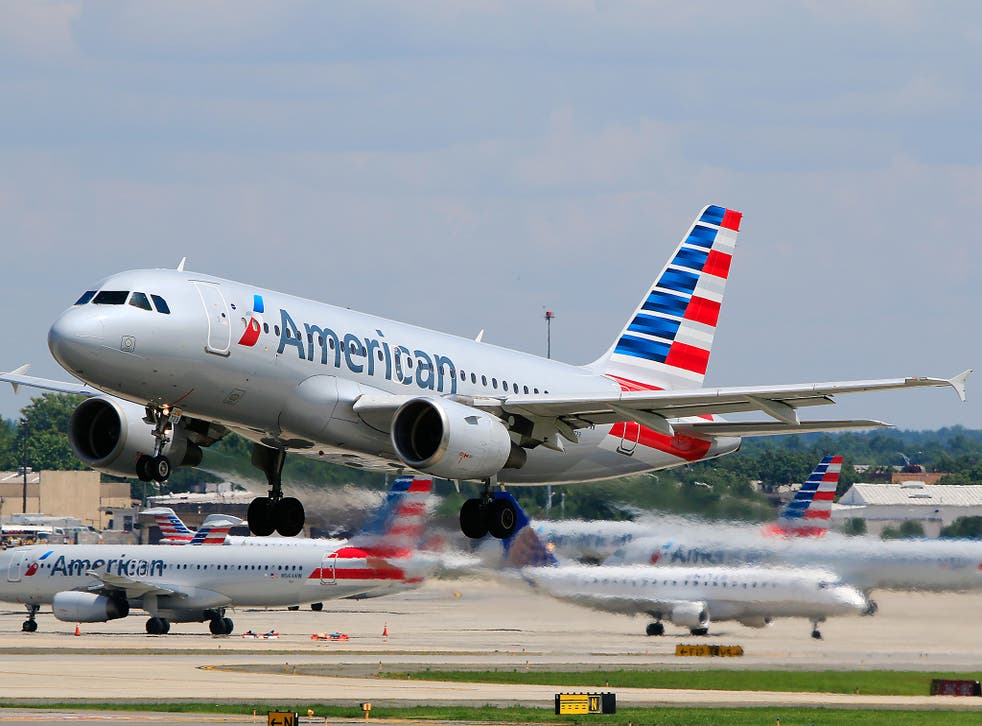 American Airlines accused of racism for sending black woman with first class ticket to back of plane
Passenger said the experience was 'like being sent to the back of the bus'
Helen Coffey
Wednesday 17 May 2017 08:40 Comments
Two women travelling on an American Airlines flight have claimed members of staff were "racist" towards one of them.
Rane Baldwin, who is African American, was flying with friend Janet Novack, who is white, from Kentucky to Charlotte when the incident occurred on 2 May.
Baldwin - an AAdvantage Platinum Select/World Elite cardholder - had purchased the two tickets and decided to upgrade them both to first class. However, when they were issued their boarding passes, she was instructed to go to the back of the plane despite her frequent flyer status, while Novack, who holds no status with the airline, was directed to first class. Baldwin was told her seat had been reassigned because there weren't enough first class seats available.
The behaviour of American Airlines flight attendants from there added up to "the most blatantly racist thing that's ever happened to me," according to Baldwin. "I've never felt so unimportant in my entire life," she told The Root.
Baldwin said she tried to complain to a member of cabin crew about her seat reassignment but was completely ignored. Meanwhile, Novack was asking the same questions and raising the same concerns, but receiving a completely different response.
"As [Baldwin] asked questions, she was ignored," Novack wrote on Twitter. "However, whenever I asked the same questions, I received thorough answers.
"The whole reason that I was flying first class was because I was associated with her and her reservation. They were ignoring the card holder."
The women were told that Baldwin would be moved up if there was any extra space, but she was not allowed to wait at the front of the aircraft and was instead sent to the back of the plane. "They literally made her wait at the back of the plane and refused to make eye contact with her or speak with her," said Novack.
As the plane was half empty, Baldwin says she ignored her seat allocation and went to sit at the front of the main cabin where there were many empty seats. Novack then gave up her first class spot to sit with her friend, but again the pair were troubled by the behaviour of AA's flight attendants.
"When the second flight attendant came through for a cabin check, he saw us (already buckled in, arm rest in between us up) and told my friend that there was plenty of extra space and that we could 'spread out' if she wanted to. He did not say this to anyone else," said Baldwin.
Novack added: "I was informed that I could move, and we didn't HAVE to sit together. Apparently, everyone else could be squished, not us.
"The microaggressions that [AA's] workers projected are prejudiced, ignorant. They literally didn't believe I was flying with a black woman."
The only reason Novack was in possession of a first class ticket is because of Baldwin's status with AA.
Baldwin said: "It was baffling and hurtful that the crew seemed completely aware of what they were doing and just didn't care. People didn't seem to trust me and made giant, incorrect assumptions about the relationship between my friend and me.
"I'm the one who bought the tickets; she was travelling with me – not the other way around. When my ticket was changed and Janet's was not, I felt like I was being sent to the back of the bus. I just kept wondering if I was in some sort of time warp and asking myself, 'Is this what it felt like to be black 60 years ago?'"
Baldwin has said she would like an "admission of wrongdoing and an apology" from American Airlines.
A spokesperson for American Airlines told The Independent: "We have reviewed the allegations, and no discrimination occurred. After a flight was cancelled, an agent inadvertently provided two first class seats to Ms Baldwin and Ms Novack. The passengers were not ticketed for the first class cabin, and a formal upgrade was not processed. (i.e. they were never charged/miles were not deducted.)
"The next day, the agent working the flight realized the error, since we were short one seat in the first class cabin. Instead of removing both passengers from first class, we permitted the passenger who was 'upgraded' in error first, to remain in the first class cabin as a gesture of goodwill. Ms. Novack was the passenger who was upgraded in error first.
"We have apologized to both passengers for the confusion, and explained how the issue occurred – which was an error on our part."
This isn't the first time American Airlines has come under fire for flight attendants' behaviour. Last month one member of staff was suspended after he challenged a passenger to a fight at the front of an aircraft cabin.
Register for free to continue reading
Registration is a free and easy way to support our truly independent journalism
By registering, you will also enjoy limited access to Premium articles, exclusive newsletters, commenting, and virtual events with our leading journalists
Already have an account? sign in
Join our new commenting forum
Join thought-provoking conversations, follow other Independent readers and see their replies