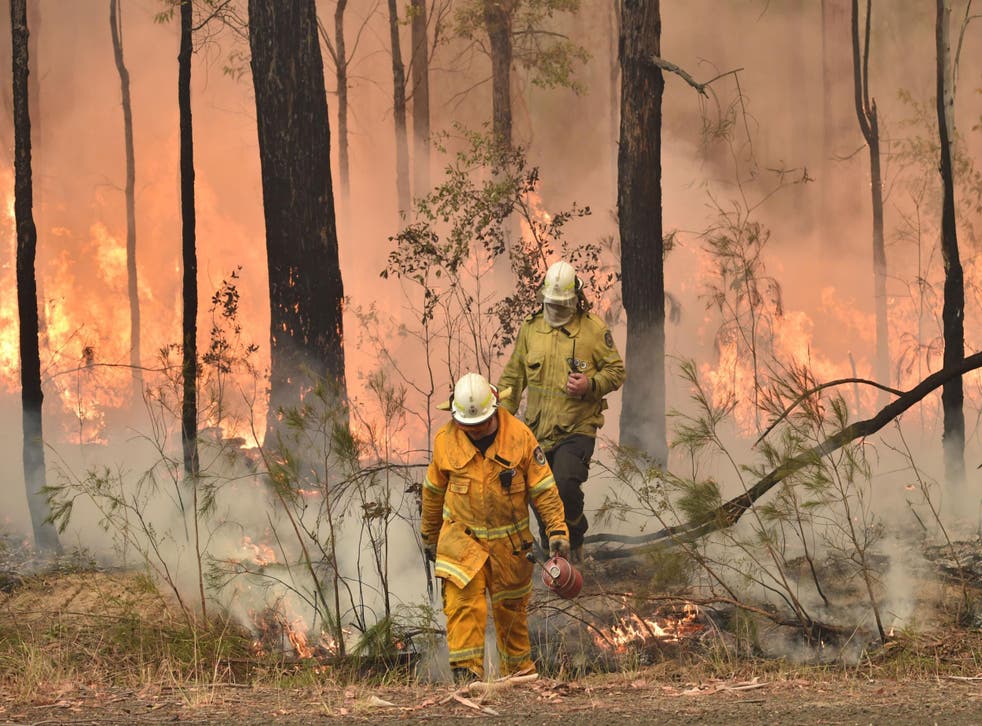 Australia wildfires: Should tourists stay during the crisis?
Key questions and answers about journeys affected by the unfolding disaster
"Australia continues to battle serious bushfires across multiple regions," warns the UK Foreign Office.
"Authorities in some regions have declared a State of Emergency and ordered road closures and evacuations."
Yet for many of the tens of thousands of British holidaymakers in Australia at present, or planning to travel there imminently, the prospects of flexibility look limited.
These are the key questions and answers.
Where are the problems worst?
Devastating wildfires rage across Australia: In pictures

Show all 40
The picture is constantly changing, but at present all attention is focused on the coastal strip south of Bateman's Bay in New South Wales – a town about halfway between Sydney and the Victoria state border.
The area of peril extends beyond the state frontier into Victoria, and inland to encompass Kosciuszko National Park – which includes Australia's highest mountain, Kosciuszko (2,228 metres).
This is normally a very attractive part of Australia, and is popular with local and overseas holidaymakers alike. Everyone has been told to leave the area.
The island state of Tasmania has also been experiencing wildfires, near the capital, Hobart.
Residents and travellers in South Australia have been warned about extreme conditions on Friday, and parts of Western Australia are still cut off.
Elsewhere, the popular visitor destination of Queensland is relatively unaffected (though in September and November 2019 the state experienced problems from uncontrolled blazes).
Wherever you are heading in Australia, do as the Foreign Office says: "If you're in or near an affected area or planning any travel, stay safe, monitor TV news, radio and social media channels for updates, and follow the instructions and advice of local authorities."
I am currently in Australia and want to come home early
That is likely to prove expensive and possibly difficult. In the absence of Foreign Office advice against travel to parts of Australia, travel firms are largely enforcing their usual terms and conditions.
For many airline tickets, changing the inbound date is possible – though it is likely to involve a fee of £100-£200, or more if you booked through a travel agent that likes to add extras for additional service. In addition you are likely to have to pay any difference in fare compared with your original flight. And since this is a high-demand time for departures from Australia, that could add hundreds more.
If, conversely, you booked through a full-service travel agent or tour operator who put together the trip for you, then it is well worth contacting them to explain your situation and preference to return home early. They are likely to have more clout with the airline to allow changes without the usual penalties.
I have booked to go imminently to Australia, although I will not be going to the affected area. Should I stay away?
No. There are many parts of this vast country that are unaffected by the current and continuing wildfires. While the hot, dry conditions could lead to more outbreaks elsewhere in Australia, that possibility does not mean you need to postpone a trip. The tourism industry, which is already being affected, needs all the help it can get – and you deserve a winter holiday.
But I do not want to add to the nation's burden, nor risk being stuck in a country with uncontrolled fires
That is entirely up to you. I have contacted the major airlines serving Australia from the UK, and of those that have replied the attitude is "normal terms and conditions apply". So if you have a flight-only deal, you are unlikely to be able to cancel, defer or switch destination without losing a lot of money.
On an organised trip, again it is a matter of talking to the travel specialist and expressing your concerns.
Australia wildfires: Prime minister Scott Morrison heckled on New South Wales farm
My trip as booked has important elements that can no longer take place because of the fire. Do I have any rights?
Yes, assuming they are deemed to be significant elements, and booked with a UK (or other EU) travel provider. I can give you a couple of current examples.
Suppose you have a fly-drive booked between Adelaide and Perth. The Eyre Highway is currently closed in at least two points, rendering the road journey impossible.
Or you might have hiking or mountain-biking organised in Kosciuszko National Park. At this point, the Package Travel Regulations come into play. They says that if the travel organiser cannot deliver what was booked because of "unavoidable and extraordinary circumstances" then you are entitled to a full refund.
f you have booked with a local Australia firm, then you have no such legal rights.
Won't my travel insurance cover me?
It might, depending on the circumstances and the quality of your insurance cover.
One good-quality policy, for example, will pay for extra accommodation and transport costs if you are forced to move from your planned location as a result of fire. This does not apply to people who bought insurance once the prevalence of bushfires was known.
Register for free to continue reading
Registration is a free and easy way to support our truly independent journalism
By registering, you will also enjoy limited access to Premium articles, exclusive newsletters, commenting, and virtual events with our leading journalists
Already have an account? sign in
Register for free to continue reading
Registration is a free and easy way to support our truly independent journalism
By registering, you will also enjoy limited access to Premium articles, exclusive newsletters, commenting, and virtual events with our leading journalists
Already have an account? sign in
Join our new commenting forum
Join thought-provoking conversations, follow other Independent readers and see their replies