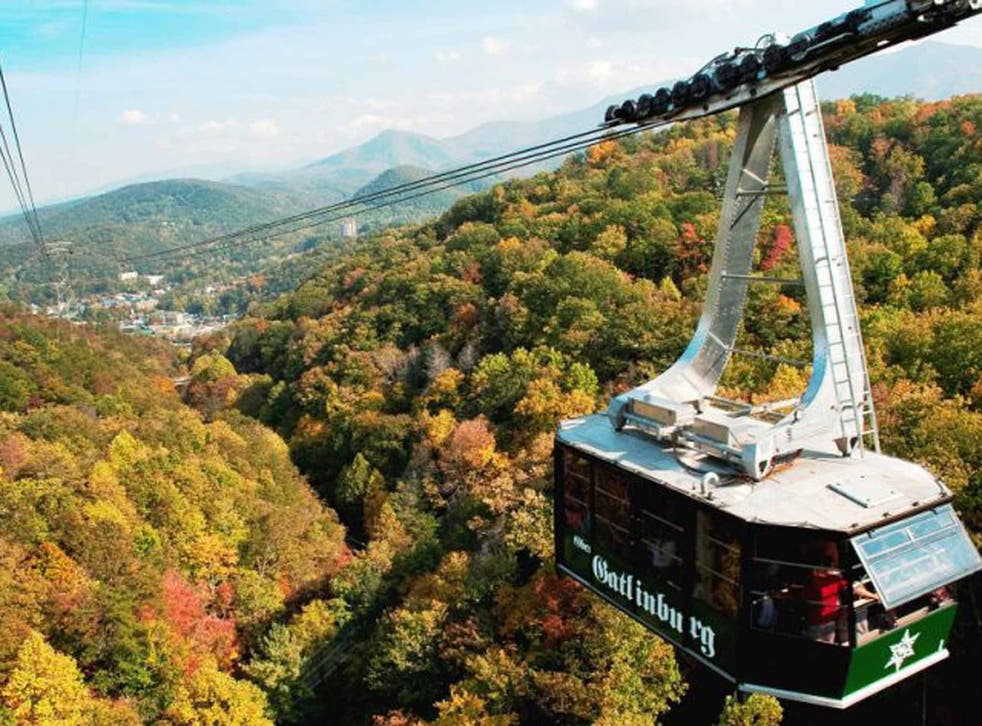 Autumn colour destinations: From the Smoky Mountains to Switzerland
Look beyond New England and explore the season's natural beauty in a lesser-known spot, suggests Aoife O'Riordain
One of Mother Nature's most spectacular displays is upon us. With the arrival of autumn the forests and woodlands of the Northern Hemisphere are gradually transforming into a striking natural show of russet, vermillion, gold, bronze and yellow. New England is justifiably popular for its arresting autumnal displays but there are off-the-beaten-track alternatives.
Turning Japanese
Despite the distance, koyo, as it is called in Japan, is just as magical a time to visit as the spring cherry blossom season. The turning leaves of the maple and gingko trees around the Unesco World Heritage-listed historic area of Kyoto add an extra special dimension to its Buddhist temples and Shinto shrines. Macs Adventure (0141 530 1991; macsadventure.com) offers an eight-night Kumana Kudo walking itinerary for £1,095pp, which starts in Kyoto and weaves its way through forested mountains and villages along a network of 11th-century pilgrim trails. The price includes b&b accommodation, five dinners, rail tickets and local support.
Saintly slumbers
You don't need to leave British shores to see some impressive bursts of colour. The Chapel is a charming tin chapel tucked among the trees of Walcot Arboretum in Shropshire. Part of the Georgian Walcot Hall Estate, it is one of the finest of its kind in the country, with an array of interesting tree and plant species.
There are plenty of outdoor activities on the estate, which was once home to Lord Clive of India, with walking trails, fishing and horse riding. The self-catering Chapel sleeps up to four and is available to rent from £112 per night for a minimum of two nights, via Canopy & Stars (0117 204 7830; canopyandstars.co.uk).
Maple magic
Freewheeling through the gorgeous colours on display in the dense forests of maple, ash, hickory and walnut trees that dot the Canadian province of Quebec is a particularly pleasurable way to watch autumn take hold. Boasting displays equally impressive as some of its US neighbours, Montreal, Quebec City and the Eastern Townships in the foothills of the Appalachian Mountains are all on Butterfield & Robinson's (0800 086 8737; butterfield.com) five-night cycling tour. The price of £3,865pp includes b&b accommodation in luxury hotels and inns, some meals, support, transfers, private tours and guides. Flights extra.
Hit the road
New England (Maine, Vermont, New Hampshire, Massachusetts, Connecticut and Rhode Island) is justifiably popular for leaf peeping, but the Blue Ridge Parkway that passes through Virginia to Great Smoky Mountains National Park in Tennessee has some equally fine spectacles – and fewer crowds. The Skyline Drive is a 175km section through Shenandoah National Park in the Blue Ridge Mountains, where in October you are treated to stunning displays of foliage. Bon Voyage (0800 316 3012; bon-voyage.co.uk) has a 12-night self-drive trip along the route from £1,795pp. The price includes flights, room-only accommodation and car hire.
Swiss shades
Immerse yourself in a majestic mountain landscape as autumn draws its cloak over Switzerland's Upper Engadine Valley. This part of thickly forested south-east Switzerland is where you can find the blazing hues of its native larch trees set off by sparkling blue lakes and the towering peaks of the Alps. Stay at the Grand Hotel Kronenhof (00 41 81 830 3030; kronenhof.com) a neo-Baroque, registered historical landmark – think Wes Anderson's "Grand Budapest Hotel" – set in the village of Pontresina, close to the glamour of St Moritz. Hike along trails lined with larches turning shades of gold, amber, bronze and copper, then relax in the hotel's spa. Doubles start at Sfr425 (£288), half board.
Join our new commenting forum
Join thought-provoking conversations, follow other Independent readers and see their replies