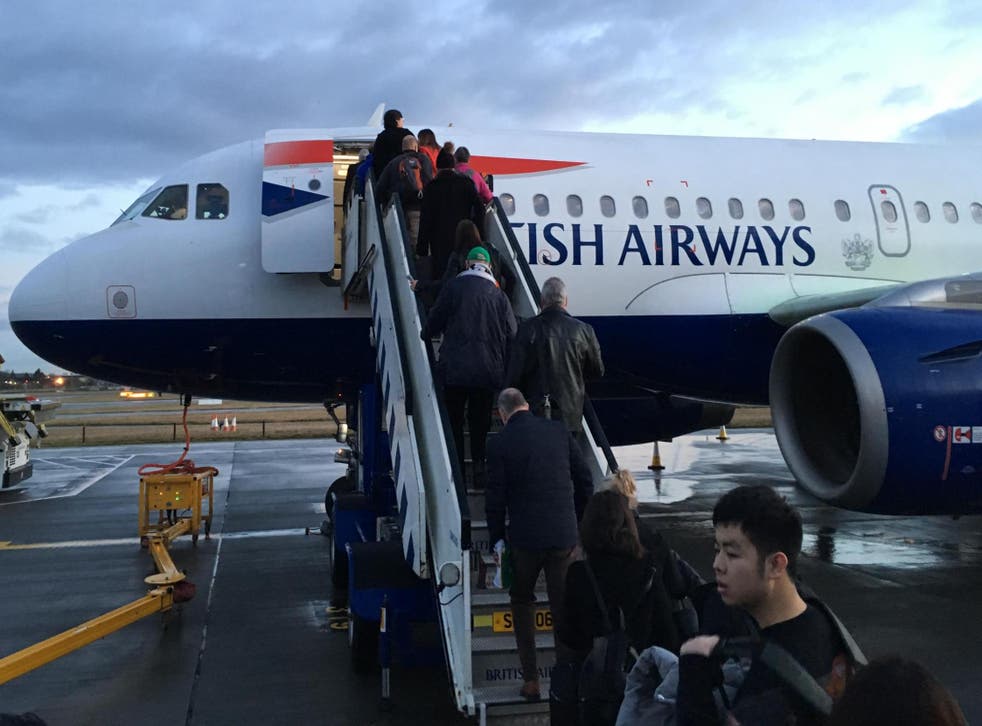 BA cabin crew strike: airline says less than 1 per cent of flights will be affected
Third tranche of industrial action in dispute over 'poverty pay'
A spokesperson for BA said: "To enable all customers to travel we will be merging a very small number of short-haul flights at Heathrow – less than one per cent of total flights planned.
"This will mean some customers will travel slightly earlier or later in the day than originally booked. We are contacting those customers with the options available to them."
The Independent has identified some cancelled flights, such as an early evening round-trip from Heathrow to Dusseldorf on 7 February.
In addition, British Airways is likely to charter in capacity from other airlines to cover for flights grounded by the strike.
The striking cabin crew are employed by BA's Mixed Fleet operation, which serves around 50 domestic, European and long-haul routes. They have all been recruited since the last cabin-crew dispute ended in 2010, and are employed on less favourable terms than longer-serving staff.
Their union, Unite, said: "Despite promises that pay would be 10 per cent above the market rate, basic pay starts at just £12,192 with £3 an hour flying pay." The union claims cabin crew earn an average of £16,000, including allowances, a year.
BA does not recognise this figure, saying that the lowest paid full-time member of Mixed Fleet earned over £21,000 last year.
Unite's national officer, Oliver Richardson, said: "Rather than addressing poverty pay, British Airways is spending money hand over fist on chartering in aircraft to cover striking cabin crew.
"If it can afford to waste money in such a manner then British Airways can clearly afford to address pay levels which are among the lowest in the industry."
A BA spokesperson said: "Our pay offer for Mixed Fleet cabin crew is consistent with deals agreed with more than 90 per cent of British Airways colleagues, including many Unite members. More than 9,000 cabin crew, represented by a different Unite branch, today voted overwhelmingly to accept the deal.
"The offer also reflects pay awards given by other companies in the UK and will ensure that rewards for Mixed Fleet remain in line with those for cabin crew at our airline competitors."
Another three-day stoppage is planned from 9 to 11 February.
Register for free to continue reading
Registration is a free and easy way to support our truly independent journalism
By registering, you will also enjoy limited access to Premium articles, exclusive newsletters, commenting, and virtual events with our leading journalists
Already have an account? sign in
Register for free to continue reading
Registration is a free and easy way to support our truly independent journalism
By registering, you will also enjoy limited access to Premium articles, exclusive newsletters, commenting, and virtual events with our leading journalists
Already have an account? sign in
Join our new commenting forum
Join thought-provoking conversations, follow other Independent readers and see their replies