BA's fuel surcharge and frequent flier airline loyalty: Don't expect a fall in 'carrier-imposed surcharges' soon
The man who pays his way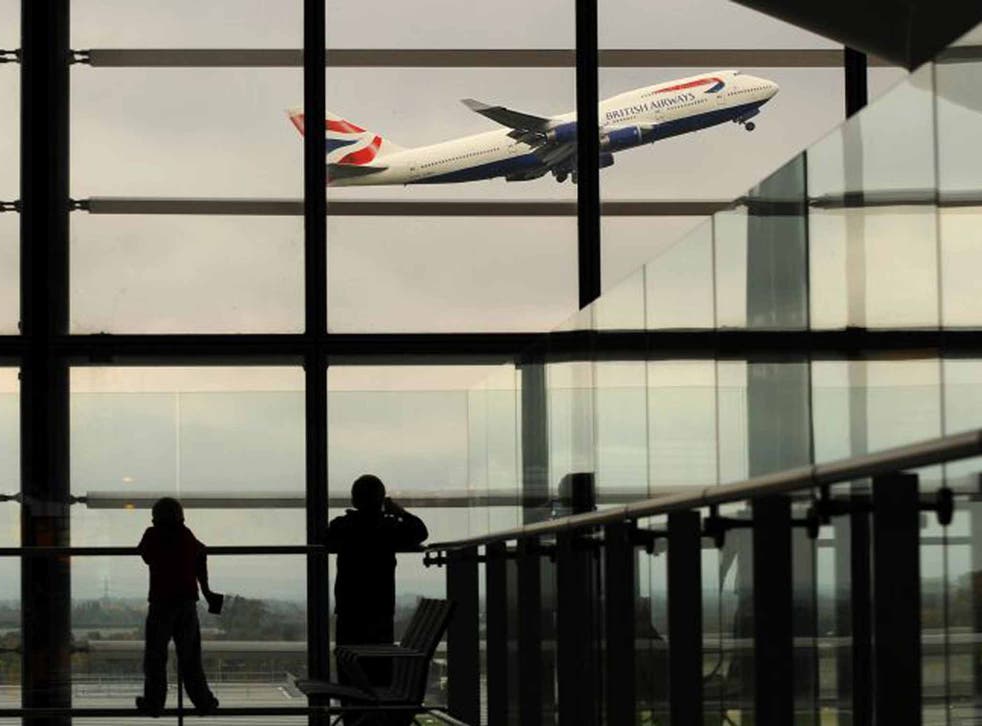 "Very regrettable" – a decade ago, that is how British Airways described an increase in its fuel surcharge. As the price of oil hit $70 a barrel, long-haul passengers were hit with a fuel surcharge of £70 on a return trip.
"We have little choice but to pass some of our extra costs on to our customers," said Martin George, the airline's commercial director at the time. "We believe that it is better to be transparent with our customers by showing the level of fuel surcharge they are paying rather than hide the costs by raising fares behind the scenes like some other airlines choose to do." Nothing to do with us, was the line from BA – all the fault of the oil barons. So, the fuel surcharge, coded in the fare-calculation box as "YQ", went up.
Mr George (now a senior executive at the Post Office) added optimistically: "This approach would enable us to reduce the surcharge should fuel prices fall over time."
Since 2006, the price of oil has soared to $140 a barrel but now seems stuck at around the $30 mark – tricky for Saudi Arabia, Russia and Scotland, but handy for airlines and their passengers, you might think. Bearing in mind Mr George's pledge, that BA fuel surcharge should have vanished. But the "YQ" fee has merely been rebranded as a "carrier-imposed surcharge" – and is now more than twice as high as it was when oil was twice as expensive. On a return flight to New York it is £143, while for BA's longest haul, to Sydney, it has almost quadrupled to £274.
Hedge hogs
To be fair, the slide in oil prices has not benefited airlines as much as you might imagine. Fuel is priced in US dollars, against which sterling has weakened. And when prices were falling steeply, many airlines found themselves locked into a "hedge": a contract to buy fuel at a specific price, designed to protect against short-term volatility but meaning some carriers paid twice the going rate for a while. Those hedges have now unwound, so airlines and their passengers should feel the benefit of cheap oil. The trouble is: the airlines are hogging the savings.
I asked British Airways why it applied a "carrier-imposed surcharge" when costs were falling. The airline said it was "to be consistent with changes that have been in place for flights originating in the USA for a number of years."
I then asked why a British airline should want British passengers to fall into line with what happens with flights starting in America. At which point the BA spokesman closed down the conversation, saying: "I cannot add anything more to our statement, I'm afraid, because we don't comment on the detail of our fares."
Surely BA's behaviour presents an ideal chance for Virgin Atlantic to get one over on its bitter rival. In fact, the airline founded by Sir Richard Branson is employing the same trick.
I bought a return Virgin flight to Shanghai that includes a "carrier-imposed surcharge" of £189 – almost 30 per cent of the fare.
Virgin Atlantic told me the fee covered "a mixture of fuel, insurance and carrier-defined charges". I asked the airline to explain what had happened to those costs to justify a payment of nearly £200, and was told: "We provide a link to show the breakdown of the fare to give clarity to our customers when they book their flight."
Click on that link, and all it says is: "We might be able to fly in the sky, but there is no escaping the cost of fuel and other charges."
Clarity? It seems to me that our two leading long-haul airlines are trying to justify persistent surcharges by making meaningless statements.
Free flights? Far from it
For most passengers, the way an airline dresses up its prices is irrelevant. All fares quoted in the UK must include all unavoidable taxes, fees and charges. If you don't like the fare on Virgin or BA, book with one of their many rivals.
But one group of people has every right to be infuriated by those opaque surcharges: frequent fliers hoping to benefit from their airline loyalty.
It's annoying enough that government taxes and airport fees are applied to "free" reward flights. But users of BA Avios or Virgin Flying Club miles must also cough up that mysterious surcharge. Redeem 40,000 Avios for a British Airways return flight to New York, and you have to pay £301 – almost as much as the lowest cash fare. So, don't expect a fall in "carrier-imposed surcharges" any time soon; our leading airlines love to impose them to extract additional cash from frequent fliers who are redeeming points.
Register for free to continue reading
Registration is a free and easy way to support our truly independent journalism
By registering, you will also enjoy limited access to Premium articles, exclusive newsletters, commenting, and virtual events with our leading journalists
Already have an account? sign in
Register for free to continue reading
Registration is a free and easy way to support our truly independent journalism
By registering, you will also enjoy limited access to Premium articles, exclusive newsletters, commenting, and virtual events with our leading journalists
Already have an account? sign in
Join our new commenting forum
Join thought-provoking conversations, follow other Independent readers and see their replies