BA strikes: Talks likely to begin after two months of cabin crew protests
As Unite union calls 'pause for peace', BA says fewer than one in 100 flights have been cancelled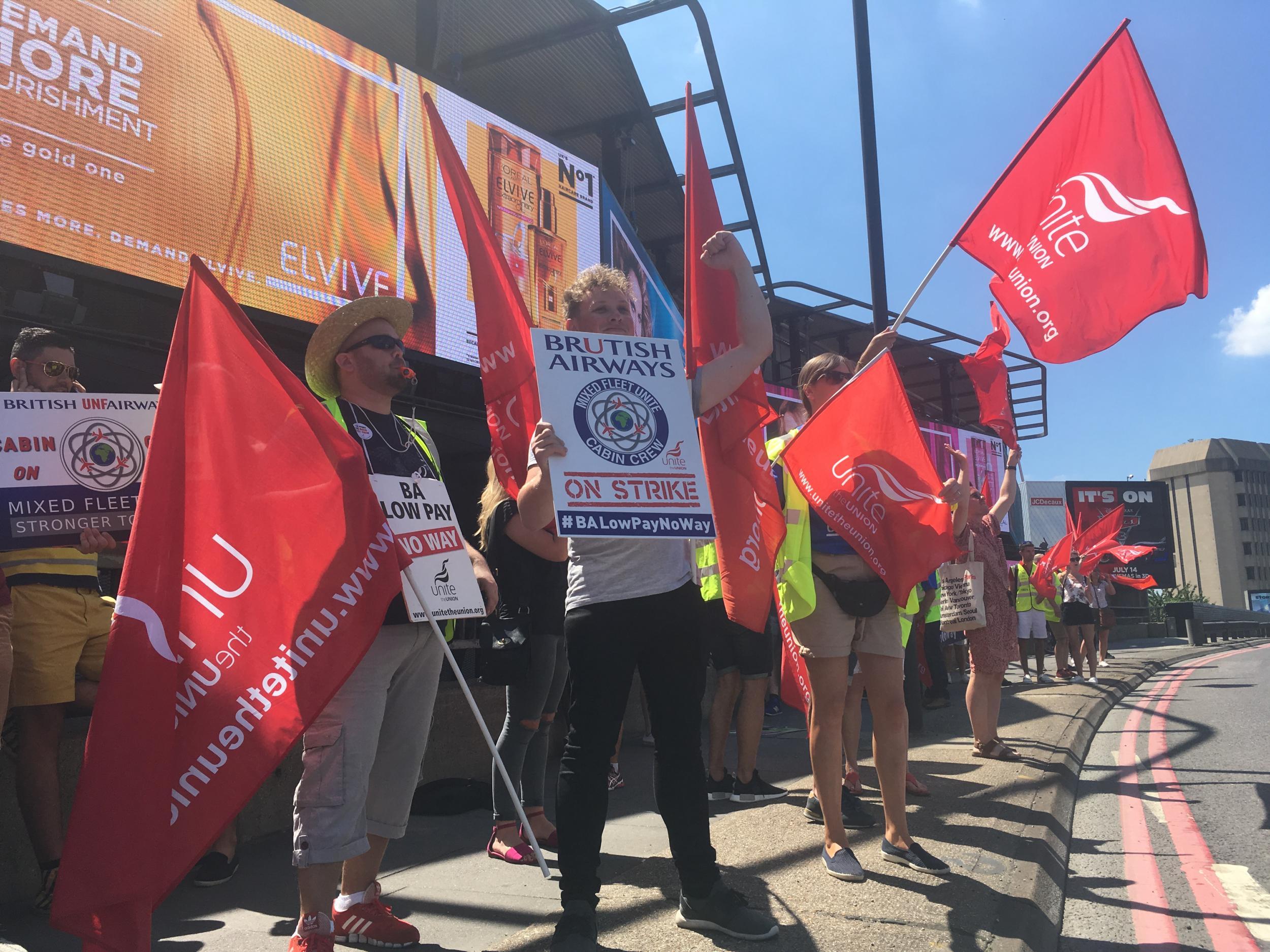 The final casualty of the latest strike by some British Airways cabin crew is flight BA122. The Boeing 777 was scheduled to take off from Doha at around 7am on 31 August. The strike by members of the Unite union working for BA's Mixed Fleet operation at Heathrow is due to end seven hours earlier. But Wednesday's outbound flight was cancelled and the return leg is consequently axed.
There will, though, be plenty of flying in the opposite direction, from Heathrow to Doha. The planes and crews that British Airways has been borrowing from Qatar Airways are returning to their base. They have covered about 3 per cent of the airline's schedule in July and August.
An estimated 1,400 Unite members have been on strike almost continuously through July and August in a dispute over what the union calls "poverty pay" and "punishing workers" who took part in earlier stoppages. They represent around one in 12 of BA's cabin crew.
Mixed Fleet was set up in 2010 as part of the settlement of the last big cabin crew dispute at British Airways. Staff have inferior employment terms to longer-serving cabin crew.
Unite estimates that Mixed Fleet cabin crew earn £16,000 annually, including allowances. BA says it does not recognise this figure, and that the lowest-paid full-time member of Mixed Fleet earned over £21,000 last year.
After 60 strike days, Unite is now calling a "pause for peace" and seeking further negotiations with the airline.
The union's national officer, Oliver Richardson, told The Independent: "Our members have shown great determination to highlight poverty pay, corporate greed and the bullying behaviour of British Airways.
"The action led to flights being cancelled and British Airways being forced to spend millions on wet leasing aircraft to cover the operational disruption.
"British Airways should use this 'pause for peace' in industrial action to reach a settlement to this long running dispute so it can rebuild its tarnished brand."
Star-studded cast appear in British Airways' new safety video
Yet the impact of the strike has been limited, due mainly to the availability of the Qatar Airways aircraft; the geo-political rift in the Gulf means that these short-haul Airbus jets and their crews would otherwise be standing idle. Qatar Airways also happens to own one-fifth of BA's parent company, IAG.
A pattern of cancellations has emerged, with the Heathrow-Doha round-trip cancelled every day, and passengers re-booked on the frequent Qatar Airways flights. BA's Gatwick-New York JFK departure has also been frequently grounded, with crews deployed on Mixed Fleet routes and passengers switched to Heathrow.
Other transatlantic flights and services to the Gulf and Africa have been tactically cancelled during the strikes.
The airline says its "detailed contingency planning" led to fewer than one in 100 of its overall July-August schedule being cancelled by the strikes.
Unite's general secretary, Len McCluskey, has called for more talks. He wrote to BA's chief executive and chairman, Alex Cruz, saying: "Given the nature and length of the dispute I am more than willing to involve myself in any future talks with you and would ask that the company looks at a number of dates from 31 August onwards."
BA has said it will discuss arrangements to meet when the strike is over.
Join our commenting forum
Join thought-provoking conversations, follow other Independent readers and see their replies