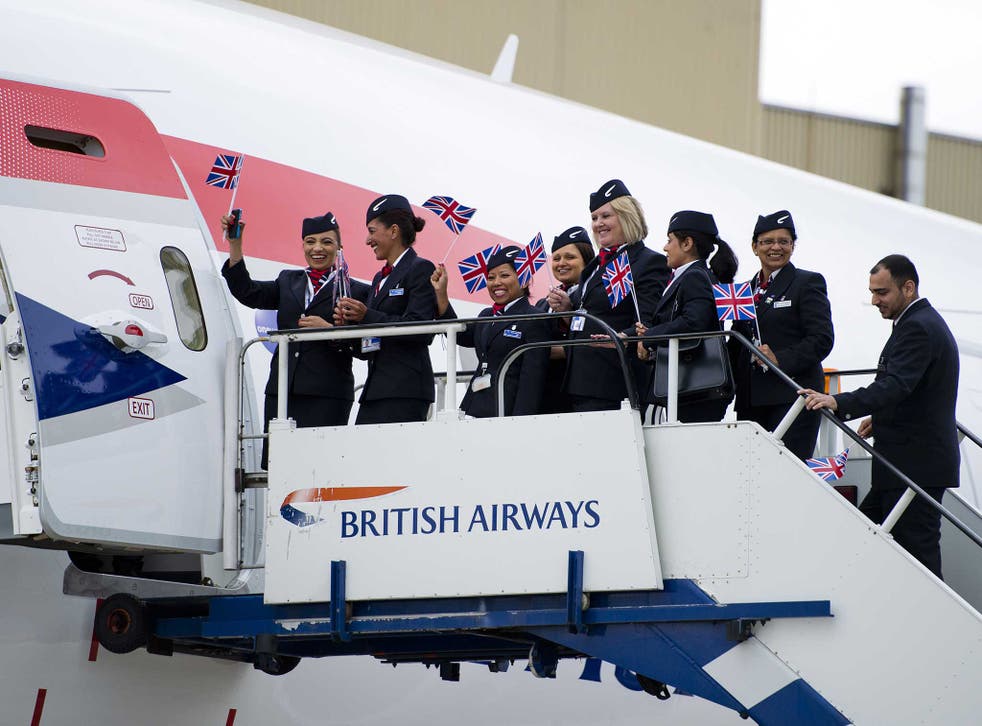 British Airways to charge for food on short-haul economy flights
Until now, BA has always insisted that free inflight catering is an essential part of its product
For decades, British Airways has given away food and drink to every passenger. But The Independent has learned that BA's new boss may soon overturn that policy - offering short-haul economy passengers the chance to buy upscale sandwiches.
Airline sources suggest that Alex Cruz, who took over as Chairman and Chief Executive at BA last month, may bring in Waitrose to supply high-quality snacks at premium prices.
The move would turn catering from a cost into a revenue stream, and allow BA to offer lower headline fares against rivals such as easyJet and Ryanair. Since easyJet launched in 1995, it has charged for meals and drinks.
Making money from short hops has long been a problem for BA - especially at Gatwick, which is easyJet's biggest base. Until now, BA has always insisted that free inflight catering is an essential part of its product, promising passengers: "Whenever and wherever you are travelling, we offer a complimentary snack or meal and bar service."
On some longer BA flights in Europe, such as to Athens and Istanbul, economy passengers get a three-course meal, but on shorter hops the "snack" may merely be a small pack of pretzels or a mass-produced roll.
Airline food across the classes

Show all 6
In contrast, low-cost airlines believe passengers will gladly pay for more enticing food. Flybe offers Food Doctor pots of couscous and lentils for £3, while easyJet sells hot focaccia sandwiches for £4.50. Airport retailers such as Boots, M&S and Pret A Manger have also increased the range and quality of food to take on board.
Asking economy passengers to pay for meals would help to differentiate BA's Club Europe service. Some business-class passengers have criticised a recent cabin "densification" programme on the Airbus A320 fleet, which, they say, has reduced comfort.
Mr Cruz is the first leader of a large, traditional airline to have founded a low-cost carrier. Before taking over at BA, he ran the Spanish budget airline, Vueling. Both carriers are part of IAG - whose Chief Executive, Willie Walsh, appointed Mr Cruz to replace BA's outgoing boss, Keith Williams, saying: "We're expecting great things from Alex."
The airline consultant, John Strickland, said: "One only has to look at the roaring trade in 'take onboard' food at BA's home base, Heathrow Terminal Five, to see that if the right quality and product choice is offered then this certainly presents an opportunity for the airline. Alex Cruz has already proved that this can work during his time at Vueling.
"As long as the airline is able to differentiate between its lower-fare customers and those on higher-price flexible tickets in terms of service offer, it should be able to make such a transition successfully."
British Airways Boeing 777 Erupts in Flames at Las Vegas Airport
Malcolm Ginsberg, Editor of Business Travel News, said: "Waitrose, very much middle class, would seem to be the ideal partner. The move could also help reduce waste."
A spokesperson for BA told The Independent: "We always listen to our customers' ideas and feedback and we are constantly looking at a range of ways to enhance the flying experience. As and when we have anything new to announce, we'll let you know."
BA has some experience of charging for meals. It offers long-haul travellers from Heathrow the option to upgrade in advance to a £18 "Gourmet" menu, featuring poached king prawns with sliced mushrooms and braised Herefordshire beef cheek.
Some BA cabin crew are concerned that an increase in choice, and the need to handle payments, would sharply increase their workload, especially on shorter flights. One long-serving cabin crew member said: "On a busy Amsterdam we hardly have time to serve everyone, let alone take money."
Three years ago BA adapted the budget carriers' policy of charging for checked-in bags by selling "hand-baggage only" fares for short-haul flights to and from Gatwick. The practice has now spread to other European routes.
Click here to view the latest travel offers, with Independent Holidays.
Register for free to continue reading
Registration is a free and easy way to support our truly independent journalism
By registering, you will also enjoy limited access to Premium articles, exclusive newsletters, commenting, and virtual events with our leading journalists
Already have an account? sign in
Register for free to continue reading
Registration is a free and easy way to support our truly independent journalism
By registering, you will also enjoy limited access to Premium articles, exclusive newsletters, commenting, and virtual events with our leading journalists
Already have an account? sign in
Join our new commenting forum
Join thought-provoking conversations, follow other Independent readers and see their replies