Backstage Travel: No 6 - The campsite manager
'Camping's a happy business. If not, you're doing it wrong'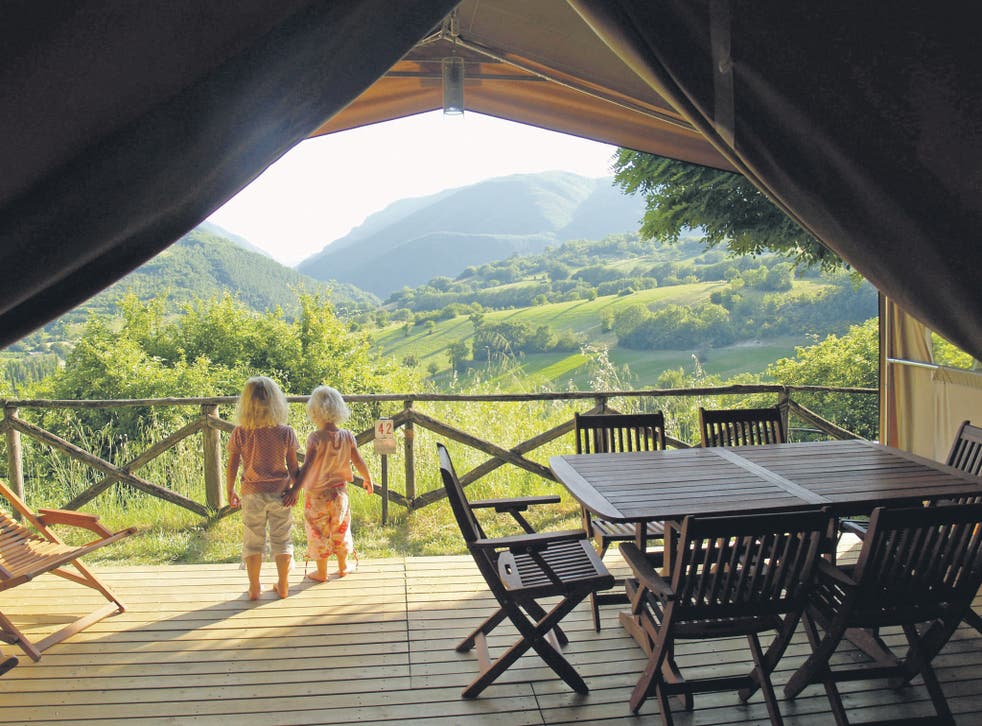 "The campers that come here are looking for an experience for their children that is either how they had it as a child, or how they would have liked to have had it as a child," says Christine Jenkins who, with her husband Jed, runs Nethergong campsite in Kent.
It's an antidote to modern life that increasing numbers of us are seeking. According to a 2011 Mintel report, one in three Brits had taken a camping holiday in the previous three years, up from one in five in 2009. Since setting up their campsite four years ago as an additional income stream to their vegetable nursery, the Jenkinses have already doubled the number of tent pitches (they don't take caravans) from 15 to 30, over a 20-acre area. "Everyone can be spread out. I think that's an attraction. We have the space and we don't over-cram it," she says. She attributes their success to the cleanliness of facilities plus the site's rural location and easy-going atmosphere. "One rule is 'don't tear our trees down', the other is 'respect the wildlife'. That's it. We don't have lots of rules and we don't have problems."
Above all, Christine feels, it's Nethergong's simplicity that attracts customers – there's no swimming pool or bar, just a frog pond and small shop. "You have to manage expectations. We don't get people coming who are looking for a different experience, they are looking for this. We under-promise, over-deliver."
It's a world apart from camping behemoth Eurocamp, which has been operating for 40 years and now sends 500,000 customers to 170 campsites in 10 countries every year. While Eurocamp aims for frills over simplicity, the fundamental reason for booking remains the same: "People's jobs become so stressful in the daily grind, they really appreciate being out in nature," says Laura Riley, who, as a contracting manager, is responsible for finding locations for Eurocamp's tents and mobile homes within campsites across Europe.
Great facilities and an accessible location are key, says Riley, as is the quality of accommodation. "The French call it 'hôtellerie de plein air'. It's hotel-level facilities but you are out in the open air, so you can sit on your terrace and have a barbecue."
Providing this back-to-nature experience isn't an easy job. Christine Jenkins can work 16-hour days in peak season, while her husband spends three days a week simply mowing their extensive acreage. And it's hardly a stable income – last year's rain led to 15 per cent cancellations. But it's worth it, she says: "You are making people happy and that rubs off on you. It's a happy business – if it's not, you're not doing it right."
Caroline Bishop
Register for free to continue reading
Registration is a free and easy way to support our truly independent journalism
By registering, you will also enjoy limited access to Premium articles, exclusive newsletters, commenting, and virtual events with our leading journalists
Already have an account? sign in
Register for free to continue reading
Registration is a free and easy way to support our truly independent journalism
By registering, you will also enjoy limited access to Premium articles, exclusive newsletters, commenting, and virtual events with our leading journalists
Already have an account? sign in
Join our new commenting forum
Join thought-provoking conversations, follow other Independent readers and see their replies