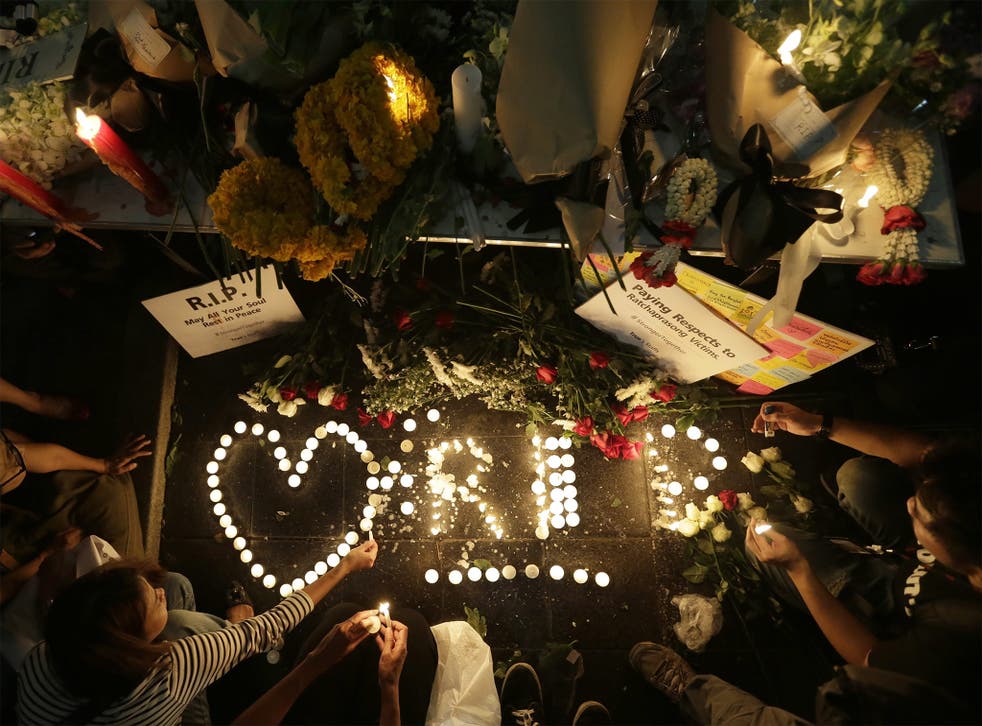 Bangkok bomb: Is Thailand still safe to visit?
After this week's deadly attack, Simon Calder assesses the risks and offers his advice
Simon Calder
Friday 21 August 2015 10:18 Comments
On a warm August evening this week, carnage came to the streets of Bangkok. As news of the shocking devastation spread, it became clear that tourists were the targets of a murderous bomb attack. These are some of the questions posed by readers in the aftermath of last Monday's atrocity.
How many British travellers are in Thailand, and what is happening to them?
From the available sources, I calculate around 30,000 British holidaymakers are in Thailand. August and September are the wettest months in much of the country; most of the 900,000 annual UK tourists to Thailand visit in winter, when the weather is more benign.
Apart from the area in the immediate vicinity of the attack in Bangkok, life for tourists in Thailand continues more or less as normal. Having said that, the Thai government's response to the atrocity in the capital is likely to affect all visitors. They can expect heightened security at transport terminals, especially the airport, railway station and bus stations. There is also likely to be a more visible security presence on the Khao San Road (the street at the heart of the backpacker community) and other places where Westerners tend to congregate. Security checks on buses to and from places such as Phuket and Chiang Mai could become more frequent and intensive.
We are due to travel to Thailand in six weeks, flying initially to Bangkok. What is your feeling on travel there?
Even before the Bangkok attack, the Foreign Office warned of a high threat of terrorism in Thailand. There has been a long-standing insurgency in four provinces in the south of Thailand, and the FCO advises against all but essential travel to the provinces of Pattani, Yala, Narathiwat and Songkhla on the border with Malaysia. It says: "Since 2004, there have been almost daily attacks in the far south of the country, including arson, bombings and shootings."
In February, two small bombs were detonated close to the Siam Paragon Shopping Mall in Bangkok. And in April, a car bomb exploded in an underground car park on the beach resort island of Koh Samui. Seven people were injured, including one foreigner. The latest attack was much more severe. But statistically, the risk for any individual traveller being caught up in a murderous attack is very low. The rewards remain as they have done for years: the chance to meet friendly people in a beautiful country that has a rich culture, great cuisine, fascinating trekking and blissful beach life. I would have no hesitation travelling to Bangkok or any of the usual tourist spots in Thailand.
My daughter has just started her gap year, and is due to arrive in Bangkok in the next few days. Should I ask her to bypass the city, or even the whole country?
I believe she can continue with her plans without taking a significant risk. The main threats to young British travellers to Thailand remain the same as ever: being involved in accidents, both on the road and in the water. If she is on a round-the-world itinerary, any change to destinations is likely to prove expensive or impossible – though date alterations are normally allowed for a fee. You might want to remind her that busy bars and hotels have been targets of previous attacks in other parts of the world, and suggest she bears this in mind.
We booked a trip to Thailand, and paid a deposit of £1,000, the day before the bombing. We heard about it within 24 hours, and immediately tried to cancel – but the holiday company refused. What are our rights if we decide not to travel?
Normal terms and conditions apply for anyone with an advance booking to Thailand. Some firms may offer alternative destinations, but there is no legal obligation for them to do so. The only circumstances in which you could get your money back is if the FCO advises against travel – an extremely unlikely prospect. And while some airlines, such as British Airways, provide customers with a 24-hour "cooling off" period, most travel companies do not.
I am still going ahead with a planned three-week backpacking trip to Thailand. Will my travel insurance continue to be valid or do I need to contact the insurers?
You need do nothing more, so long as your travel plans do not include the four provinces in the south that the Foreign Office says are off-limits. Bear this in mind if you are planning to travel overland to Malaysia. Anyone deciding to visit these areas despite the advice would find their travel insurance invalidated. This has been a long-standing warning, and will have prevailed when you took out the policy.
The Foreign Office insists most of Thailand is still safe – but what are other governments saying?
The US Embassy in Bangkok quickly issued a warning to its citizens, saying: "Avoid the area and monitor local media for updates."
Australia's Department of Foreign Affairs says: "The security situation remains volatile. You should pay close attention to your personal security at all times and where possible monitor the local media, including social media, for information about possible new safety or security risks."
The Canadian government advises: "Maintain a high level of personal security awareness at all times. Be aware that any public statement that is perceived to be critical of the political situation in Thailand, the National Council for Peace and Order, the Royal Thai Army, or the Monarchy, could lead to detention."
Click here to view Asian tours and holidays, with Independent Holidays.
Register for free to continue reading
Registration is a free and easy way to support our truly independent journalism
By registering, you will also enjoy limited access to Premium articles, exclusive newsletters, commenting, and virtual events with our leading journalists
Already have an account? sign in
Join our new commenting forum
Join thought-provoking conversations, follow other Independent readers and see their replies