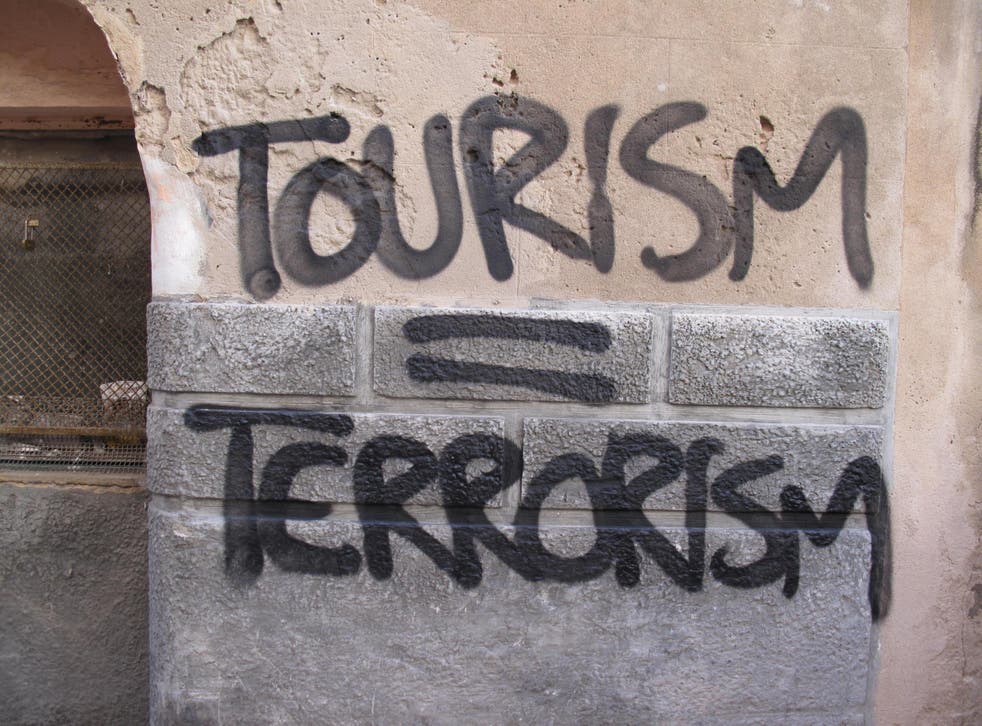 Anti-tourism campaigners should be careful what they wish for
Tourism brings money and energy to places which might otherwise slip into the shadows
Simon Calder
The Man Who Pays His Way
Friday 11 August 2017 15:59 Comments
"Tourism = Terrorism" reads a slogan spray-painted on a honey-coloured wall in the Old Town of Palma de Mallorca.
Across in Barcelona, according to Almudena López Díaz in The Independent, "The swelling numbers of tourists [are] creating massive overcrowding".
The twin cities have plenty in common: each is a Mediterranean city with deep historic roots, dominated by a vast cathedral and blessed by the lilting architectural fantasies of Antoni Gaudí.
They are also extremely popular with tourists. That brings money, of course, as well as the inevitable and dangerously proficient pickpockets and mobile-phone snatchers who prey on visitors.
And, according to some increasingly vocal and belligerent locals, tourists don't just destroy the character and the fabric of the city — they also distort the housing market, and hound less well-off families out of the central areas where they have lived for generations.
So the communities are getting active. As the Barcelona resident, Almudena López Díaz, says: "You feel so much a stranger in your own city that it makes you angry. And one day you feel the need to express it somehow: writing angry graffiti fuelled by your sense of desperate isolation."
To equate tourists, however badly behaved they may be, with people who practice arbitrary murder for their beliefs, is absurd. And I bet for every activist who expresses his or her views so forcibly, there are 100 locals who are perfectly happy to tolerate tourists for the wealth that they bring to the city.
Exploitation is a common theme in tourism, but usually it's the visitor who is the victim — as with the "Gelato 4", who were charged more than £50 for four ice creams in Rome.
If that relationship has now turned around, and the host community is suffering, then its representatives should start pushing the levers that will put tourism back in its place .
Behaviour you don't like, such as stag parties behaving disgracefully or scantily attired tourists? Ban it and police it — it's your city. Get some tips from the wardens of places of worship: nothing in shorts gets past the Swiss Guards at the Vatican. When young, thirsty people learn that the police in Magaluf are on their tail, they will migrate to a resort in Greece or Cyprus or wherever else they believe drink-fuelled antics will be tolerated.
Day-trippers who don't spend any cash? Target cruise ships. Passengers tend to go on excursions run by the cruise line, leave little with the local community, and are bussed back to the ship to spend more money on board before they have had time for even a sip of cava in a tapas bar. So cap the number and/or the size of vessels that are making their promiscuous way around the Mediterranean.
High rents and vanishing affordable apartments? That's what planning laws are for. The Balearic government has brought in licensing rules that aim to reduce dramatically the number of properties rented out on Airbnb.
No room on the Rambla for local people? Tax the summer crowds until the pips squeak, with a levy on accommodation during high season. And having done that, you can sit back and allow human nature to take its course.
Inevitably, with the supply of accommodation sharply reduced and demand stable, prices will rise. So people will either time-shift their holidays to quieter times or go elsewhere; thankfully, there are many destinations which would love to have the problem that Barcelona and Palma are enduring.
Travel blogger bagpipes his way around the world

Show all 12
But host communities should be careful what they wish for. That burly Bulgarian backpacker with a rucksack the size of a small house who is inadvertently bruising commuters on the Barcelona Metro is contributing cash to the city's public transport system. His air fare from Sofia helps to make the Catalan capital one of the best connected airports in Europe. And the locals would not benefit from airport buses every five minutes from each terminal to the Plaza Catalunya if tourists did not make the service viable.
"Tourism is killing Mallorca," reads another slogan in Palma. I think it is doing the opposite: bringing money and energy to an island which might otherwise have slipped into the shadows.
Register for free to continue reading
Registration is a free and easy way to support our truly independent journalism
By registering, you will also enjoy limited access to Premium articles, exclusive newsletters, commenting, and virtual events with our leading journalists
Already have an account? sign in
Join our new commenting forum
Join thought-provoking conversations, follow other Independent readers and see their replies