BBC shuts down Thorn Tree travel forum on Lonely Planet website over 'uncomfortable themes'
BBC strongly denied speculation discussions concerned paedophilia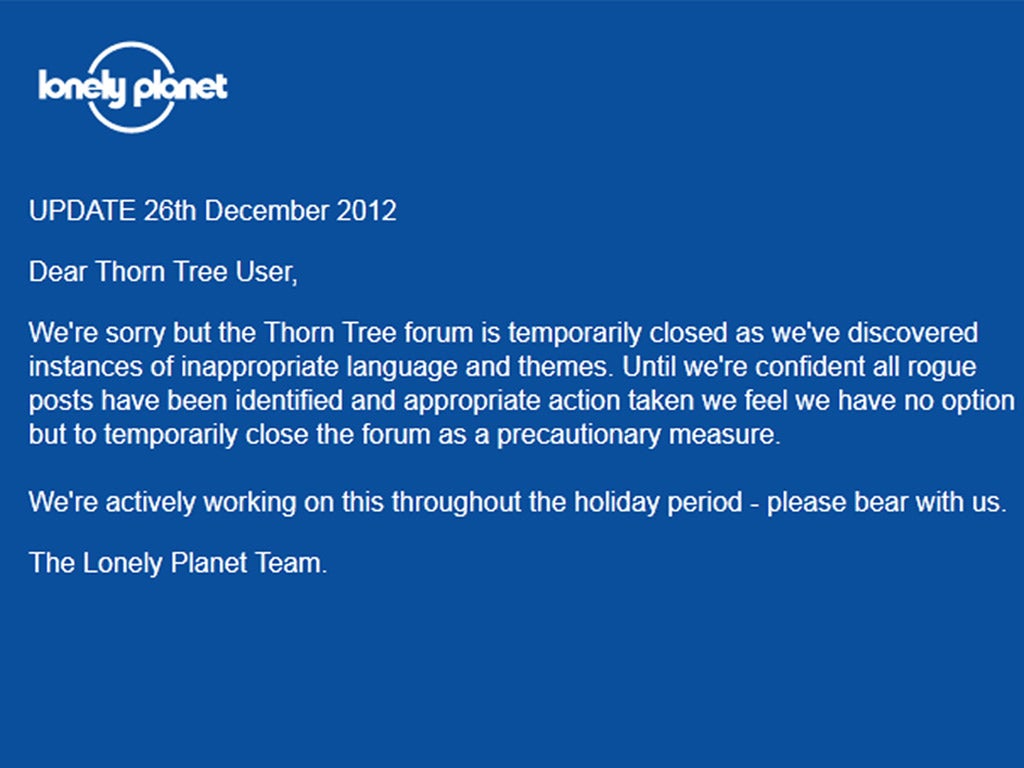 The commercial arm of the BBC has shut down its hugely popular forum for backpackers and travellers because "uncomfortable themes" were being discussed.
BBC Worldwide suspended the Thorn Tree forum on its Lonely Planet website on Saturday. It brought the travel guide company for a total of £132.2m in two deals in 2007 and 2011.
The closure has been met with consternation by travellers who would normally use the forum over the busy Christmas period to swap advice on methods of travel, hotels and hostels.
A BBC World wide spokesman strongly denied speculation that the "uncomfortable themes" were paedophilia.
"We've found no evidence of discussions concerning paedophilia on the Thorn Tree forum, but we have discovered instances of inappropriate language and themes," he said.
"Until we are confident that all rogue posts can be identified and appropriate action taken, we feel we have no option but to temporarily close the site as a precautionary measure."
He added that the forum would be closed for at least a week as all posts were gone through with a "fine tooth comb".
"The forum will only return when we are 100 per cent confident that the right moderation systems are in place to ensure there's no repeat of such language/themes. As you can appreciate, there's a huge amount of content to be checked - so hard to put a timeline on when it will open again."
According to newspapers in Australia an unnamed source from the Lonely Planet site said the decision to shut the forum was "all about Jimmy Savile".
''They discovered that if you looked for terms like 'paedophile' or 'child prostitution', you got Thorn Tree hits,'' the source told the Sydney Morning Herald.
''The hits are mostly discussions of current events or pointless stuff that would have been moderated, like 'Barney the dinosaur is a big purple paedophile'. However, someone found a thread about 'what's the age of consent in Mexico?' That really set them off.
''They went into full, freak-out, panic attack mode.''
The BBC paid £42.1m in February 2011 to acquire a final 25 per cent share of the Lonely Planet travel guide business, founded in 1972. It already owned 75 per cent following a £88.1m deal in 2007.
Thorn Tree is one of the biggest and most popular travel forums in the world, and users went online to express their anger at its sudden closure.
One traveller, Dustin Dolatowski, Tweeted: "You couldn't have picked a worse time for closing the Thorn Tree forum."
Another, Bruce Taylor, wrote: "The state of Lonely Planet is depressing. Shutting Thorn Tree is the latest eg of BBC clearly not understanding what they bought."
The forum was however also well known for attracting trolls.
Jason Clampet, founder of the travel intelligence website Skift said:
"The best user forum in travel has always battled with trolls. This time, its parent company's own sins are forcing it to take drastic actions where some careful pruning would do."
Join our commenting forum
Join thought-provoking conversations, follow other Independent readers and see their replies