Bedbugs return to British hotels
The voracious <i>Cimex lectularius</i>, scourge of sleepers for centuries, has returned to Britain's hotels. Martin Hickman reports on a plague in a mattress near you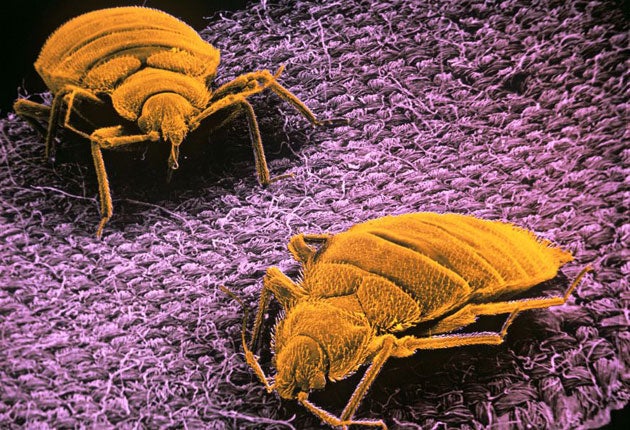 They are reddish brown, most active in the hour before dawn and making a comeback in a hotel near you. Bedbugs, the scourge of the night for many Britons before being substantially eliminated in the second half of the 20th century, have become resurgent in the hospitality industry.
Environmental health officers have discovered the nocturnal blood-sucking insects at hotels and hostels costing up to £270-a-night across the UK, some inflicting more than 100 bites on guests. London is particularly badly hit, with more than a dozen confirmed infestations, but bedbugs were also found last year at hotels in Bristol, Birmingham, Sheffield, Liverpool, Edinburgh and Glasgow.
Two guests were forced to attend hospital A&E departments, one of whom developed blood poisoning in a heavily bitten leg. Some guests had to be moved to another room in the middle of the night. One woman staying with her partner was horrified by the severity of the bites inflicted by the voracious insects. She emailed Glasgow City Council in October: "When we got up the next morning, we were both covered in bed bugs. Whilst I had about 60 to 100, he had too many too count, but it was probably in the vicinity of 300.
Another said: "Last Saturday night I had to attend accident and emergency at the local hospital here in London because of a severe reddening of my lower left leg, which I took to be a rash due to an allergic reaction. However, the hospital staff diagnosed it as cellulitis, an inflammation of skin cells caused by localised blood poisoning; they said the bedbugs were responsible."
One teenage New Zealander, who said her stay in Britain had been ruined by the experience, said: "I was covered, from head to foot, in welt-like bites. There was barely a smooth area of skin on my face."
Once a common feature of life in poor households in the first half of the 20th century, bedbugs have become more common in recent years due to a more transient lifestyle and increased travel. Rentokil, the pest control operator, last year reported a 40 per cent rise in call-outs to bedbugs in trains, buses, planes and coaches.
Unlike microscopic dust mites also found in beds, bedbugs – Cimex lectularius – are a quarter of an inch long. They travel in clothes or luggage, hiding in small cracks and crevices during the day, making them difficult to see when guests check into rooms.
After reading internet complaints from foreign travellers about bedbugs in British accommodation, The Independent obtained records of complaints in 2008 at 12 cities, London, Bristol, Cardiff, Birmingham, Manchester, Liverpool, Leeds, Bradford, Sheffield, Edinburgh, Glasgow, and Belfast.
Some complaints related to budget accommodation but several involved more expensive places, including an allegation – later proven – of bedbugs at the £270-a-night Old Waverley Hotel in the centre of Edinburgh. The hotel said that even the most stringent measures could not prevent pests being transported to hotels by guests. But it said such incidents were "incredibly rare" and treated with the utmost seriousness.
In all, 46 guests complained they had been bitten, some enclosing photographs of their bites. The majority – 32 – were in the Borough of Westminster. Glasgow had five complaints, Edinburgh and Bristol three each; Birmingham two and Sheffield and Liverpool one each. Following up the complaints, councils or pest-controllers sighted bed-bugs at 23 hotels or hostels.
In central London, Westminster council summarised a complaint about a hostel thus: "Went to bed and felt something fall on her head ... saw black bugs on the wall and in her bed, felt a bite. She got up and went to reception and they said that they were dealing with it. By the next morning, she was out in a rash with bites, boils and blisters."
Piccadilly Backpackers, a £20-a-night hostel on Piccadilly Circus, confirmed the case. "As you'll know from your research, 'bugs' are usually brought in on baggage; to ensure the optimum levels of prevention are in place we used the market leaders Eco Lab who regularly check the premises and manage the prevention measures," the hostel said in a statement.
In July 2008, one guest reported she had been bitten at the £60-a-night Adelphi in Liverpool. "I stayed there last week for one night and have more than 20 bites on my hands, arms, legs and back," she said. An environmental health officer from Liverpool City Council inspected the room, warning the hotel he had seen "approximately three live bedbugs."
The Adelphi quoted from a report by a pest-control contractor employed by the hotel who reported no infestation. No subsequent complaints were made about room 309, said a hotel spokeswoman, who denied bed-bugs had ever been present.
At the Rodney Hotel in Bristol, the manager, Marko Vucinic, said he had nothing to hide about the brief arrival of bedbugs last April. "They're a nasty piece of work," he said. "The worst thing for all the infestations is that it's not the mistake of the hotels. These bugs jump into suitcases and travel somewhere else. I have never experienced bedbugs before this.
"We treated the room three times. But the treatments kill the adults but not the eggs. All the furniture in the room was destroyed and it was left blocked for three months."
Bedbugs The facts
*Adult bedbugs are reddish-brown, flattened, oval and wingless, with tiny hairs giving a banded appearance. They are visible – adults grow to 5mm and do not move fast enough to escape attentive observers.
*Prior to the mid-20th century, bedbugs were common. After the war, insectides kept them at bay, but since the 1990s cases have risen. Figures from London show reported infestations doubling each year in 1995-2001.
*Bedbugs are attracted by exhaled CO2 and body heat, not by dirt. And they feed on blood, not waste.
Join our commenting forum
Join thought-provoking conversations, follow other Independent readers and see their replies