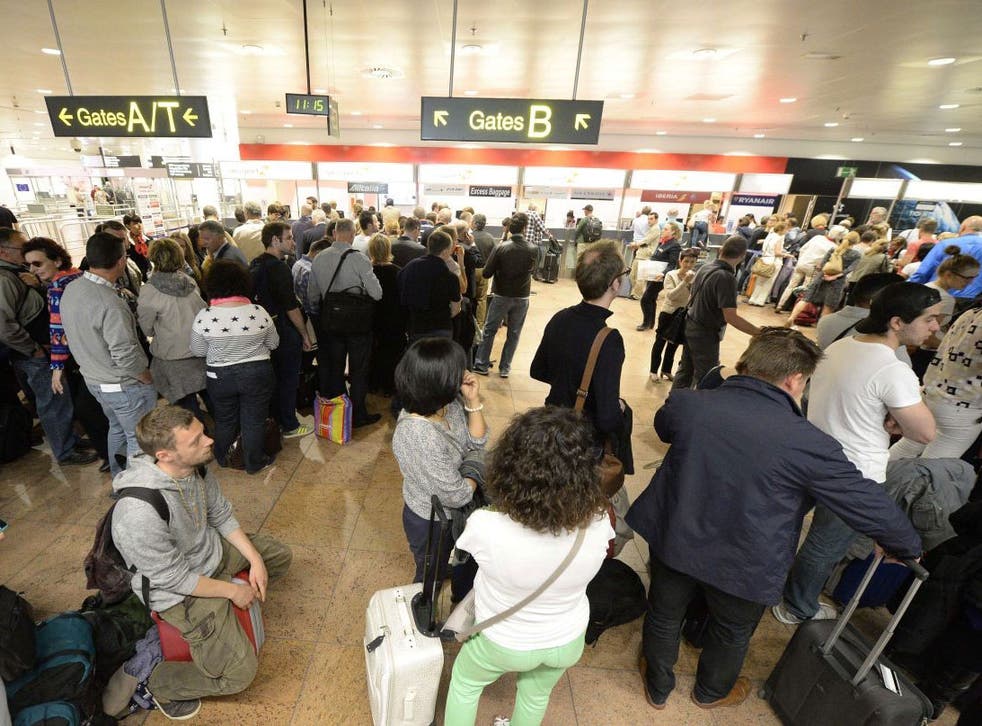 Belgian airspace closed: Air traffic control failure grounds all flights causing 'chaos' at Brussels airport and diversions around Europe
European air traffic authorities said the failure will not be fixed until 4.30pm at the earliest
Belgian airspace has been closed after technical problems shut down air traffic control systems, causing hundreds of flights to be cancelled and diverted around Europe.
Passengers trapped at Brussels airport described "chaos" as huge queues built up at airline desks and planes were stuck for hours on the tarmac.
One frustrated passenger described how he had been taken on and then off his flight and had "no idea what was going on".
Departure boards showed that every flight scheduled over the coming hours had been delayed or cancelled, while all arrivals were diverted.
By 12.30pm, almost 150 flights had been cancelled at Brussels airport and dozens more had to be diverted to other countries, affecting 20,000 passengers.
Airports in Dusseldorf, Paris, Frankfurt and Amsterdam were among those allowing planes to land.
A spokesman for Lille airport told AFP that it was transporting around 1,000 passengers to their intended destination in Belgium by bus.
European air traffic authority Eurocontrol said problems would continue until at least 5.30pm local time (4.30pm BST).
Controllers in Belgium were restarting their systems but the process "will take some time", it warned.
A spokesperson for Belgocontrol said a power surge was the cause of the disruption but what triggered it was unclear.
"The surge also took out our emergency generators, which is why we had to clear the airspace," he added.
Planes passing over the country at more than 24,500ft are unaffected as they are controlled by Europe-wide systems but nothing can land or take off in Belgium until the problem is solved.
A spokesperson for Brussels airport said the problem was "nationwide" and advised travellers to contact their airlines for information.
The problems came the day before huge train strikes were due to hit services in Belgium, causing further travel misery.
Register for free to continue reading
Registration is a free and easy way to support our truly independent journalism
By registering, you will also enjoy limited access to Premium articles, exclusive newsletters, commenting, and virtual events with our leading journalists
Already have an account? sign in
Register for free to continue reading
Registration is a free and easy way to support our truly independent journalism
By registering, you will also enjoy limited access to Premium articles, exclusive newsletters, commenting, and virtual events with our leading journalists
Already have an account? sign in
Join our new commenting forum
Join thought-provoking conversations, follow other Independent readers and see their replies