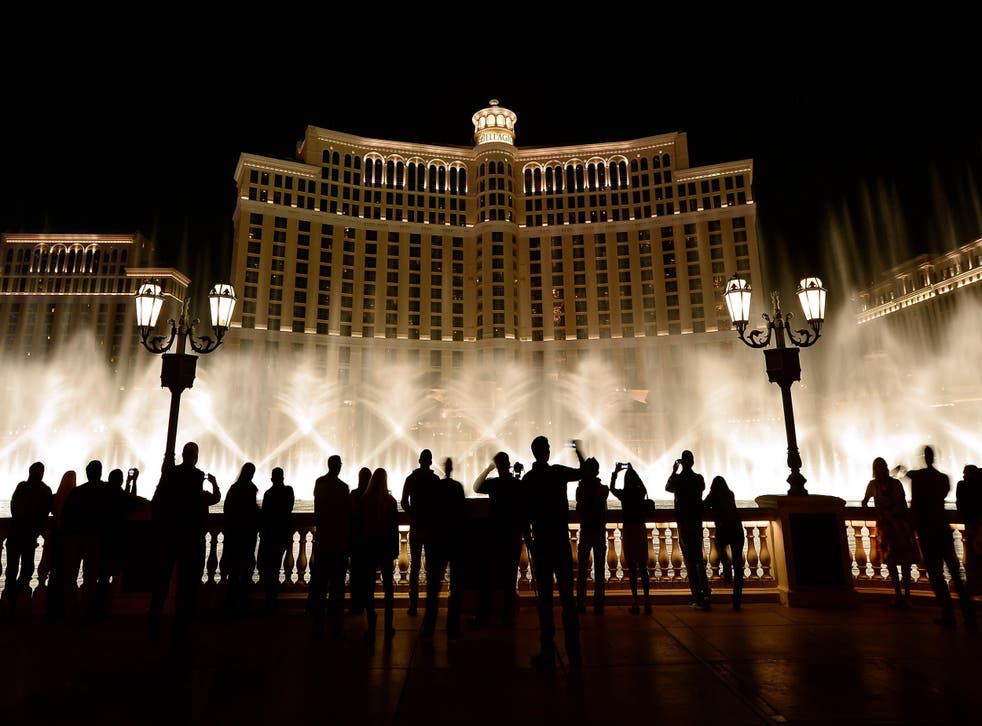 Bellagio Fountains: Will the famous Las Vegas landmark close to make way for a shopping mall?
Reports say the resort is considering replacing the iconic attraction with a mall
What Las Vegas giveth, Las Vegas taketh away. Eighteen years after the Bellagio opened and redefined luxury in Sin City, rumours are afoot that the resort plans to ditch its most famous feature – the dancing fountains.
The fountains – which cost $40 million to build and contain 22 million gallons of water – are one of the top attractions in Vegas. Set in "Lake Bellagio", facing onto the infamous Strip, they "dance" with choreographed movements every half hour to tracks such as Viva Las Vegas, Luck Be a Lady, and My Heart Will Go On, as well as more modern tracks from the likes of Tiesto. Some casino high rollers are allowed to pick a song from the playlist – though that honour is reserved for few big spenders.
But a report in the Las Vegas Review Journal claims that executives at MGM Resorts, which owns the Bellagio, have discussed plans to turn the 8.5-acre site into a "boutique shopping and restaurant promenade."
"It's incredibly valuable real estate that earns the hotel nothing," a source told the newspaper. "It has had a long run as a tourist attraction, but now it's time to make it a revenue earner."
The fountains are known as being a rare free attraction in a city that encourages spending at every opportunity. However, the restaurants on Lake Bellagio command premium pricing to match the views, and tables nearest the water are reserved for big spenders.
Vegas, of course, is no stranger to "boutique shopping promenades". Most of the upmarket casinos have malls attached - Bellagio already counts brands such as Bottega Veneta, Dior and Louis Vuitton in its clutch.
It is believed the plans have been inspired by the decision to replace the golf course at the rival Wynn resort with a water park. Owner Steve Wynn was behind Bellagio, and is regarded as Vegas' biggest mogul.
In response to the rumours, MGM Resorts issued a statement saying, "We have no plans or intention to eliminate the iconic Bellagio Fountains, one of the most identifiable tourism landmarks in the world."
But the statement did not deny that discussions have been held.
Blogger Scott Roeben, whose Vital Vegas site often covers stories the casinos prefer to keep quiet, told The Independent:
"Las Vegas is in a constant state of evolution. Freebies were once enticements; now they're rewards for loyalty. People who come to see free shows aren't the ideal casino customer.
"While the fountains would be missed, casinos have to do the same cost/benefit analysis any business would. While free attractions appear to draw crowds, that rarely translates into gambling or other revenue for the casino. There are numerous examples of casinos eliminating or downsizing their free offerings, including the Sirens of TI show at Treasure Island. It had zero impact on their bottom line, other than to bolster it with the cost savings.
"The Bellagio fountains are certainly iconic, and they're known around the world. But it's not on the shoulders of Bellagio or its ownership, MGM Resorts, to provide a free attraction used to promote Las Vegas. Their responsibility, for better or worse, is to shareholders.
"But while I'm sure a move like this has been discussed at some point, the possibility it will happen is remote. It would be a public relations nightmare, for starters."
A final decision is expected by mid-summer.
Register for free to continue reading
Registration is a free and easy way to support our truly independent journalism
By registering, you will also enjoy limited access to Premium articles, exclusive newsletters, commenting, and virtual events with our leading journalists
Already have an account? sign in
Register for free to continue reading
Registration is a free and easy way to support our truly independent journalism
By registering, you will also enjoy limited access to Premium articles, exclusive newsletters, commenting, and virtual events with our leading journalists
Already have an account? sign in
Join our new commenting forum
Join thought-provoking conversations, follow other Independent readers and see their replies