Rhossili Bay in Wales is named the best beach in Europe
The Swansea beach made it onto a list of the world's top 10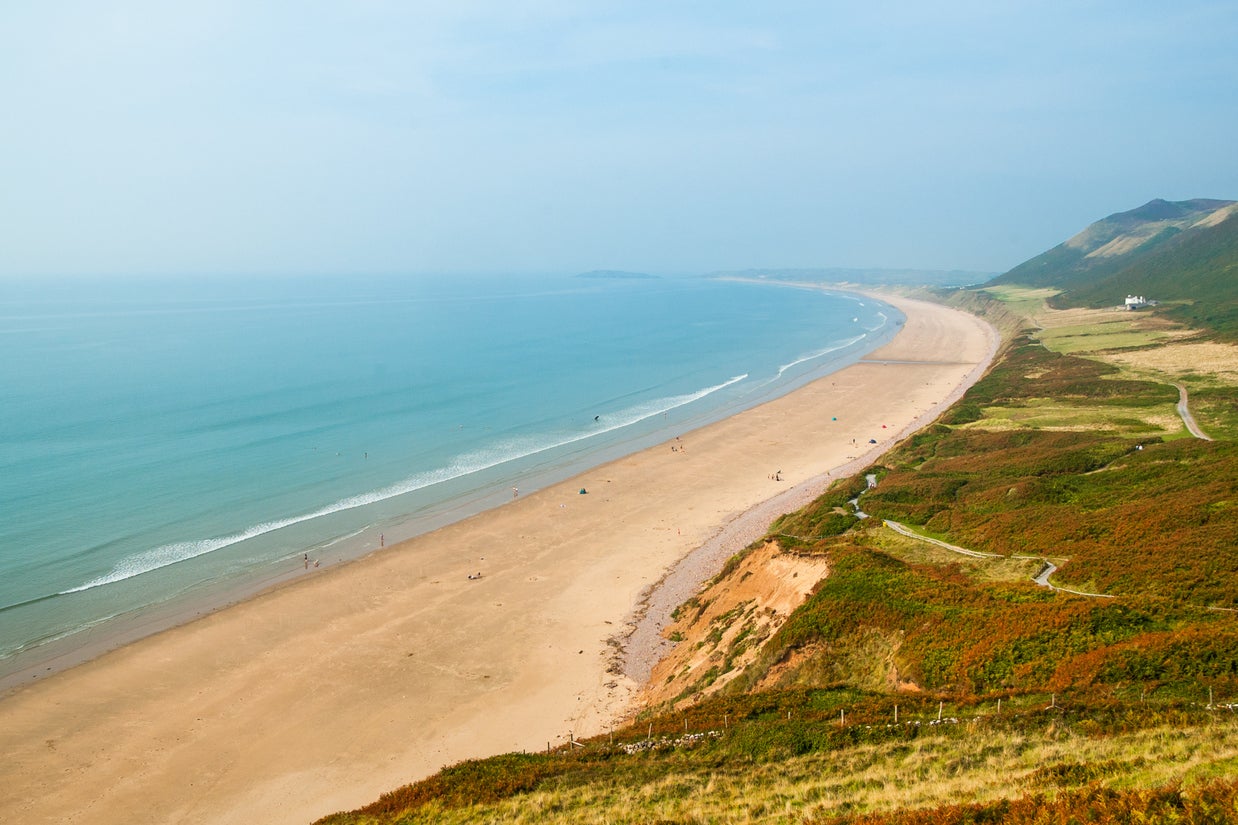 The UK is known for many things but pristine, world-class beaches isn't usually one of them – until now.
A beach in Wales has been crowned the best in Europe by Suitcase Magazine. Swansea's Rhossili Bay on the Gower Peninsula surpassed the sandy shores of Spain, Greece and France to become the only European beach worthy of a place on Suitcase's top 10 beaches in the world list for 2017.
Comprised of three miles of golden sand, the beach encompasses Worms Head, one of Gower's most famous landmarks, and lies within the first designated Area of Outstanding Natural Beauty in the UK.
Adrian Short, proprietor of the local Worm's Head Hotel, told The Independent: "It's an outstanding bay. It's not the first time it's been mentioned; it's become a figurehead location for Wales."
He added that the remoteness of the bay means "there's a certain mystique about it, because it's very natural. It's not your typical sunbather's beach – it's unspoiled luck."
While remote, the bay is not inaccessible, and its international recognition means that hundreds of tourists are expected to flock to the iconic spot this summer.
Rhossili Bay is in good company on the top 10 list, rubbing shoulders with the likes of the hard partying South Beach in Miami and Honokalani Beach in Hawaii, which boasts black lava stone instead of the typical white sand.
However, this is by no means the first time the South Wales stretch of coastline has received recognition for its beauty. Rhossili Bay has been voted Wales' Best Beach 2017 and one of the UK's Top 10 Beaches for five years running in the TripAdvisor Travellers' Choice Awards.
The top 10 beaches in the world
Pamalican, Philippines
Bocas del Toro, Panama
Tikehau Island, French Polynesia
Baia do Sancho, Fernando de Noronha, Brazil
Koh Kradan, Thailand
Radhanagar Beach, Havelock Island, India
Honokalani Beach, Maui, Hawaii
South Beach, Miami, USA
Loblolly Beach, British Virgin Islands
Rhossili Bay, Swansea, UK
Join our commenting forum
Join thought-provoking conversations, follow other Independent readers and see their replies