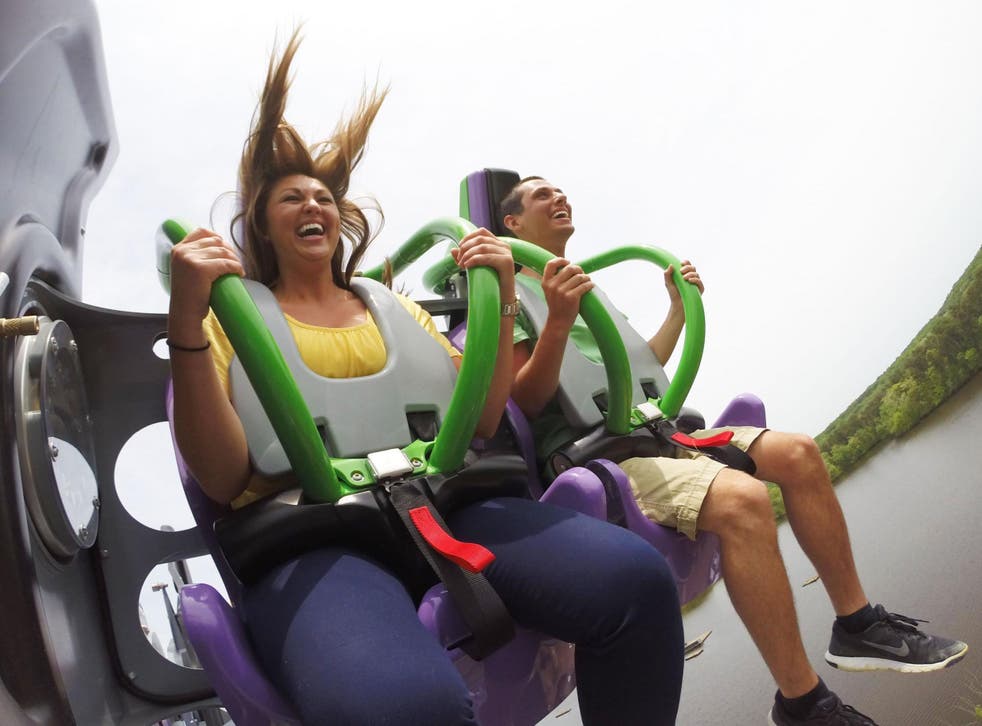 The best theme park rides for 2017: from an Avatar banshee ride to a rollercoaster that feels like driving a Ferrari
Wondering whether a new theme park ride's worth visiting? We've asked rollercoaster expert Ian Bell to rate the new rides opening this year
How to know when a hotly anticipated theme park ride will be up to scratch? Ask Ian Bell from CoasterForce, a rollercoaster expert who's ridden 746 rollercoasters in 17 countries. He told The Independent what he makes of seven of the most previewed offerings for 2017.
Part of the much anticipated Pandora – The World of Avatar area opening on 27 May, this ride will seat you on a model banshee (which, they say, will move and breathe beneath you) as you "ride" towards a big screen, flying through the world of Pandora, over floating mountains and through bioluminescent rainforests.
Ian's verdict: In recent years years, simulator rides have become increasingly popular, allowing riders to be transported to magical lands in fully immersive surroundings. James Cameron and Walt Disney Imagineering working together on a project is going to take it to another level. The experience and attention to detail will probably be unrivalled by existing simulator attractions. It's going to blow away all expectations.
Entry from $107 (£87) adults, $101 children.
An interactive ride that sees you pitching virtual orbs at a 3D screen, this ride, which opened in January, is aimed at children (Legoland has a 2-12 age range) but it's something that adults can enjoy too. Sensors in the lap bars react to your hand movements above the bar – your goal is to dispatch your enemies with karate chops and by hurling projectiles at them. This side of the pond gets a look in too: Ninjago World opens in Legoland Windsor in May.
Ian's verdict: The use of hand motion technology means riders can fire as accurately and as quickly as they want. Everybody wants to beat their friends, right? There'll be hands waving and laughter everywhere!
Entry from $113 adults (aged 13 and over), $105 children (aged 3-12 years old).
PortAventura's forthcoming 4000m sq Ferrari Land area (due to open in April) will feature what the theme park claims will be the fastest and highest rollercoaster in Europe, giving riders the feel of being in an F1 car as they spin round the loops at heights of up to 112m, reaching speeds of 110mph in just five seconds.
Ian's verdict: I can't wait to ride this so I can say I've ridden the tallest and fastest coaster in Europe. Although the style of coaster is nothing new, it is definitely worth the hype because there are not many other machines that can power riders up from 0 to 110mph in five seconds. This type of coaster is incredibly "re-ridable" thanks to the sheer adrenaline rush. After riding more than 700 rollercoasters, very few give me that good old "jelly legs" feeling, but this one will.
Entry from €60 (£52) adults, €52 children (aged 4-10 years old).
Another May opening, this family-friendly ride opens in Port Discovery, and seats guests in a submarine that "shrinks" to the size of a fish that then navigates through the ocean with the help of Nemo and Dory.
Ian's verdict: Going to be honest, there's not much buzz about this ride. Sure, it's Disney so it's going to be good and children will love it, but there's nothing special about it. One thing you can guarantee with Disney is they'll make this attraction perfect for its target audience, young children. Youngsters will feel like they've been transported to the underwater world of Nemo and be part of his big adventure.
Entry from 7400 yen (£53) adults, 4800 yen children.
Six Flags have a thing for 4D coasters and this, their latest, is due to open in spring at the Chicago theme park. You'll reach heights of 120 feet and 90-degree angles while spinning all the time within your pod. One for a strong stomach.
Ian's verdict: The motion is like being stuck inside a washing machine on full spin whilst doing several hundred somersaults! It can make riders very dizzy as they watch the world seemingly spin around them. The severity of spin depends on the weight distribution of the riders in each car.
Entry from $52.
This new addition to Poland's biggest theme park will be the largest rollercoaster in Central and Eastern Europe, but there's more to it than statistics – it's genuinely innovative, winding through a purpose-built castle (it's themed around Poland's Sixth-century ruler Lech), above water and taking four inversions over almost 1km of track.
Ian's verdict: Undoubtedly the most intense and exciting rollercoaster scheduled to open this year. Riders will be completely disorientated and experience different types of terrains.
Entry from 49 zloty (£10).
Just when you've seen it all comes this Star Trek-themed rollercoaster, opening in spring. In it you'll play a Starfleet cadet sent out to rescue the USS Enterprise from the Borg, which has caught the ship in its tractor beam. In practice, this means enjoying the twisted half-pipe eight-ton transfer track system, which starts off the initial incline at three times a coaster's normal speed.
Ian's verdict: Usually a rollercoaster is built like a jigsaw where all the pieces fit together to make a lovely picture. With this one it's like they've blindly put their hand in the jigsaw box, taken out some pieces and created what looks like a masterpiece. It shouldn't work, but it's going to send riders' minds to warp factor 10!
Entry from €31.
Join our new commenting forum
Join thought-provoking conversations, follow other Independent readers and see their replies