The Independent's journalism is supported by our readers. When you purchase through links on our site, we may earn commission.
20 of the best travel apps to have on your phone this year
Take the stress out of organising your trip and the journey itself with these handy helpers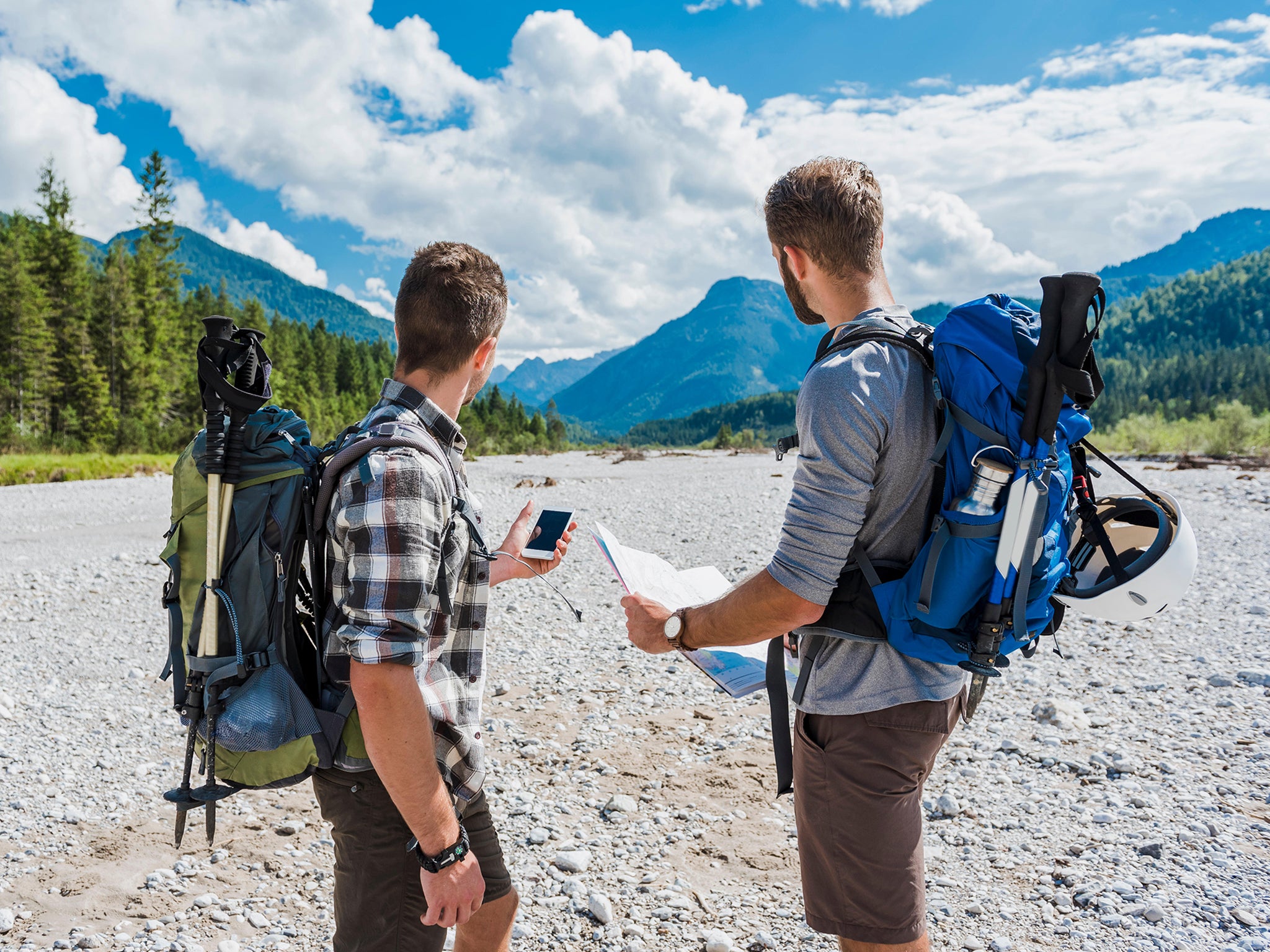 Whether you're looking to plan a dream trip or just get out on the next flight, check airfares for next year or check into a hotel 10 minutes from now, this list proves that there's definitely an app for that.
Turn your phone into a live flight tracker, watching aircraft around the world and viewing flight data in real time. Identify flights overhead, or log on to inflight wi-fi and follow your route progress in detail (including a weather layer). Bonus features, like Augmented Reality View, which identifies the planes flying overhead when you point your phone's camera at the sky, are addictive and entertaining. Info from Flightradar24's worldwide network of data receivers has even been used to help investigate aviation incidents.
Available on: IOS and Android, free, with paid upgrade options for additional features
Going somewhere sunny? Prepare for a day outdoors with access to live reports on the UV levels at your location. The UVLens app recommends the best times of day to enjoy or avoid the sun, and also does a personalised skin type assessment to find out how long you might be able to spend in the sun before you reach the UV danger zone.
Available on: IOS and Android, free
Whether you're cycling, hiking, backpacking or mountain biking, the trail ahead can prove a challenge. Komoot makes it easy to plan ahead with navigation technology and location data that enables you to generate sport-specific, topographic routings. The app then guides you on your journey with turn-by-turn voice navigation and detailed maps, even in offline mode. https://www.komoot.com
Available on: IOS and Android, free, with paid package updates ranging from £2 to £25
This app opens the golden doors to those secretive, indulgent spaces typically reserved only for the highest paying, or most frequently flying of travellers: the airline lounge. Create your trip within the app and LoungeBuddy will let you know which lounges you already have access to. No results? No worries. You can browse lounges and their amenities, and purchase instant access in seconds, from only £19. For example, LoungeBuddy can get you into the No 1 Lounge at London Heathrow, Lufthansa Business Lounges in Germany, the Marhaba Lounge at Dubai, Delta SkyClubs around the US, and plenty more.
Available on: IOS and Android, free
The world is so vast and the options so many that organising your "must visit" list can be a daunting task. Hitlist is here to help. Not only does it organise your ever-expanding destinations and allow you to share your picks with friends, but it constantly scans airfares to let you know when ticket prices to the locations on your list drop to levels that'll have you saying, "I can't not go at this price."
Available on: IOS and Android, free
Using this popular app to "check in" and find friends in your area is a thing of the past; Foursquare now rivals Yelp for quality photos and reviews of venues around the world, helping you to do everything from deciding between hotels by checking out photos of actual rooms and tips from former guests, to finding a 24-hour curry restaurant in Tokyo. Follow curated and themed lists for destinations, or create your own as you learn of cool places from friends or, you know, Instagram. Venue listings are detailed, relieving uncertainty when it comes to things like limited opening hours and what credit cards are and are not accepted.
Available on: IOS and Android, free
This slick purple app makes it almost too easy to book a great hotel for a discounted price, whether you're looking to stay next week, tomorrow, or in ten minutes. When hotels approved by HotelTonight have unsold rooms, they load them on the app and into your hands, with savings likely not available elsewhere. The app also comes with its own loyalty programme, totalling up your spending to reach levels that bestow even greater discounts, as well as perks like late check-out or a room upgrade.
Available on: IOS and Android, free
Speak, snap, write, or type anything in one of the app's 103 supported languages, and the app will instantly translate to your preferred language. Snapping is the particularly helpful feature, as the app uses your phone's camera for an augmented reality translation that works wonders when trying to make sense of menus, signs, and even magazines or books. It's like having a personal interpreter in your pocket, especially as it supports offline use.
Available on: IOS and Android, free
Want to get out of town in a hurry? Just fly somewhere, anywhere, as soon as possible? GTFO scans the newest and lowest airfares from online booking engine Hopper.com to reveal the best available roundtrip flights leaving from your location today and tomorrow. Use it for a spontaneous weekend getaway from Hong Kong to Bali, from Bristol to Tenerife, and from Boston to Barbados, just to name a few options.
Available on: IOS, free
In addition to offering basic flight tracking, GateGuru connects the dots between the many intricacies of your plans on travel days. Details like where to check in at the airport, estimated security wait times, and maps of amenities within the terminals (complete with tens of thousands of user reviews) are all GateGuru's strengths. Researching your airports, even a little, within the app goes far towards building your confidence and wayfinding when short on time and nerves but surrounded by the maze of an airport terminal.
Available on: IOS and Android, free
Find the best way to get anywhere, without unfolding a map or squinting at a train schedule. Rome2rio considers all modes of transportation when advising on the best routes from where you are, to where you want to go. A single search may include plane, train, bus, car, ferry, bike share, driving, and walking directions, all with listed fares and a detailed map that weaves together the segments of your journey.
Available on: IOS and Android, free
Learn a new language in just five minutes a day with this app that turns lessons into easy and addictive games with morale-boosting feedback and virtual rewards. Compete against friends and jump in at any level to learn and practice reading, writing, and speaking in any of Duolingo's 23 supported languages, with more to come (including Korean and Klingon).
Available on: IOS and Android, free
Whether you're sharing photos from your travels to keep family and friends updated, or just bragging that you totally swam in the same Moroccan riad pool as your favourite "influencer", Instagram is a must for travellers. The newest update allows you to save images to private collections, like Pinterest, making it much easier to find the name and location of destination photos that have had you daydreaming. Before you post, however, do consider cultural etiquette of the destination. Your naked selfies may bring in the "likes," but they could also land you in jail.
Available on: IOS and Android, free
Quickly identify stars, planets, constellations, and even satellites above you by simply holding your phone to the sky and using the Night Sky app. Whether you're trying to find a constellation or the International Space Station, Night Sky will show them to you and more, no matter if you're outside under the moon, or at home, bored and in bed. Finish up a romantic dinner with some casual stargazing, but actually know what you're looking at.
Available on: IOS and Android, free, with paid upgrade options for additional features
You've booked a flight, but the airline wants to know where you'd like to sit. Choose the choicest seat on the plane by consulting the SeatGuru app and its airplane seating plans for dozens of airlines, complete with real reviews from past passengers. Is your seat missing a window, or too near the lavatories for restful, non-smelly sleep? SeatGuru has the answers.
Available on: IOS and Android, free
This promotes itself as your "personal flying assistant" thanks to its ability to track delays and changes to your itinerary and help you navigate airports, but the real fun comes from its statistics. As you travel, App in the Air keeps track of the mileage, routes, and your ranking among friends to display a map of your travel history and habits.
Available on: IOS and Android, free, with paid feature upgrades ranging from £1 to £40
Forward all confirmation emails from booking flights, trains, hotels, rental car, and any other pieces of your trip to TripIt and their system will sort and organise it into a digital itinerary, easily accessible (and readable) via the app. A £38 annual fee to upgrade to TripIt Pro includes flight status monitoring, frequent flyer points tracking, and checking for the potential of any refunds on your travel. The latest update to the app also adds the "Go Now" feature, allowing travellers to activate timed alerts to remind when it best to leave home for the airport, based on their location, flight status, and local traffic conditions.
Available on: IOS, Android, free, with option to upgrade to annual paid subscriptions for enhanced services
For nervous flyers and road warrior alike, Turbulence Forecast helps to ease pre-flight anxiety over weather by providing regularly updated maps marked with zones of reported and potential turbulence around the world. Access it as you fly, if your flight has wi-fi, to gauge how much longer the bumps might last (and how much more of a wait until the trolley comes around with another gin and tonic).
Available on: IOS, free
A must for anyone travelling abroad, whether for a weekend trip or an extended stay. This free app tracks live currency markets across the world to provide you with accurate up-to-the-minute conversion tables.
Available on: IOS and Android, free
Unfortunately the world is not a perfect place, and crimes of theft can take place even in some of the most scenic and majestic destinations. A pickpocket can just as easily swipe your goods in St Peter's Square as in a crowded restaurant, so how do you protect yourself? Prey Anti Theft is an app that manages your digital accessories, allowing you to find your phone, laptop, or tablet even after they're gone. Retrieve photos remotely, wipe data, and prevent future loss by locking devices from across the street or across the world.
Available on: IOS and Android, free, with one-year protection plans from £28.99
Join our commenting forum
Join thought-provoking conversations, follow other Independent readers and see their replies