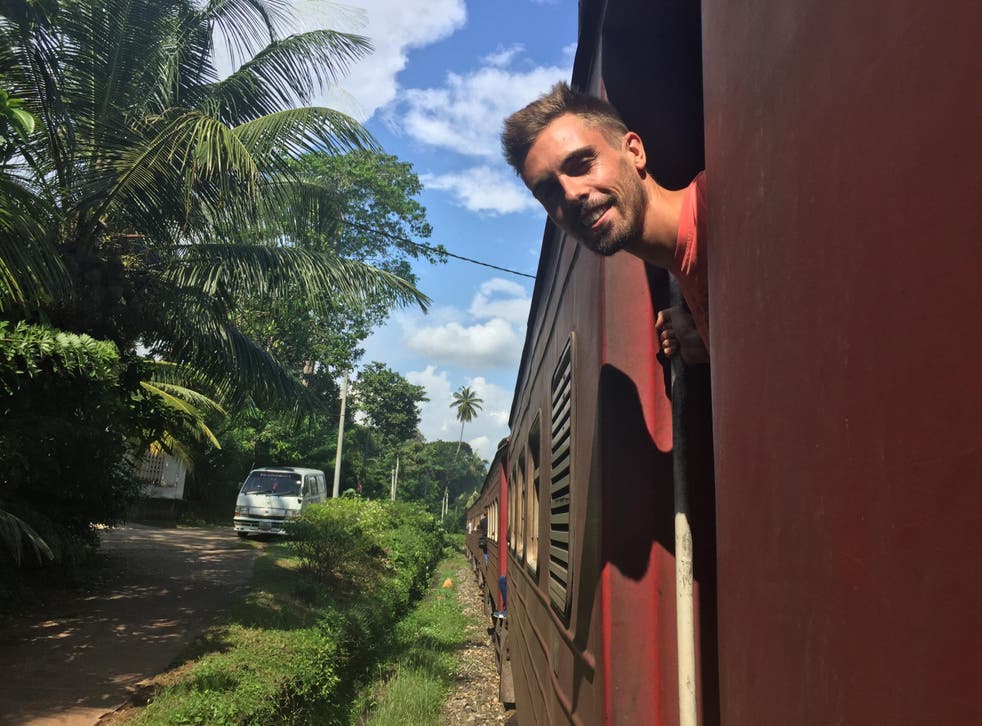 Booking.com keeps listing property after guest was assaulted and robbed by hotel owner
Exclusive: 'The weeks following were filled with flashbacks and panic attacks,' says victim
Hotel booking giant Booking.com continued to list a property on its website for seven weeks after a customer reported being assaulted and robbed by the hotel owner.
Jonnie Emsley, 27, described the attack as a "near-death experience" and told The Independent that the weeks following it "were filled with flashbacks and panic attacks".
The UK-based writer and researcher had booked three nights at a guesthouse in Sri Lanka in November as part of a solo holiday.
With an average score of eight out of 10 based on more than 60 reviews, the property looked like an ideal accommodation option. However, Mr Emsley's stay quickly descended into a terrifying ordeal.
It started when the host offered to take Mr Emsley on a tour of the local area.
World news in pictures

Show all 50
"During the tour, the host kept asking me for money to pay for things, and when I eventually declined after having spent over $100 in a day despite our original agreement on the price of 2,500 rupees (about $20), he became irate.
"At that point he asked me to pay the 3,000 rupees for the three nights' accommodation (I'd stayed one night already), so I paid him and advised I would go back to get my belongings and find somewhere else to stay."
When he arrived back at the guesthouse, Mr Emsley says he was accosted by the host and another assailant, who attacked him with a broken bottle.
"It was undoubtedly what you would describe as a near-death experience," he said. "When I was being held in the garage with a broken bottle to my neck by two men, and being told that I was going to be killed, I suppose my subconscious resigned itself to death."
The host then took Mr Emsley to a cash machine where he was forced to withdraw 80,000 rupees (£868) before his bank card was blocked.
Mr Emsley then managed to escape and run to safety, where he called the police and Booking.com to report the attack.
While collecting evidence, police told Mr Emsley the same hotel host had committed similar offences several times before.
Booking.com claimed it would be internally reviewing the property. However, several weeks later, the listing was still active and available to book.
Investigating further himself, Mr Emsley discovered a review from April 2019 detailing a similar experience to his own.
"The owner stole $600 cash and my phone," read the comment. "He was very persuasive in joining him on an outdoor activity in his hometown. When I was there I left my backpack in his van."
Mr Emsley said: "I rang up Booking.com to ask why they had not delisted the property after the other guest was attacked in April. After call centre staff couldn't answer my question, I was escalated to a manager, who advised me reviews 'were just opinions' and that I should read Booking.com's terms and conditions."
The manager told Mr Emsley he would consult the Sri Lankan division of Booking.com to escalate the case further. Seven weeks later, he had heard nothing back, and the property was still live on the site.
Mr Emsley says he would not use Booking.com again after his experience.
"I feel that this is a colossal issue, if the largest accommodation booking site is acting with a (deliberate) negligence that can jeopardise the welfare of travellers, or is at the very least not taking an approach of 'better safe than sorry'," he said.
"I would like to see an absolute overhaul of Booking.com's policy and safety protocols, taking customer safety first. The fact there had been earlier complaints against this property on Booking.com, coupled with multiple police complaints against this man doing similar things, indicates they have some serious gaps in how they regulate the properties listed on their site."
Since The Independent contacted Booking.com about the incident, the platform has removed the guesthouse from its site.
A Booking.com spokesperson told The Independent: "We take customer safety extremely seriously at Booking.com and have a specialised team that investigates thoroughly in the rare instance that there be any cause for concern with a property listed on our site, removing them from our platform as necessary.
"In this case we have offered the customer a full refund, and the property has been removed from our site pending full investigation."
Join our new commenting forum
Join thought-provoking conversations, follow other Independent readers and see their replies