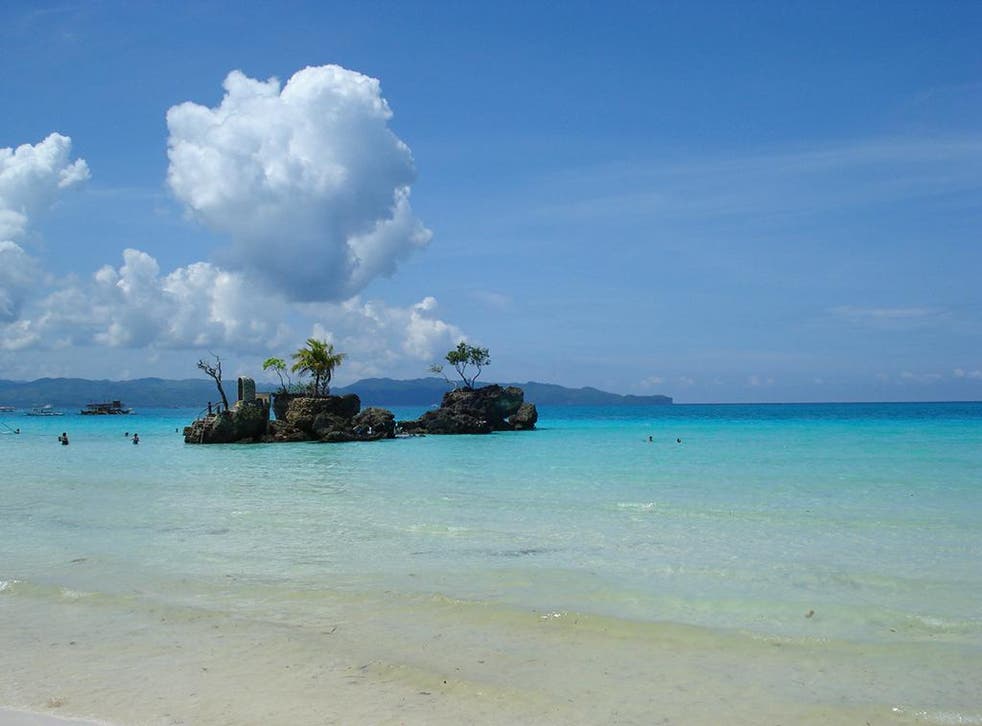 Boracay: Philippines closes popular tourist island for 'rehabilitation'
Ban on holidaymakers is expected for six months from 26 April to clean up the tiny island
One of Asia's top holiday islands faces closure by presidential decree. Rodrigo Duterte, president of the Philippines, has called for Boracay to be placed off-limits to tourists for six months while it is cleaned up.
An English-language news site, The Inquirer, said the president would declare a "state of calamity" in Boracay. Closure to tourists is expected from 26 April for "rehabilitation" of the tiny isle.
The island, four miles long and less than a mile wide, is about 200 miles south of the capital, Manila. One British long-term resident described Boracay as "the jewel in the crown" of Filipino tourism.
President Duterte made the decree after visiting the island. He is said to have been outraged by "environmental violations" that have left the island a "cesspool", according to local reports.
The Lonely Planet travel guide says: "With a postcard-perfect, 4km-long white beach and the country's best island nightlife, it's not hard to figure out why Boracay is the Philippines' top tourist draw." But the guidebook adds: "Waste management is a massive problem … and environmental regulations are poorly enforced."
The government is expected to impose strict environmental laws, which could involve demolishing parts of the tourism infrastructure –particularly beachside hotels.
The UK resident of Boracay said: "Along Bulabog Beach all the hotels have been given notice that they cannot be closer than 30 metres from the high water market.
"One person will lose half their hotel."
Other investors face having properties torn down because they were "built on forest land", even though they were given planning permission at the time.
Boracay caters for hundreds of thousands of tourists each year, with accommodation ranging from five star resorts to backpacker hostels.
The Shangri-La resort publicity says: "The resort's accommodations are thoughtfully designed with Shangri-La's hallmark elegance. Nature seems to be the only companion, her bounty fills all senses."
Mad Monkey Hotel describes itself as "heaven on earth for backpackers", adding: "We've got nonstop fun lined up for you: our legendary Booze Cruise, epic go-karting tournaments, trips to Boracay's gorgeous white sand beaches."
Many visitors are from China and Korea, with Western expatriates converging on the island for rest and relaxation.
The short-term economic damage of the closure is likely to be substantial. "Something like 30,000 workers will have no jobs within three weeks," said the British resident. "People are absolutely devastated."
A loss of income could potentially jeopardise the livelihoods of upwards of 100,000 people when family members are included.
Visitors with pre-paid bookings for hotels are likely to be able to claim refunds, but there are questions about whether air fares will be refundable.
The Foreign Office warns UK visitors to the Philippines that a "state of national emergency on account of lawless violence" is in place, adding: "Expect random checkpoints, security patrols and a more visible routine security presence."
Register for free to continue reading
Registration is a free and easy way to support our truly independent journalism
By registering, you will also enjoy limited access to Premium articles, exclusive newsletters, commenting, and virtual events with our leading journalists
Already have an account? sign in
Register for free to continue reading
Registration is a free and easy way to support our truly independent journalism
By registering, you will also enjoy limited access to Premium articles, exclusive newsletters, commenting, and virtual events with our leading journalists
Already have an account? sign in
Join our new commenting forum
Join thought-provoking conversations, follow other Independent readers and see their replies