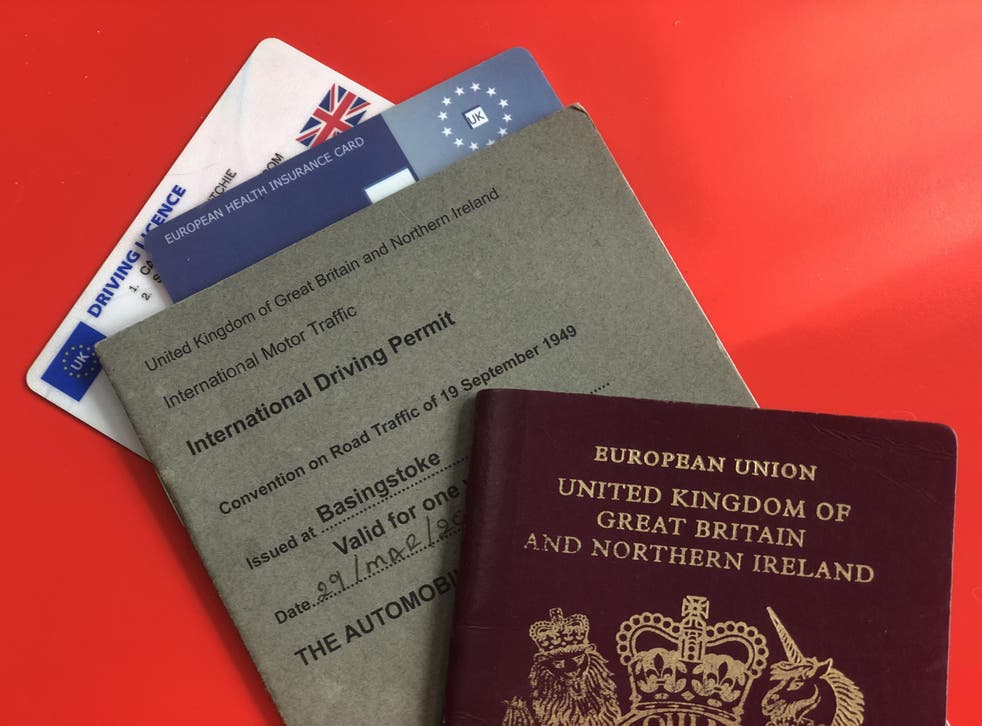 Travel to the EU from 2021: Will I need a new passport and what changes are being made?
The government has confirmed many of the arrangements for British travellers to Europe once the Brexit transition period ends
Simon Calder
Travel Correspondent
Monday 13 July 2020 17:54 Comments
The end of 2020 marks the end of the Brexit transition. From next year, British travellers visiting countries in the European Union (except for the Republic of Ireland) will encounter a number of changes.
Here's everything you need to know.
Will I have to get a new passport after 2020?
Not necessarily. Even if you have a burgundy passport with "European Union" on the cover, it will continue to be valid as a UK travel document until its expiry date.
The problem is: as soon as the transition ends on 1 January 2021, European rules on passport validity become much tougher.
What changes for passports?
The UK government says: "On the day you travel, you'll need your passport to both have at least six months left [and] be less than 10 years old (even if it has six months or more left)."
Unfortunately this is incorrect, and The Independent has asked the government to correct its advice.
The passport must be less than nine years and six months old.
The government advice continues: "If you do not renew your passport, you may not be able to travel to most EU countries and Iceland, Liechtenstein, Norway and Switzerland."
The same rules apply to the small countries of Andorra, Liechtenstein, San Marino and Vatican City.
Why is there a concern about the date of issue of the passport?
The European Union has strict rules on passport validity for travellers visiting from outside the EU.
Passports issued by non-member countries are regarded as expired once they have been valid for 10 years.
For many years, until September 2018, the UK had the generous policy of allowing credit for "unspent" time when renewing a passport, issuing documents valid for up to 10 years and nine months.
So a passport issued on 30 June 2011 could show an expiry date of 30 March 2022.
While the expiry date printed in the passport remains valid for the UK and other non-EU countries around the world, within the European Union the issue date is critical.
That passport issued on 30 June 2011 will be regarded as expiring on 30 June 2021. Therefore if its holder attempted to board a plane to the European Union on New Year's Day 2021, it would have insufficient validity and the airline would be obliged to turn them away – even though the British passport has almost 15 months to run.
Until September 2018 the government appeared unaware of the problem. Once the issue was identified, the practice of giving up to nine months' grace ended abruptly.
Shall I renew my passport now?
Not unless it is absolutely necessary to have a new one in a few weeks for a trip this summer, because there is currently a large backlog at passport offices.
Can I still use the EU fast lane for passport control?
No, although countries that receive a large number of visitors from the UK, such as Spain and Portugal, may make special arrangements.
Will I need a visa?
Not initially, though from 2022 (or possibly later) British visitors will need to pay in advance for an "Etias" permit under the European Travel Information and Authorisation System.
Why does the UK government say I need a passport for Ireland?
I don't know. It says: "​You can continue to use your passport as long as it's valid for the length of your stay."
I have asked the government to correct this assertion, too.
Within the Common Travel Area (UK, Ireland, Channel Islands and the Isle of Man) no passport is necessary (though Ryanair requires passengers between the UK and Ireland to carry a passport).
What is happening with free health care?
Since the EU referendum the government has repeatedly said that it hopes to establish a reciprocal health treaty mirroring the European Health Insurance Card (Ehic).
The then-health minister, Stephen Hammond, said in a written parliamentary answer: "The department recognises that people with some pre-existing conditions rely on the Ehic to be able to travel."
The intention has now been dropped. The government says: "You should always get appropriate travel insurance with healthcare cover before you go abroad.
"It's particularly important you get travel insurance with the right cover if you have a pre-existing medical condition. This is because the Ehic scheme covers pre-existing conditions, while many travel insurance policies do not."
Will travel insurance premiums rise?
The Association of British Insurers warns: "Claims costs within Europe are currently reduced due to the presence of the Ehic, which covers some or all state-provided medical costs.
"In the absence of the Ehic or similar reciprocal health agreement, insurers will inevitably see an increase in claims costs – this could have a direct impact on the prices charged to consumers."
What about driving licences?
This is one of the travel aspects where, four years after the Brexit vote, there is still no clarity.
The government says: "You may need extra documents from 1 January 2021.
"You might need an international driving permit (IDP) to drive in some countries."
How Brexit will affect your travel to Europe

Show all 14
In fact, you may need two. A 1949 IDP covers Spain, Cyprus and Malta, while a 1968 version is valid everywhere else in the EU.
The IDP is an antiquated document available at larger post offices. Take your driving licence, a passport photo and £5.50.
The government also says: "If you're taking your own vehicle, you might also need a 'green card' or valid proof of insurance and a GB sticker."
What about mobile roaming?
From 1 January 2021, the EU-wide ban on roaming charges for phone calls and internet use will no longer apply for people with UK mobile phones. Mobile providers will be free to impose whatever fees they wish, though the Government says it will cap the maximum for mobile data usage while abroad at £49 per month unless the user positively agrees to pay more.
EE says: "If the government doesn't reach a trade deal with the EU by December 2020 there's a possibility of us exiting without one, which is a form of no deal.
"EE may lose the protections and regulations that guarantee the low rates European operators charge us when you go abroad.
"In the event of this happening, EE will need to do individual deals with each of the 27 EU countries. This includes 144 operators, in total, but we will continue to do everything we can to provide inclusive roaming to you in the long term."
Competition may prevent sharp increases in costs. The leading provider, Three, says "Concerned Brexit might put a stop to all that good stuff? Worry not. If the law changes, we'll give you free EU roaming just the same."
Can I take my pet abroad?
Yes, if it is a cat, dog or ferret. But the rules could become very complex depending on the outcome the government negotiates.
The BBC's assistant political editor, Norman Smith, is a dog owner and said: "It looks to me frankly such a faff, you are just not going to bother.
"You are going to have to take your pet to the vet to get a rabies vaccination. You'll then have to return a month later to get a blood test, send that blood test to an EU laboratory.
"Their vet will then send back the 'OK'. You'll then have to wait another three months before you can go."
But it may be that the UK can be "listed" by the EU as a more trusted country, in which case the rules will be less onerous.
Register for free to continue reading
Registration is a free and easy way to support our truly independent journalism
By registering, you will also enjoy limited access to Premium articles, exclusive newsletters, commenting, and virtual events with our leading journalists
Already have an account? sign in
Join our new commenting forum
Join thought-provoking conversations, follow other Independent readers and see their replies