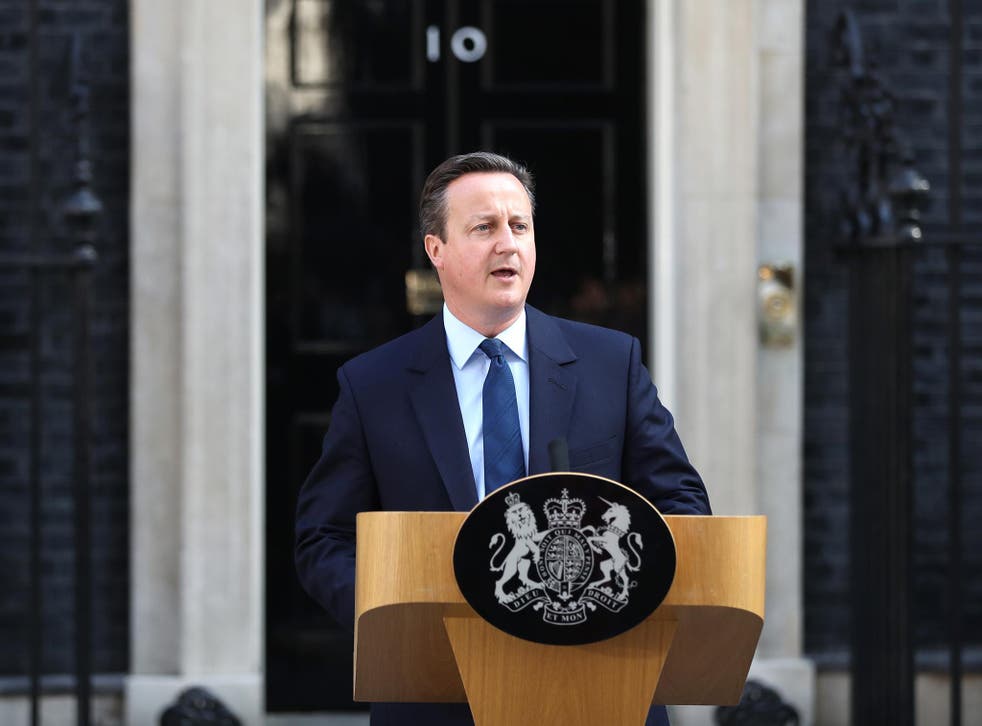 Brexit means David Cameron's legacy could be a third runway at Heathrow
The Prime Minister and George Osborne see the runway choice as theirs to take – they may announce a decision ahead of the Tory leadership contest
As a lack of resilience at Britain's busiest airport led to another day of delays and cancellations, proponents of a third runway at Heathrow raised the prospect of a snap decision on aviation capacity - dubbed a "Heathrexit" strategy for David Cameron and George Osborne.
Several days of poor weather caused Saturday's scheduled operations at Heathrow to spill over to Sunday, with planes landing well after midnight - including a British Airways flight from Rome that touched down 10 hours late. Another 30 BA flights to and from Heathrow were cancelled on Sunday.
Follow the latest live updates following Brexit
Sir Howard Davies's Airports Commission was set up to address the shortage of aviation capacity in South-East England. The commission spent three years - and £20m - evaluating the new runway options. It shortlisted a second runway at Gatwick, along with two alternatives at Heathrow: a third runway, or an extended northern runway known as "Heathrow Hub".
Just before the commission reported last summer, Boris Johnson - then Mayor of London - said: "The Airports Commission must realise that, if it is mad enough to recommend a third runway at Heathrow, the backlash from Londoners will ensure it is never built."
6 ways Britain leaving the EU will affect you

Show all 6
But on 1 July 2015, the Davies Commission unanimously recommended a third runway at Heathrow. Yet at the end of last year the government insisted on further research, particularly focusing on air quality and noise. It conveniently deferred any decision until after the London mayoral election in May 2016; the Tory candidate, Zac Goldsmith opposed expansion at Heathrow.
The Transport Secretary, Patrick McLoughlin, promised a decision in July before the summer recess, though he later hinted that the EU referendum might lead to another postponement.
When the Leave verdict triggered the Prime Minister's resignation on Friday morning, the Gatwick camp was jubilant - confident that Boris Johnson, the leading candidate for No 10, would award the runway to the Sussex airport.
But amid the political turmoil at the heart of Government, it has emerged that David Cameron and the Chancellor, George Osborne, see the runway choice as theirs to take. They may announce a decision within the next few weeks, ahead of the Tory leadership contest. This so-called Heathrexit strategy would counter the image of post-referendum political paralysis, and provide both men with a tangible legacy before they are replaced.
Mr Johnson is MP for Uxbridge, adjoining Heathrow, and told his constituents that he would be a "bulldozer blocker" rather than allow work on a third runway.
While Mayor of London he spent millions on lobbying for a Thames Estuary airport, which became known as Boris Island, and closing down Heathrow. His position was mocked at the time by Sir Howard Davies, who said: "We've had the advantage of talking to real people as well as the Mayor."
Theresa May, Boris Johnson's likely rival for the premiership, is MP for nearby Maidenhead. Her stated position is against expansion. Even David Cameron promised, in 2009, that there would be no new runway at Heathrow - "No ifs, no buts". But the outgoing Prime Minister could claim that the Heathrow solution is "a fundamentally different proposition from previous proposals".
The thinking in Downing Street is that a "Brexit" cabinet, facing the prospect of recession, could not risk overturning a £18bn construction project that is entirely privately funded.
Heathrow's chief executive, John Holland-Kaye, said: "At an uncertain time for the British economy, MPs recognise that Heathrow is a private-sector infrastructure project that will spread growth across Britain from the moment that we get a green light.
"Now more than ever, people across Britain are counting on the Government to take bold decisions that show we are a confident outward looking trading nation."
Boris on Heathrow expansion
Opponents, though, will question whether any expansion is needed in the wake of the referendum. UK airline shares fell sharply on Friday as the markets priced in the likelihood of a downturn in aviation. IAG, holding company of British Airways, Iberia and Aer Lingus, lost one-fifth of its value after the Leave vote.
The day before the referendum, IAG's chief executive, Willie Walsh, warned that existing passengers should not be expected to pay for a third runway at Heathrow. He told a travel conference in London: "Customers have been ripped off by Heathrow for years and leopards don't change their spots."
Mr Walsh also warned that IAG might abandon Gatwick if the Sussex airport is awarded a new runway: "We struggle to see any business case for the expansion of Gatwick and will consider our position at the airport if the Government backs expansion there, principally because the cost of that expansion when translated into airport charges would likely wipe out the profit we make."
A leading campaigner against expansion at Heathrow, John Stewart of HACAN, said: "It would surprising if a lame-duck Prime Minister risked further splits within the Conservative Party by making such a controversial decision just weeks before he leaves office."
The present London Mayor, Sadiq Khan, favoured a third runway at Heathrow while Labour was in power, but reversed his position ahead of the mayoral election in May this year.
Join our new commenting forum
Join thought-provoking conversations, follow other Independent readers and see their replies