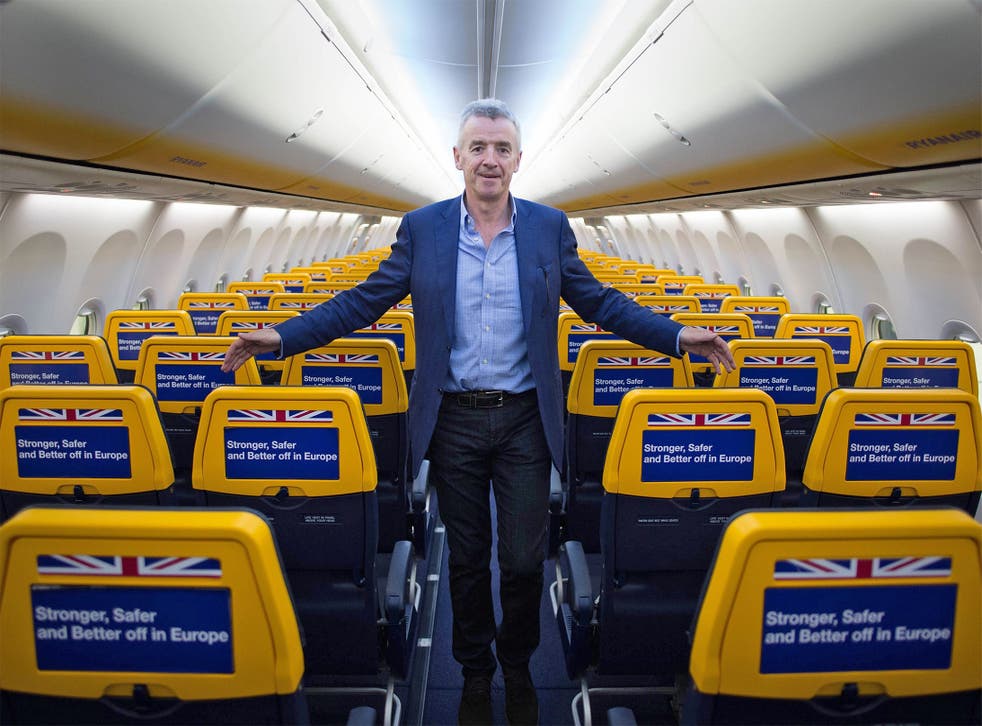 Brexit: UK will be 'screwed into the floor' in EU withdrawal talks, warns Ryanair boss
Michael O'Leary says Britain will shortly walk off a cliff
Ryanair's chief executive has lambasted the UK Government over its plans for Brexit, saying: "The politicians have no idea how they are going to exit the EU."
Michael O'Leary, chief executive of Europe's biggest budget airline, campaigned strenuously for a Remain vote in the EU Referendum. He told the Airport Operators Association annual conference: "Britain has no negotiation position whatsoever. You file the Article 50 in March, you walk off a cliff in two years' time.
"We're already working on the summer '19 schedule. I need to know what's going to be happening in March 2019. We can't plan with that kind of uncertainty."
Mr O'Leary warned that the remaining EU nations would ensure that the UK would be "screwed into the floor". He likened the Government's approach to Dad's Army, and ridiculed the notion floated by Theresa May that transition arrangements could be negotiated.
Of the three Cabinet ministers responsible for Brexit — David Davis, Boris Johnson and Liam Fox — the Ryanair boss said: "If their IQ was one point lower they'd be plants".
Ryanair is an Irish airline whose main base of operations is the UK, an arrangement made possible by the EU open-skies policy.
There are fears in aviation that the agreement that allows airlines such as Ryanair and easyJet to flourish in Europe could come to an end, with countries such as France and Italy imposing restrictions on UK carriers in order to help their own airlines.
Willie Walsh, chief executive of IAG — which owns British Airways, Aer Lingus and the Spanish airline Iberia — said: "I struggle to disagree with Michael. I fear Europe will see this as an opportunity to damage the UK.
"The idea we're just going to go in and say 'here's what we want, now give it to us,' is naive."
But John Holland-Kaye, chief executive of Heathrow, said: "We do have a strong negotiating position. The Government has to pay its cards close to its chest."
Mr Holland-Kaye said the UK would be able to get a better deal from the EU than Norway and Switzerland achieved.
"In aviation there is a consensus to maintain open skies and common standards. The government sees aviation as the enabler to all other industrial sectors."
Michael O'Leary also claimed that Ryanair is "Europe's cleanest, greenest airline", though he added the view that "Climate change is completely bloody bogus."
When asked for his long-term ambition for Ryanair, the airline's chief executive said: "World domination followed by intergalactic domination."
Click here to view the latest travel offers with Independent Holidays
Join our new commenting forum
Join thought-provoking conversations, follow other Independent readers and see their replies