Post-Brexit changes to European travel confirmed in new government ad campaign
Travellers informed that Ehic cards, mobile roaming and passport rules could all be impacted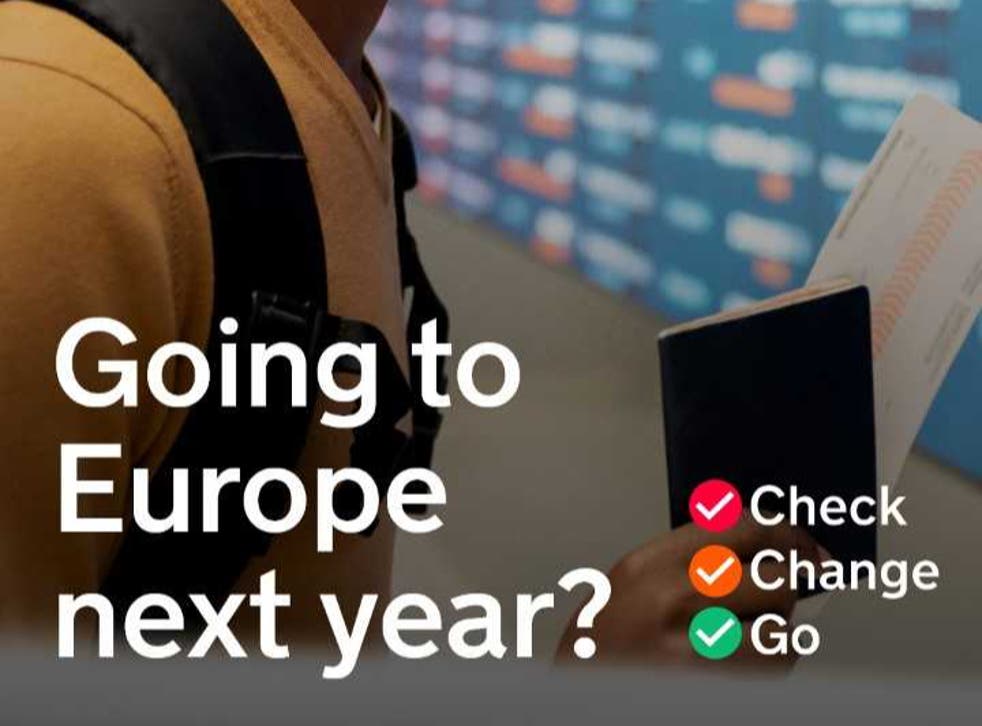 The government has launched a new campaign to inform British citizens about the potential changes to European travel after 31 December 2020, which marks the end of the Brexit transition period.
Launched on 18 September, the public information campaign is designed to "help British travellers prepare for changes when visiting Europe from 1 January 2021," according to the newly merged Foreign, Commonwealth & Development Office (FCDO).
Travellers are being urged to visit gov.uk/transition ahead of planning a trip.
"The campaign launching today will help British nationals prepare for visits to Europe by bringing together all the information they need to know in one place so they can plan in advance and get on with their trip," Minister for the European Neighbourhood Wendy Morton said of the campaign, which features the slogan: "Going to Europe next year? Check, change, go."
But what changes have been confirmed? Here's everything you need to know.
Passports
The biggest and most headache-inducing travel change concerns passport validity.
At the moment, British passport holders can travel within the European Union up until the day their passport expires. This will no longer be the case – from 1 January, Brits must have at least six months left on their passport and it needs to be less than 10 years old.
The campaign advises travellers to use the government passport checker (gov.uk/checkpassport) to see whether travel documentation needs to be renewed before a trip. The new rules do not apply to Ireland.
Getting in (and staying in)
At present, border control agents in EU countries can only check your passport to ensure that they believe the document belongs to you – they can't ask questions about where you intend to stay and for how long, or how much cash you have to hand.
But from 1 January, the government warns: "At border control, you may need to: show a return or onward ticket; show you have enough money for your stay; use separate lanes from EU, EEA and Swiss citizens when queueing."
British travellers are also advised they can only stay in EU countries, Iceland, Liechtenstein, Norway and Switzerland for up to 90 days in a 180-day period – any more than that and they may need a visa or permit.
Mobile roaming
From 1 January, UK travellers no longer have guaranteed free mobile roaming – which means calls, texts and data are charged at the local rate – while visiting EU countries. The government says: "Check whether your mobile phone company has changed its mobile roaming charges before travelling to the EU, Switzerland, Norway, Iceland or Liechtenstein. You may be charged for using your mobile device in the EU, Switzerland, Norway, Iceland or Liechtenstein if your operator has reintroduced roaming charges."
A new law means that Brits are protected from getting mobile data charges above £45 without consenting.
Once you reach £45, you need to opt in to spend more so that you can continue using the internet while you're abroad. Your phone operator will tell how you can do this.
Ehic
Prior to 1 January, British travellers could apply for a free European Health Insurance Card (Ehic), which gave them the right to access state-provided healthcare during a temporary stay in another EU country, Norway, Iceland, Liechtenstein or Switzerland.
But, according to the government campaign, Ehics "may no longer be valid from January 2021" – despite former Brexit Secretary David Davis having assured people that the government was "looking to see if we can get a continuation of the Ehic scheme as it now exists" and promising, if not, to provide a similar scheme "unilaterally".
Travellers are advised to take out appropriate travel insurance with health cover before travelling to the EU.
"You may not have access to free emergency medical treatment and could be charged for your healthcare if you do not get health cover with your travel insurance," says the government.
Driving
The new rules may mean you need to obtain driving documents for each country, such as an International Driving Permit, if travelling by car in the EU, Switzerland, Norway, Iceland or Liechtenstein.
"You could get a fine or your vehicle could be seized if you drive without the correct documents," says the government advice.
If you're driving your own UK-registered car, you also need to put a GB sticker on the back of your vehicle, even if your number plate already shows GB with a Euro symbol.
"You could get a fine if you do not have a GB sticker when you need one," says the FCDO.
Pets
Want to take your pet abroad? Get in there early – you must contact a vet at least four months before departure to arrange pet travel vaccinations and documents.
"If your pet or assistance dog does not have the proper documents, you will not be able to take it with you," reads the advice.
Register for free to continue reading
Registration is a free and easy way to support our truly independent journalism
By registering, you will also enjoy limited access to Premium articles, exclusive newsletters, commenting, and virtual events with our leading journalists
Already have an account? sign in
Register for free to continue reading
Registration is a free and easy way to support our truly independent journalism
By registering, you will also enjoy limited access to Premium articles, exclusive newsletters, commenting, and virtual events with our leading journalists
Already have an account? sign in
Join our new commenting forum
Join thought-provoking conversations, follow other Independent readers and see their replies