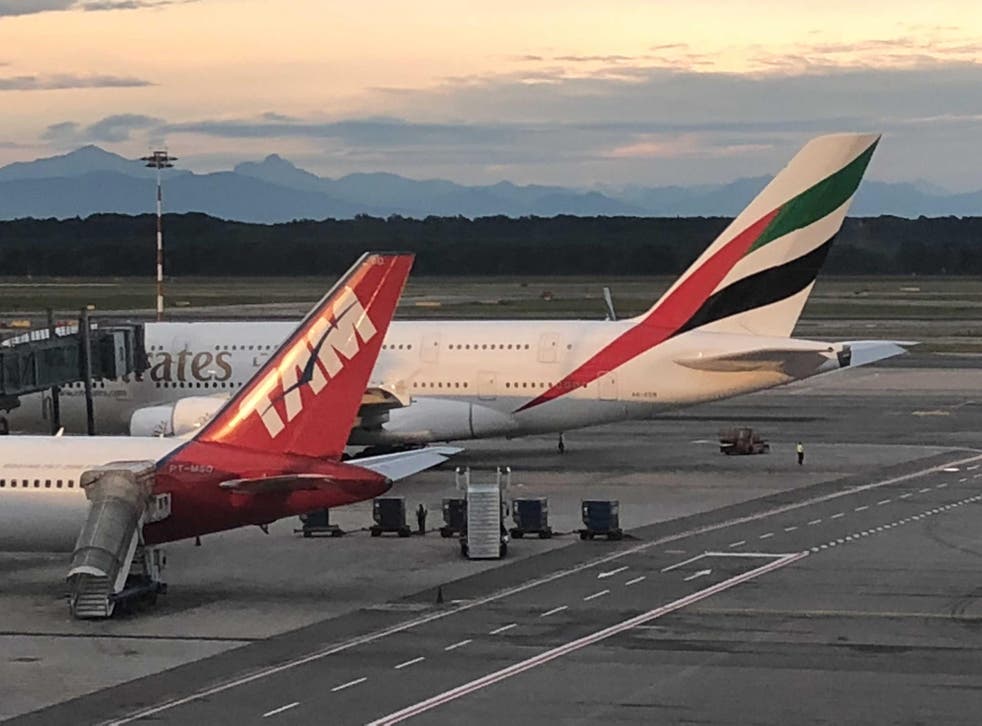 Milan: unfashionably late from the capital of fashion
The Man Who Pays His Way (but who got a free hotel night from BA)
The check in area of Terminal 1 of Milan Malpensa airport offers a magnificent prospect. Travellers can gaze through a widescreen wall of glass and beyond the apron to a silhouette of Alpine corrugations. Every few minutes, the slow motion choreography of manoeuvring aircraft is pierced by a takeoff or landing.
Aviation as a work of art and celebration of mobility would enthral Leonardo: da Vinci, certainly, and possibly di Caprio as well.
Barely had a tiny Flybe jet soared away to Southend than a giant Airbus A380 touched down from Dubai, bringing 500-plus passengers from the intense heat of the Gulf to the Alpine foothills of Italy. The Emirates plane parked wingtip to wingtip with a Tam jet destined for São Paulo in Brazil.
A marvellous tribute to the global village, I might have concluded – had I been in a brighter mood.
My final task last Saturday, before I left Heathrow for Milan, was to report on the chaotic start to one of the busiest weekends of the year.
British Airways and easyJet had made dozens of weather-related cancellations, adding thousands of passengers on top of those out of position due to the Ryanair pilots' strike.
And just 48 hours later, I was able to assess BA's duty of care for myself.
To make the most of my time in Italy, I had booked the last British Airways flight on Monday night back to Heathrow. But seven hours before departure: ping! A text revealed that the flight had been cancelled, and I had been rebooked on a flight the following day.
"We will contact you, or call BA to discuss," the message added. Along with most of the 150 other passengers booked on BA581, I preferred not to arrive home unfashionably late from the fashion capital of Europe. So I called British Airways repeatedly, being told every time that the call centre was too busy and I should instead visit ba.com.
The airline's website offered a straight choice: do you accept the replacement flight, or not? Unfortunately I needed a third option: "Please let me hold this flight while I see if there's a way of getting back sooner." So I re-entered the realm of the British Airways call handling software automatically putting the phone down on me.
When all else fails, head for the airport. At least there will be a helpful BA person there who can help, I imagined. By 4.30pm I was admiring Malpensa's spectacular view. There was little else to do: at check-in area 13 (unlucky for some), the conversation with staff who were preparing to check in an earlier BA flight did not go well.
Might I squeeze on board? Could I join a waiting list?
"Check-in does not open for another 20 minutes. Come back then."
When I did, I was told to wait another hour to see if space was available.
Back to the phone – and, at last, I spoke to a human.
It wasn't a great success. Under no circumstances could I be moved to an earlier flight, I was assured. Despite BA's promise to meet its obligations under European air passengers' rights rules ("If you're delayed until the next day, you'll be offered hotel accommodation for your overnight stay and airport transfers"), I would have to organise a room myself: pay first, reclaim later.
"Any extra expenses for hotels, transport and meals, you'll need to keep receipts and claim back from customer relations," I was told.
At that point BA's airport duty manager took control. She organised a hotel for all the stranded passengers, together with a bus to get us there, with the practised professionalism of someone who had done this many times before.
Unlike a sudden grounding in a far off location, Monday's cancellation was about as routine as they get. Whenever British Airways has to axe a wave of flights to create a "firebreak" and rebuild the schedule, Milan is one of the usual suspects along with Barcelona, Dublin, Geneva and Nice. All are places with plenty of alternative flights. So it is perplexing that what call centre staff tell travellers should be completely at odds with what actually happens on the ground.
A BA spokesperson said: "When bad weather is forecast which affects the safety of our flights, we will always put safety first. We understand the frustration that cancellations cause, so we automatically rebook customers onto the closest flight we can to minimise the disruption.
"We know that sometimes there could be another solution which fits better to our customers' plans, so we always include a contact number so that they can discuss the option best suited to them."
At beautiful Malpensa, British Airways could turn cancellation into an art form. Until it does, the best advice I have for anyone caught up in a cancellation kerfuffle is: don't believe everything you are told or texted.
Register for free to continue reading
Registration is a free and easy way to support our truly independent journalism
By registering, you will also enjoy limited access to Premium articles, exclusive newsletters, commenting, and virtual events with our leading journalists
Already have an account? sign in
Register for free to continue reading
Registration is a free and easy way to support our truly independent journalism
By registering, you will also enjoy limited access to Premium articles, exclusive newsletters, commenting, and virtual events with our leading journalists
Already have an account? sign in
Join our new commenting forum
Join thought-provoking conversations, follow other Independent readers and see their replies