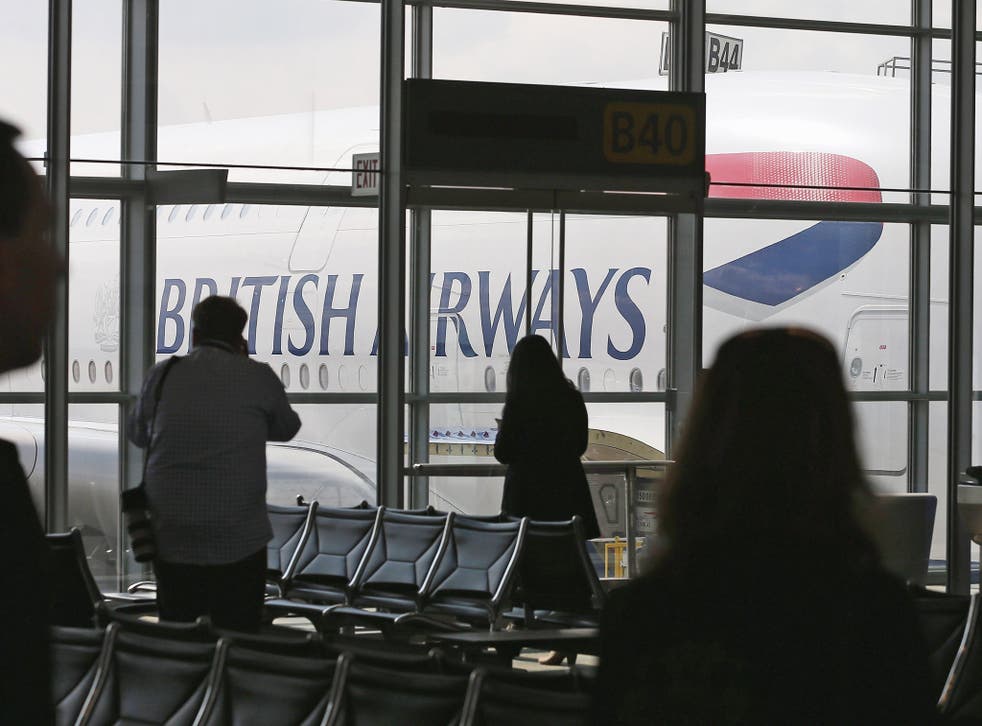 British Airways cites 'new migrant laws' to bar UK passengers with valid passports from flying to Austria
Exclusive: Family of five attempting to visit Salzburg Christmas market wrongly denied boarding at Gatwick Airport
Simon Calder
Travel Correspondent
Tuesday 19 January 2016 19:27 Comments
British Airways has been turning away passengers with valid passports from Austria-bound flights - citing "new rules" designed to control the flow of migrants.
A family of five were wrongly denied boarding at Gatwick airport last month. Gary Preston, his two sons, his partner Karen and her mother arrived in good time for their flight to Salzburg, for a trip to the Christmas market.
Mr Preston said: "We got to the check-in desk, with some excited boys as you can imagine, and started to load cases on as the BA clerk checked through our passports.
"She stopped on my partner Karen's. She said something had come up on her computer she had to check. She then called a colleague and broke the news to us."
The BA official told him that the Austrian government had changed the immigration rules to insist on a minimum of three months' validity, and that his partner's passport expired marginally too early, in March 2016.
"She also informed us that BA themselves would be fined up to £50,000 if they let Karen on board," said Mr Preston.
Tamara Frahmann, Consular Officer for the Austrian Embassy in London, confirmed to The Independent that the regulations were unchanged: "British passports only need to be valid during the stay when travelling to Austria."
At Gatwick, Mr Preston checked the advice from the Foreign Office, which confirmed that a British passport is valid in Austria up its expiry date.
Armed with this information, Mr Preston went to the BA ticket sales desk to explain a mistake had been made.
"Both people there confirmed that something was showing on their computer that clarified that Karen could not fly, but they refused to show me. They cited a dynamic situation with immigration in Austria meant rules were changing all the time.
"We had contact with four members of BA staff at Gatwick who thought the same thing. It really was a 'computer says no' moment."
BA's action appears to be based on a misinterpretation of a recent change in legislation aimed at controlling migrant flows across Europe. Intended explicitly for non-EU citizens, it reads: "The validity of the travel document shall last until at least three months after the intended date of departure from the territory of the Member States."
UK's best airport transfer links according to Simon Calder
The barred passengers made a formal complaint to British Airways, but after five weeks the airline had failed to answer Mr Preston's challenges. He pursued his case on Twitter, and tweeted the Foreign Office advice to BA - only to be told: "You'll need to take your complaint up with gov.uk directly, Gary. We can't comment on their incorrect information."
After The Independent contacted BA, the airline issued a statement: "Our Customer Service agents work extremely hard to deliver a high standard of service to all of our customers, and to ensure that we abide by strict regulations set by IATA regarding each country's entry requirements.
The 10 world's worst airports 2015

Show all 10
"We are very sorry that on this occasion we made a mistake. We are currently investigating this case to ensure that it does not happen again. We have apologised to our customer and will be contact to explain what happened."
British Airways declined to say whether it would pay compensation to the family, who are £1,100 out of pocket as a result of missing their holiday. They also appear to be entitled to €1,250 in compensation under EU passenger-rights rules.
The airline also refused to say how many more passengers have been erroneously denied boarding flights to Austria for the same reason. The Independent is aware of at least one other BA passenger also wrongly barred on the same route.
Register for free to continue reading
Registration is a free and easy way to support our truly independent journalism
By registering, you will also enjoy limited access to Premium articles, exclusive newsletters, commenting, and virtual events with our leading journalists
Already have an account? sign in
Join our new commenting forum
Join thought-provoking conversations, follow other Independent readers and see their replies