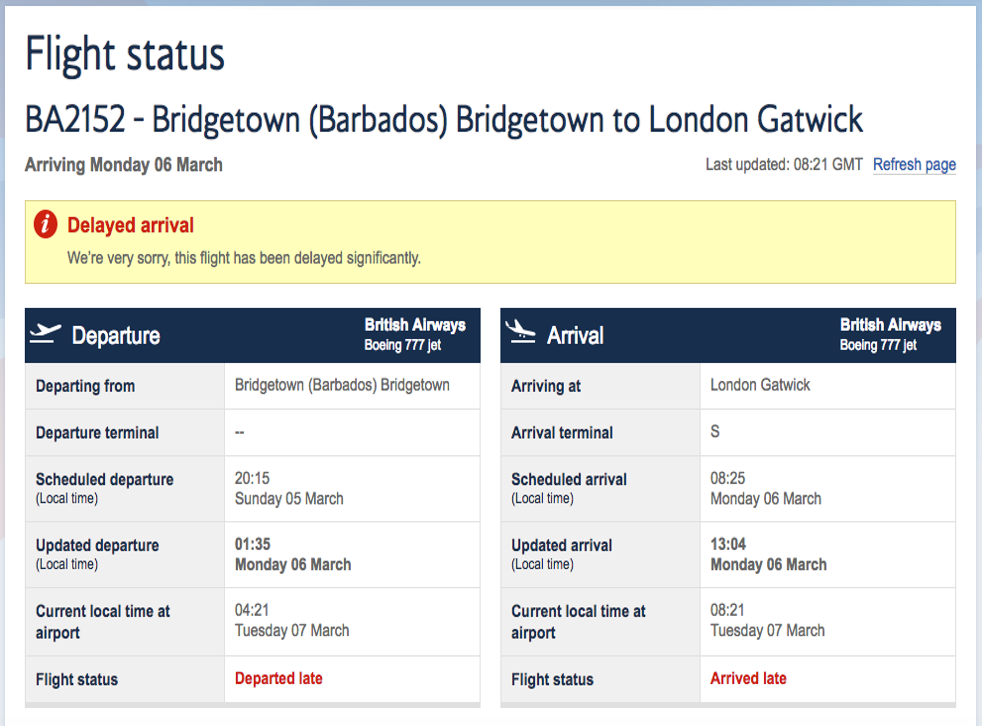 British Airways faces £300,000 bill for flight to Barbados without enough toilet paper
The airline is set to be taken to the cleaners after a shortage of toilet roll led to a five-hour delay
Simon Calder
Travel Correspondent
Tuesday 07 March 2017 14:44 Comments
The messy situation has left BA with a prospective bill of up to £291,200 in compensation under European passengers' rights rules, as well as thousands more in extra expenses such as meals for delayed travellers.
The BA 777, with a capacity of 280, was due to leave at 1.40pm on Sunday afternoon. The passengers were scheduled to touch down on the Caribbean island at sunset, in good time to polish off drinks and dinner before a good night's sleep.
But due to what appears to be inadequate preparation of the aircraft, departure was initially delayed by 1 hour 40 minutes.
As rumours swept through the cabin about the cause, Annabel Cliffe tweeted: "BA2153 sat on plane @ gatwick delayed with no idea of departure for wrong headphones!! Really??"
Another passenger, Bill Murray, later reported on Twitter: "BA2153 utter shambles. BA cost cutting means we're all disembarked due to shortage of bog roll!"
By now the schedule was in tatters. The outbound crew were "out of hours" and could no longer operate the service within stipulated time limits. It took a further three hours to assemble another crew before the flight began its take-off roll almost five hours late.
Despite flying the Atlantic with a clean configuration, adverse headwinds meant the aircraft did not reach the terminal in Barbados until midnight. There, over 200 passengers were waiting to fly back to Gatwick on the return leg. They had expected to leave at 8.15pm on Sunday but actually departed at 1.35am on Monday.
One of the delayed homebound travellers, Jane Gwizdala, said the captain was candid about the reason for the delay: "He told us the outbound Gatwick to Bridgetown plane wasn't prepared satisfactorily.
"He said in 26 years of flying he had never had such an experience that impacted on crew and passengers."
It is understood that British Airways switched ground handlers at Gatwick at the start of this month.
Passengers on long-haul flights that arrive four hours or more late are entitled to €600 (£520) in compensation, as well as meals while they wait for their flight. Claims management firms hoping to clean up on the delay have already started approaching passengers who mentioned the flight on social media; they typically take one-third of the compensation due.
A British Airways spokesperson said: "We are sorry customers were delayed after some of the many items needed for the flight weren't loaded on to the aircraft.
"We gave customers refreshment vouchers so they could get something to eat and drink in the terminal and we got them away on their holidays as soon as the aircraft was ready."
Register for free to continue reading
Registration is a free and easy way to support our truly independent journalism
By registering, you will also enjoy limited access to Premium articles, exclusive newsletters, commenting, and virtual events with our leading journalists
Already have an account? sign in
Join our new commenting forum
Join thought-provoking conversations, follow other Independent readers and see their replies