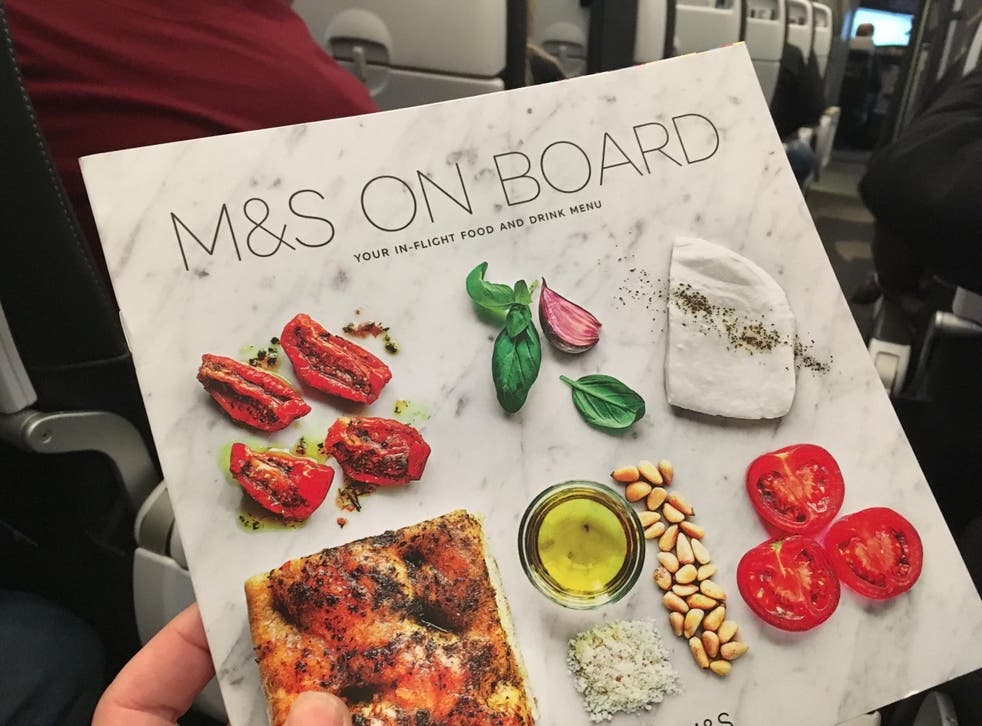 British Airways new 'buy on board' scheme: No thanks, say passengers
New policy of charging for food and drink could spark tray envy
On BA 932, the early flight out to the Belgian capital, only three economy passengers had bought food and drink.
Flying in from Belgium this morning on the return trip, a total of four of us chose from the "M&S On Board" menu. The airline will be hoping for a bigger take-up as travellers get used to the idea of paying for on-board catering supplied by Marks & Spencer.
I had planned to order a "salad with a difference", as the harissa chicken and couscous salad with a lemon yoghurt dressing is described. But because of the short journey time, with only 50 minutes airborne, only a limited selection was available. So I chose the "heart-healthy oat and barley porridge" (£1.40) as well as a fruit salad for £3.50.
All hot drinks, including "hand-crafted tea", are priced at £2.30 (except hot chocolate, £2.70). I ordered a "fresh hand roasted decaffeinated coffee" that, the menu promised, "will surprise you". It certainly did, because the cup featured a filter in the lid.
"It's filter coffee, so make sure you drink through the lid," I was advised.
Simon Calder explains the travel consequences of a Trump victory
Bottled water is priced at an ambitious £1.80 for half a litre, though cabin crew will serve a plastic cup of drinking water on request for free.
Tray envy could spread aboard BA planes. Sitting in Club Europe, business travellers were enjoying a cold platter of meat, egg, cheese, salad, a bread roll and a coffee, served on china with metal cutlery.
"Tasty, light and quick, but I'm not sure if it's worth the extra money," said Julian Eccles, a communications executive enjoying his complimentary breakfast in row 4. He declined the offer of free champagne.
British Airways hopes that ending free food and drink for short-haul economy passengers will benefit the environment, by cutting down on waste. Many snacks were thrown away under the former regime of complimentary food.
Some passengers will choose to take their own food and drink on board, but security rules mean that liquids and gels in containers of 100ml or more cannot be taken through the checkpoint. While sandwiches are regarded as safe, dairy products from yoghurt to cheese may be confiscated.
The real winners are likely to be the food providers at the airports. Either passengers will decide to dine before their flight, or they may take on board some supplies. But passengers who aim to mix their own on-board G&Ts with some shrewd shopping at the airport are warned that consuming pre-bought alcohol on board aircraft is usually forbidden by airline rules.
Click here for the latest travel offers from Independent Holidays
Join our new commenting forum
Join thought-provoking conversations, follow other Independent readers and see their replies