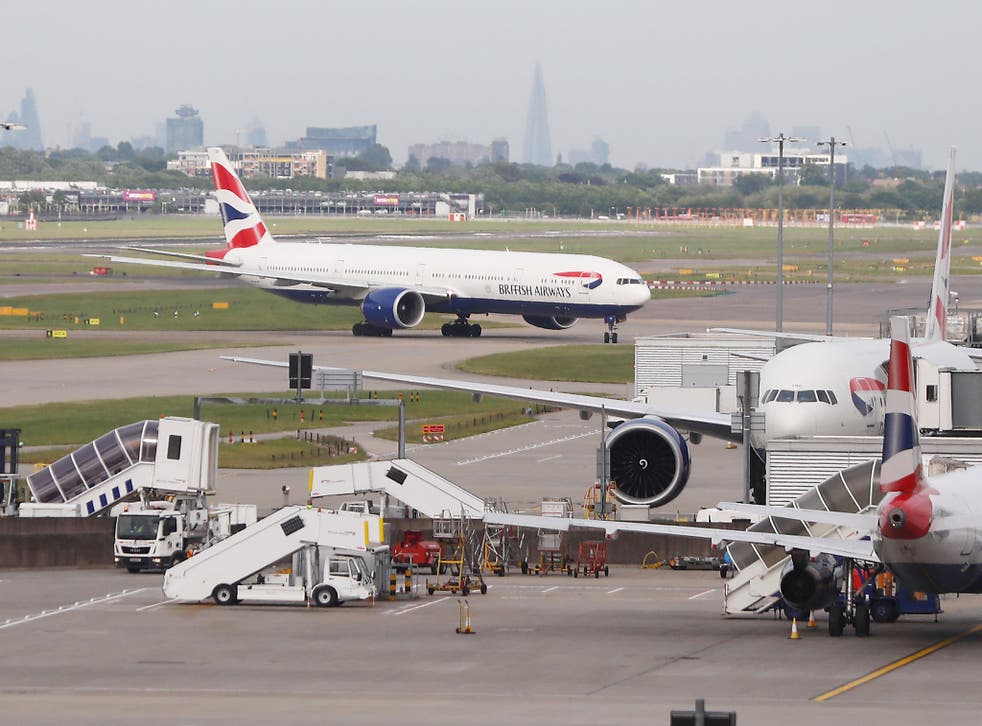 British Airways: 'We flew you as far as Heathrow, so you're not getting a full refund'
After five months and the intervention of The Independent, BA has repaid the final £700 for a wrecked family trip to Canada
When fog meant that a family from Merseyside missed a skiing holiday to the Canadian Rockies, British Airways offered a refund — but withheld almost £700 because they had flown as far as Heathrow.
In October last year, Jennie Lane from the Wirral booked business-class seats for herself and her two sons, flying Manchester via Heathrow to Calgary. The holiday was to mark her 50th birthday.
They were planning to fly out on the morning of 17 December, with a cushion of three-and-a-half hours between arrival and departure at Terminal 5.
But heavy fog meant they arrived at Heathrow too late for the connection to Canada.
"At Heathrow there was absolutely no-one from BA to communicate with the many stranded passengers," said Ms Lane. "The poor police were drafted in to protect the BA ground staff." The family stayed overnight hoping to get seats the following day but none were available. Instead, they flew back to Manchester, though their luggage was misrouted.
Ms Lane contacted the Fairmont Hot Springs Hotel in Banff where they had planned to stay, and Avis, the car-rental firm. "I must credit both organisations," she said. "They were very nice to deal with, very sympathetic with no quibbles and refunded me in full almost immediately."
She then claimed a refund for the flights from British Airways. But when it was eventually processed, 12 days later, almost £700 was withheld.
"I contacted BA customer services who explained that it was because we had been taken as far as Heathrow and back to Manchester and therefore that element of the fare had been deducted from the refund. It was almost unbelievable."
In the New Year, Ms Lane complained to British Airways, saying: "I certainly did not choose to spend my holiday in Manchester and Heathrow airports only to have to return home again without our luggage."
She was told by customer services staff: "You're clearly disappointed with how we handled this disruption and I'm so sorry we let you down.
"We know we need to improve how we deal with any concerns our customers have, including offering consistently polite and thoughtful service and I'm really sorry this wasn't what you experienced. It's only through your comments we're able to focus on areas where we need to improve."
But the only reference to the incomplete refund was: "I've checked our records and can confirm that your refund was processed on 29 December."
Ms Lane said: "The BA response didn't even relate to my complaint."
Eventually, after five months, she asked The Independent to intervene, saying: "Can BA really deduct part of a fare if they take you only part of the way then have to bring you back? Manchester-Heathrow flights are so often delayed and people miss connections — so does this affect those of us living in the provinces more, as we often have to travel via Heathrow?"
European passengers' rights rules on such disrupted journeys are clear. A refund must be made within a week, and must include "the part or parts already made if the flight is no longer serving any purpose in relation to the passenger's original travel plan."
After The Independent contacted BA on Ms Lane's behalf, the airline told her: "We've reviewed your on-going refund query and have authorised to refund your Manchester to London Heathrow sector in full."
A spokesperson for British Airways said: "Our teams work hard to deliver high levels of customer service so we're disappointed when a customer does not have a smooth and enjoyable journey with us. Unfortunately in this case our flights at both Manchester and Heathrow were affected by thick fog. We are sorry for the delay but are pleased that the matter has now been resolved with the customer."
Ms Lane said: "I am almost incredulous at this behaviour. My experience since the start of my trip has been so poor that I have no inclination to travel with BA again."
Join our new commenting forum
Join thought-provoking conversations, follow other Independent readers and see their replies