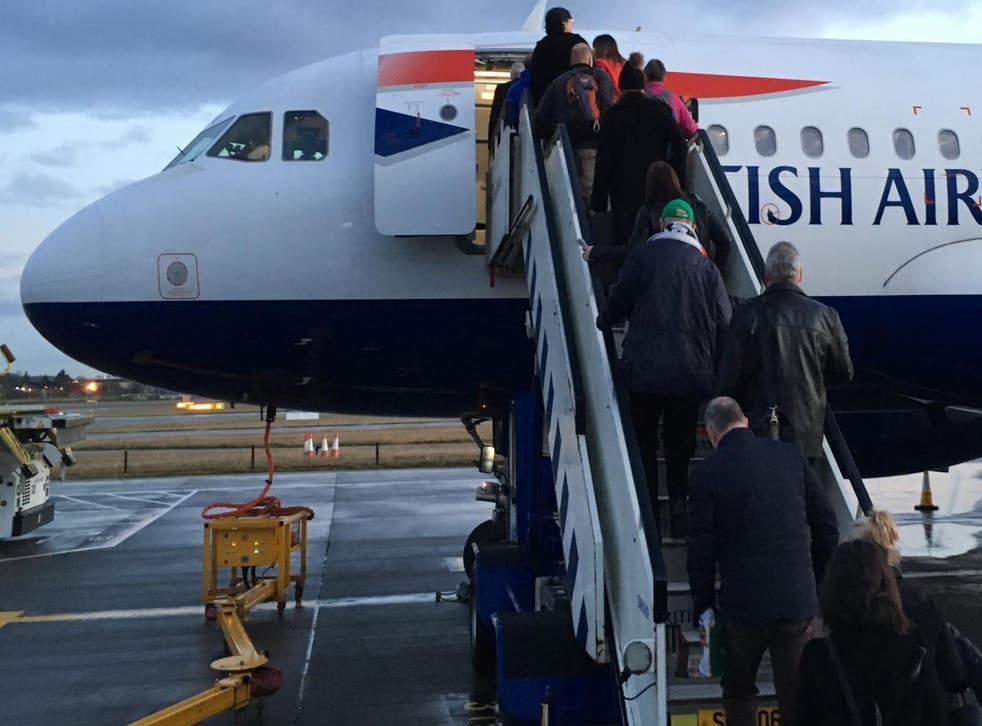 British Airways plans to make passengers paying least board last attacked by customers
'Who cares? Proud to be frugal. We're all going to the same place on the same plane'
British Airways passengers have responded rapidly to the revelation that travellers on the airline's cheapest tickets will be held back at the departure gate until everyone else is on board.
Many reactions to the "pay least, board last" policy were negative. The travel writer Nick Redmayne tweeted: "Think BA has lost the plot. Instead of competing with the Aldi and Lidl of the airline world they should have stuck to offering more and costing more. This is a race to the bottom."
Ben Rattigan tweeted: "BA's obsession with its status will bring the airline down. It's happened in every other industry. It's change or die time for them." And Paul Kingsley asked: "What happens if you got it free with frequent flyer points? Will you have to do the walk of shame?"
Rob McVicker said: "It's not about how much money you have, it's about how much of your money you want to give to BA. I want to give them the smallest amount."
But Phil Lowry was in favour of a new policy that reflects "frequent fliers getting rewarded for their regular business and their typically organised manner in boarding the plane". And Sonya Tank said: "Some people might like to go business class and have extra stuff, those who can't afford it, don't.
"Don't crow at people who choose to spend their money on what they see as better seats and maybe a little luxury."
Meanwhile another proponent tweeted: "This system works very well for American Airlines. It will hopefully end the chaos of BA boarding where everyone tries to board at same time."
Some travellers commented on the logistical challenges the new policy may present.
The broadcaster Andi Peters observed: "If you've paid for Hand Baggage Only by the time you board (last) they'll be no space left in the overhead lockers."
"Economy passengers sat at the rear of the aircraft to board last?," tweeted Geoff Coyles. "Interesting to see what happens to their on time punctuality."
The world's 10 worst airlines

Show all 10
"Tillyecl" said: "In my experience airlines can't even manage to get passengers to board by row number efficiently, so how they think they are going to get this to work I've no idea."
"Andy55" commented: "No problem as long as BA are forced to make sure there is enough overhead space for all legitimate hand luggage and enforce regulations where passengers try to take on the kitchen sink as hand luggage."
Olivier, a member of British Airways cabin crew from 1989 to 2010, expressed surprise that a high value is placed on boarding early. He said that in his time at the airline the principle was: "The higher you paid, the later you could board. The reason given during training course in BA was that 'being in an aircraft is less comfortable than in a premium airport lounge, so if you pay less, you'll board first'."
A significant proportion of passengers said they would be perfectly happy to be last to board. Karen Woods tweeted: "Who cares? Proud to be frugal. We're all going to the same place on the same plane"
"AdvocatusDiaboli" said: "If some idiot pays more to sit in stationary plane waiting for those he considers socially inferior, so what?"
"How sad do you have to be as a person to find your worth in an airline seat?", wondered "Victoria V". And Steve Hill vowed: "I shall enter triumphantly at the very end wearing a shirt that says 'Yay! I paid less than all you suckers'."
The new policy takes effect on 12 December.
Join our new commenting forum
Join thought-provoking conversations, follow other Independent readers and see their replies