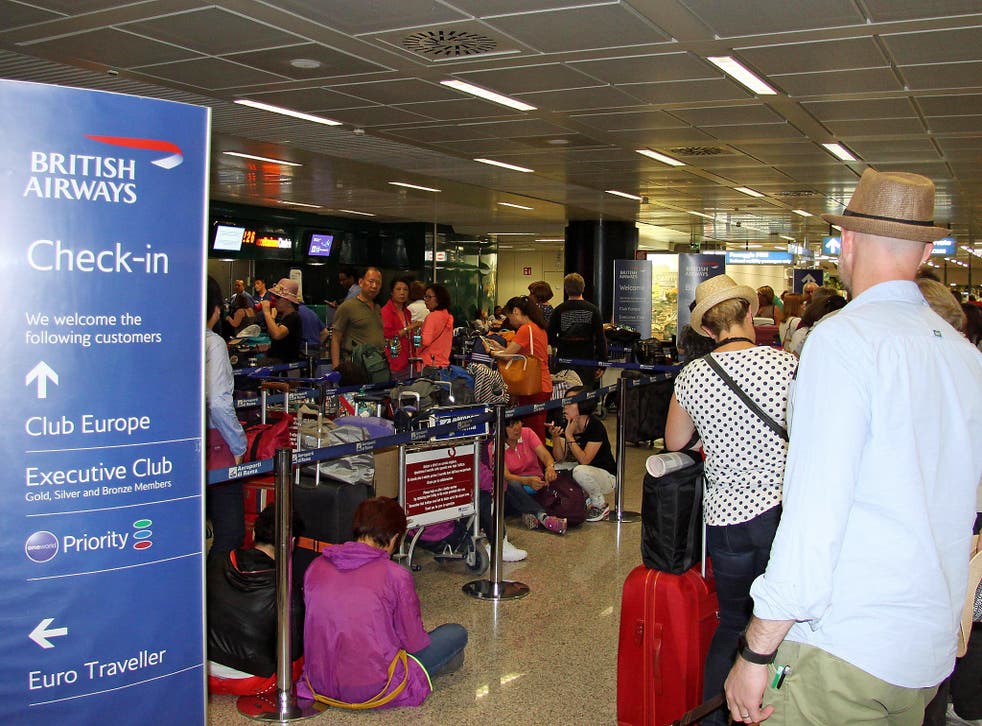 BA tells stranded travellers who booked tickets on other airlines: you won't get the cost back from us
Passengers told to claim from their travel insurance
Simon Calder
Travel Correspondent Comments
British Airways has infuriated some passengers caught up in the weekend's disruption by refusing to pay for tickets booked on other airlines.
More than 100,000 passengers have seen their flights to and from Gatwick and Heathrow cancelled after what the airline calls a "systems outage".
Almost all flights were axed on Saturday, and many were also grounded on Sunday. European passengers rights' rules stipulate that passengers on cancelled flights are entitled to "re-routing, under comparable transport conditions, to their final destination at the earliest opportunity".
But systems for re-booking passengers were disrupted because of the IT failure, and many passengers have complained about long waits at airports or to the call centre.
Faced with long queues and uncertainty, some travellers decided to buy new tickets on other airlines.
But BA is telling passengers: "If we weren't able to offer a suitable alternative flight we would offer a full refund of any unused sectors on your booking with us, but any alternative flights booked via different carriers would be at your own expense and would have to be claimed back through travel insurance."
Mark Dillingham spent £1,000 on new flights on Lufthansa. He told The Independent: "Do we lose this money even though British Airways was uncontactable? We couldn't enter the terminal, and the phone lines were shut."
Other people have taken to Twitter about the issue, with Melissa Riggs tweeting:"@British_Airways are already refusing to pay onward travel you've booked yourself rather than wait in their 11 hour queue".
The view of the Civil Aviation Authority is that passengers should be re-booked on other carriers if no timely alternative is available on the airline that made the cancellation.
Passengers holding return tickets who made alternative travel arrangements outbound but still intend to fly home with BA face potential problems. If they are recorded as "no-shows" on the outbound flight, they may find their inbound leg is cancelled. They should contact the airline to explain the position.
In pictures: British Airways disruptions

Show all 17
BA is hoping to operate a near-normal service on Bank Holiday Monday, but is telling passengers who do not wish to risk disruption: "Even if your flight is still operating, you can get a full refund or rebook to travel up to the end of November." The same applies for those booked on short-haul flights on Tuesday 30 May.
The airline told passengers via its website: "We are very sorry for the disruption and frustration that you are experiencing. We thank you for your patience and understanding."
Register for free to continue reading
Registration is a free and easy way to support our truly independent journalism
By registering, you will also enjoy limited access to Premium articles, exclusive newsletters, commenting, and virtual events with our leading journalists
Already have an account? sign in
Join our new commenting forum
Join thought-provoking conversations, follow other Independent readers and see their replies