British tourists lose £500m a year paying unnecessary card charges abroad
Many overseas traders give customers the option to pay in sterling - and sting them with poor exchange rates if they take up the offer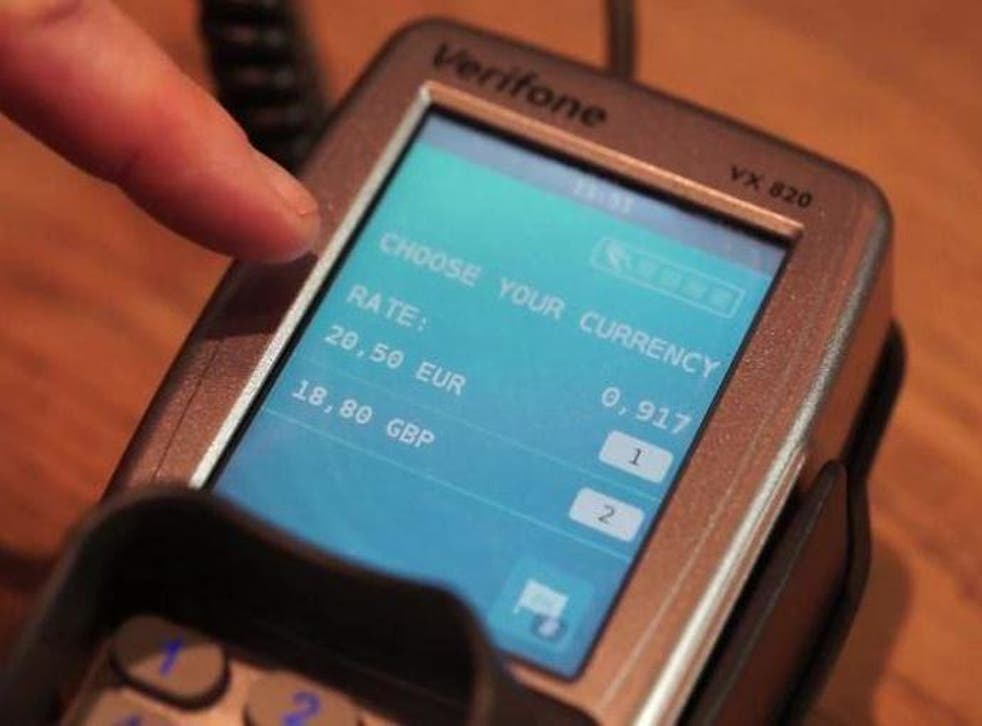 British holidaymakers are wasting hundreds of millions of pounds paying needless charges while using credit and debit cards abroad.
Many overseas shops, cash machines, and restaurants give tourists the option of paying in sterling instead of the local currency.
They apply poor exchange rates equivalent to charging up to 10 per cent extra if the customer chooses to pay in pounds, according to currency trader FairFX.
About a fifth of all foreign transactions are subject to the charges, at an average cost of six per cent.
They costs UK tourists about £500m a year in total, an analysis for the BBC found.
One of the key danger areas is the Netherlands, where at least half of British card payments are made in pounds, prompting Dutch consumer group Consumentenbon to urge visitors to be wary.
Spokeswoman Sandra de Jong said: "Let me warn those that are being offered to pay by card and the shop owner says, 'Would you like me to give you the exchange rate of what it will be in pounds?' Don't do it."
About half of all foreign card payments in Hungary and half of cash withdrawals in Sweden also sting customers with the poor exchange rates, while a high proportion of transactions in Thailand, Malta, Spain, Cyprus and Turkey are affected.
The process, known as dynamic currency conversion, is legal in the UK and across Europe as long as customers are told the exchange rate and price before payment.
The gains are typically split between the trader and their payment processor, meaning businesses can recoup their banking costs and often make a profit.
"The way it is pushed is abhorrent," said James Hickman chief commercial officer at FairFX.
"The amount they charge should be capped."
Register for free to continue reading
Registration is a free and easy way to support our truly independent journalism
By registering, you will also enjoy limited access to Premium articles, exclusive newsletters, commenting, and virtual events with our leading journalists
Already have an account? sign in
Register for free to continue reading
Registration is a free and easy way to support our truly independent journalism
By registering, you will also enjoy limited access to Premium articles, exclusive newsletters, commenting, and virtual events with our leading journalists
Already have an account? sign in
Join our new commenting forum
Join thought-provoking conversations, follow other Independent readers and see their replies