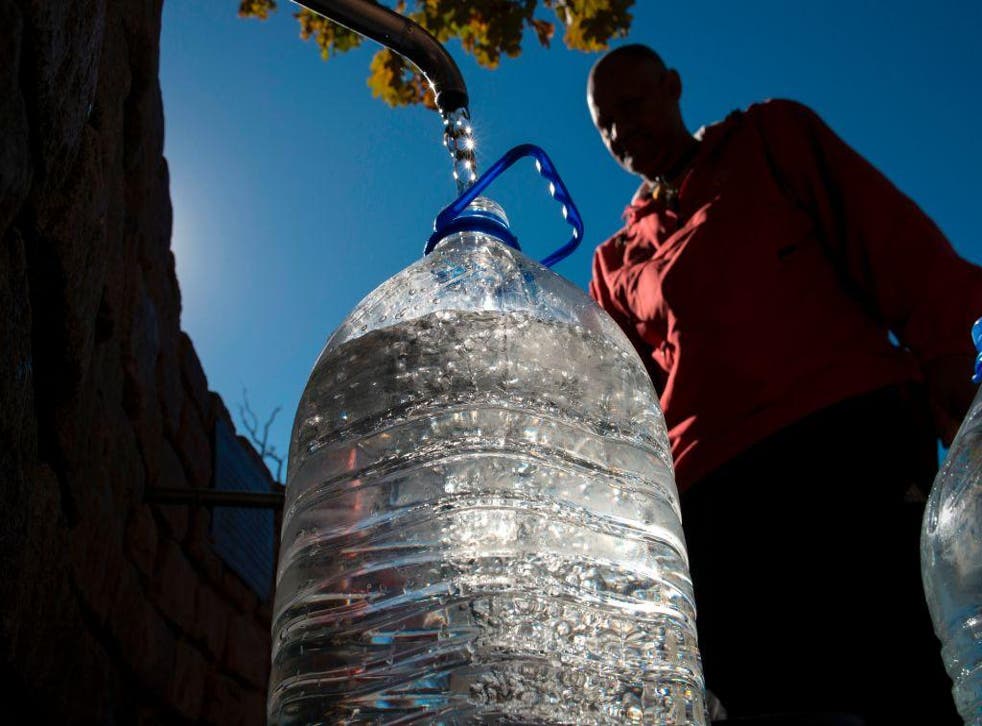 Cape Town drought-affected residents now on 50 litres of water per day as crisis worsens
South Africa Tourism: "There will be available water for tourists' and locals' critical needs"
South Africans living outside the drought-stricken Western Cape province are being urged by charities to donate water to be taken to Cape Town, as more stringent conservation measures take effect.
"Day Zero", when reservoirs supplying Cape Town are deemed to be critically low and the taps are turned off, is now calculated to be 16 April; previously the date was set at 21 April, and then 12 April. If and when it happens, citizens will have to collect water from 200 standpipes around the city.
Yesterday the daily limit per person using the municipal supply was reduced by 43 per cent to 50 litres.
Western Cape was declared a disaster area in May 2017 after successive years of sharply lower rainfall. Reservoirs, known locally as "dams", are currently at 26.3 per cent of capacity, having lost 0.9 per cent in the past week.
Cape Town is running out of water. How? Simon Calder explains
South Africa Tourism said: "In the event of what the City of Cape Town refers to as 'Day Zero', there will be available water for tourists' and locals' critical needs. These are considered to be water for personal hygiene and consumption.
"We should be prepared to live with very little water for around three months, with the hope that by the end of winter, enough rain has fallen to switch the water system back on."
The LifeMed charity in Pretoria is appealing for five-litre bottles of water to be taken to its head office, from where they will be shipped to Cape Town.
Out-of-city participants in the Cape Town Cycle Tour, taking place on 11 March, have been told "to bring sufficient drinking water with them for their own daily consumption", according to the organisers.
An upmarket resort, La Clé des Montagnes, has issued guidelines for guests, asking them to turn off taps while brushing teeth, taking shorter showers and avoiding baths.
The collection of villas in Franschhoek, in the wine country about 50 miles east of Cape Town, said: "Towels and linen will be refreshed upon request only and swimming pools may not be topped up at all times."
Lufthansa's chief executive, Carsten Spohr, told the financial news website fin24 that the water crisis has not impacted sales. Eurowings, Lufthansa's low-cost subsidiary, launched a link from Cologne to Cape Town this winter.
South African Airways plans to halve its flights from Heathrow to Johannesburg from 20 April, though this move is believed to be unrelated to the drought.
Join our new commenting forum
Join thought-provoking conversations, follow other Independent readers and see their replies