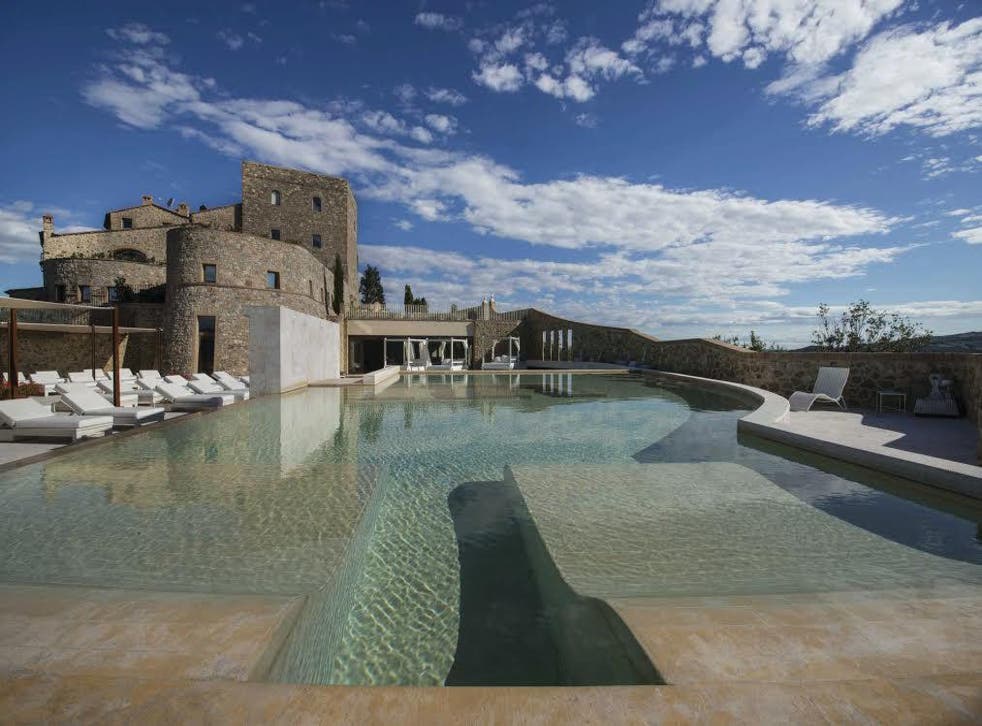 From French châteaux to Czech fairytales: How to stay in some of Europe's finest castles
Looking to wall yourself in, away from the rest of the world? Here are some of the best places to do it in Europe
In these uncertain times, the urge to hole oneself up away from the rest of the world is ever present, and where better to do it than in a place that was built to protect its guests from the ravages of outsiders? Europe is littered with castles, of course, and many of them have been converted into hotels and even – for those with deep pockets – self-catering accommodation. Here are some of the best.
Castello di Velona, Italy
From its eyrie overlooking the Val d'Orcia, this picture-perfect slice of Tuscany dates back to the 11th century, but these days there's full-on 21st-century luxury within its (mainly) Renaissance walls. A natural hot spring feeds into the spa, the outdoor pools appear to float over the Montalcino landscape, and rooms feature exposed stone walls, wide arches and beamed ceilings to remind guests of their stately origins.
Doubles from €333 (£283), B&B. Packages from £1,469pp for a week's stay including flights and car hire.
Château de la Treyne, France
The quintessential Dordogne chateau, perched on a cliff overlooking the Dordogne river and backed up by a formal French garden, tree-lined park and a rose garden. Weather-allowing, the terrace overlooking the river is the place for (Michelin-starred) dinner and drinks, while the rooms are boldly Gallic, with unabashed colour and pattern palettes.
Rooms from €200, room only.
Panemunes Pilis, Lithuania
An 18th-century castle on the bank of the Nemunas river, this used to be an important defence spot for the local gentry; today, it's just a really beautiful part of the world. Open since 2014 as a hotel, the rooms have gone all out for that authentic feel, with tapestries on the walls, antique furniture and even the odd canopy bed.
Doubles from €70, B&B
Europe's best castle hotels

Show all 10
Chateau d'Ouchy, Switzerland
There are lake and mountain views for miles from this Neo-Gothic wedding cake of a castle in Lausanne. Inside it's all swish boutique luxury, a palette of creams, beiges and taupes teamed with plush beds and swanky bathrooms. There are rooms with views of Lake Geneva, but go one step further with an upgrade to the tower-based suites, which not only have the views but give a feel of the original outré castle décor, too.
Doubles from CHF235 (£187), room only.
Kokkedal Castle, Denmark
It's more Gatsby than Hamlet at this chichi-looking 18th-century castle, in sprawling grounds with just a golf course between it and the sea. The 62 rooms are split between the castle itself and the lodge – you get between the two via an underground passageway – and the look's Scandi-chic, with modern white walls and neat parquet floors.
Doubles from DKK1,395 (£161), B&B.
Castell Son Claret, Majorca
Practically a baby in the castle stakes, this 19th-century castle outside Calvia (at the foot of a Unesco-protected mountain range) was converted into a hotel in 2013, and spreads just 38 rooms across its seven buildings, with 326 acres of land for guests to roam. Jasmine, rose and bergamot scents waft through the air, and there's little incentive to go off-property, since it's home to the only two Michelin-starred restaurant in the Balearics.
Doubles from €295, B&B.
Castell de Celra, Spain
It doesn't get much more historic than this castle which dates back over 1,000 years and was once home to the Bishop of Barcelona. These days it's rather more swanky, done up as a holiday let which sleeps 14 in seven rustic ensuite rooms. There's a large pool, outdoor seating with views over the surrounding pristine farmland, and an austere, barrel-vaulted dining room, which seats 20.
From £660 per night for 14 people, minimum stay seven nights.
Chateau Herálec Boutique Hotel & Club Resort, Czech Republic
Herálec dates back to the 13th century, though the building that stands today is more Neo-Gothic fairytale than bare ramparts. These days, it's a five-star hotel with 20 rooms (including the beamed-ceilinged, mosaic-tiled King's Suite) and a L'Occitane spa. Surrounded by English-style formal gardens and parkland in the Vysočina region, it's within driving distance of Vienna, Prague and Brno but if that sounds like too much hard work, there's an onsite helicopter pad.
Doubles from 3,920CZK (£124), B&B.
Hotel le Château Fort du Sedan, France
There's a whiff of Carcassonne to this 15th-century fortress in the Ardennes – in fact, at 35,000 square metres, it's said to be the largest in Northern Europe. That means the 54 rooms in this four-star hotel (the castle also houses a museum and the local tourist office) have plenty of room to spread out – one suite even has the South Tower to itself. Some rooms have exposed brick walls, others are more modern.
Doubles from €89, room only.
Join our new commenting forum
Join thought-provoking conversations, follow other Independent readers and see their replies