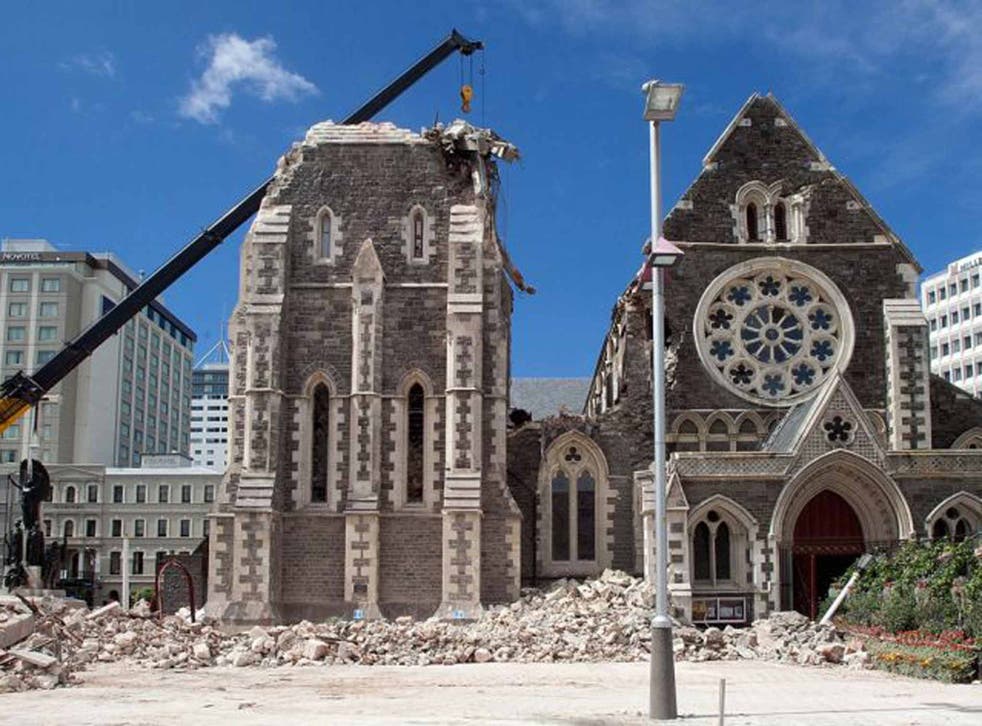 Christchurch: Centre stage in the Battle of Britain
This weekend marked the fourth anniversary of the earthquake which tore the city asunder
The standard soundtrack to a resurrection story tends to be the gentle rumble of a stone being rolled away, or maybe a choir of angels singing in the heavens. But when the latest comeback special clicks into focus on the South Island of New Zealand, it will be to a raucous cacophony as the eternal sporting fight between England and Scotland takes another turn.
In some ways, there could be no more incongruous a venue for this meeting than the pretty city of Christchurch. Britain's two biggest brothers do not have much shared history when it comes to cricket – and neither team is likely to win the one-day World Cup of which the fixture is a part. This rare confrontation over stumps and bails will be a strictly regional sideshow in the middle of an international tournament – the sort of enthusiastically waged, but inconsequential, face-off that would be better suited to a warm day in Durham.
Yet in other ways, Christchurch is precisely the place for a game of such rivalry – not least because it helps to make up for lost time. Yesterday marked the fourth anniversary of the earthquake which tore the city asunder, in February 2011. Christchurch lost a huge amount on that unsuspecting Tuesday – 185 people were killed, and the tremor ripped the steeple from the 1864-built cathedral. Then came the aftermath, and a sense that the city disappeared from view. It had been due to host a raft of crucial matches at the 2011 Rugby World Cup – but these were inevitably moved to other locations. Come the October of that year, New Zealand would celebrate as its famous All Blacks seized the trophy – with its second biggest metropolis having played no part in the proceedings.
By a quirk of circumstance, I found myself on South Island the week after the quake. It was an eerie time to be there, but the response was both stoic and cheerful – every road I drove seemed to feature a message of support or a fund-raising event. This assisted the city's recovery – though the process is incomplete. Many homes still need repairs, and the cathedral has been deemed too damaged for reconstruction. Since 2013, the "Cardboard Cathedral" – a temporary structure of no little elegance – has been tending to the faithful.
In this context, a few overs of cricket may prove pertinent moments. Sport is of no import compared to loss of life, but staging part of a key global competition in Christchurch – especially so near to the disaster anniversary – seems like the closing of a circle.
Aside from tonight's Battle of Britain, the city's Hagley Oval has already framed the World Cup's opening hurrah – last week's contest between New Zealand and Sri Lanka. This will not fix the cracked walls in houses on the faultline – but with an arc of ball to boundary, Christchurch can at least feel it is back on the map. Tourists should too.
Register for free to continue reading
Registration is a free and easy way to support our truly independent journalism
By registering, you will also enjoy limited access to Premium articles, exclusive newsletters, commenting, and virtual events with our leading journalists
Already have an account? sign in
Register for free to continue reading
Registration is a free and easy way to support our truly independent journalism
By registering, you will also enjoy limited access to Premium articles, exclusive newsletters, commenting, and virtual events with our leading journalists
Already have an account? sign in
Join our new commenting forum
Join thought-provoking conversations, follow other Independent readers and see their replies